We're Getting Mutants in the MCU - The Loop
Play Sound
The Vietnam People's Army (VPA is the army of Vietnam. The VPA is a part of Vietnam People's Armed Forces. The VPA includes: Ground Force (including Strategic Rear Forces), Navy, Air Force, Vietnam Border Defense Force and Vietnam Marine Police. However, Vietnam does not have a specific separate Ground Forces or Army branch. All of the ground troops, army corps, military districts, and specialized arms belong to the Ministry of Defence (Vietnam), directly under command of the Central Military Commission, Minister of Defence and General Staff .
Communist Party of Viet Nam leaders of the People's Army of Vietnam absolute and direct all aspects; the centralized leadership of the Party is unified into the Central Executive Committee that directly, often the Politburo, the Secretariat (Charter of CPV - Article 25).
The name People's Army can be traced to President Ho Chi Minh's phrase "born from people, for people to fight and for people to serve". The word People are also present in many names of such organizations in Vietnam such as the People's Public Security, Supreme People's Court, Supreme People's Procuracy. One other name for the army that Vietnamese named by love is Uncle Ho's soldiers. The military flag of the Vietnam People's Army is the flag of the Socialist Republic of Vietnam with the words Quyết thắng (Determination to Win) added in yellow at the top left.
During the French Indochina War (1946–1954), the VPA was often referred to as the Việt Minh. In the context of the Vietnam War (1959–1975), the army was referred to as the North Vietnamese Army (NVA). This allowed writers, the US Military, and the general public, to distinguish northern communists from the southern communists, or Viet Cong. However, northerners and southerners were always under the same command structure. According to Hanoi's official history, the Vietcong was a branch of the VPA. In 2010 the Vietnam People's Army undertook the role of leading the 1,000th Anniversary Parade in Hanoi by performing their biggest parade in Vietnam's history.
The Vietnamese People's Army is subdivided into the following service branches:
·          Vietnam People's Ground Forces (Lục quân Nhân dân Việt Nam)
·          Vietnam People's Navy (Hải quân Nhân dân Việt Nam)
·          Vietnam People's Air Force (Không quân Nhân dân Việt Nam)
·          Vietnam Border Defense Force (Biên phòng Việt Nam)
·          Vietnam Marine Police (Cảnh sát biển Việt Nam)
Small arms
Pistols
| | | | | |
| --- | --- | --- | --- | --- |
| Name | Type | Cartridge | Origin | Notes |
| TT-33 | Semi-automatic pistol |       7,62x25mm | Soviet Union | |
| PM | Semi-automatic pistol |  9x18mm | Soviet Union | |
| Stechkin APS | Machine pistol | 9x18mm | Soviet Union | |
| Walther PP | Semi-automatic pistol | 9x18mm | Germany | |
| M-1911A1 | Semi-automatic pistol | .45ACP | USA | |
Rifles 
| | | | | |
| --- | --- | --- | --- | --- |
| Name | Type | Cartridge | Origin | Note |
| AK-47 | Assault rifle | 7.62x39mm | Soviet Union | Main service rifle |
| AKM | Assault rifle | 7.62x39mm | Soviet Union | Main service rifle |
| AK-74 | Assault rifle | 5.45x39mm | Soviet Union | Main service rifle.Used by navy. |
| M16A1 | Assault rifle | 5.56x45mm | USA | Main service rifle |
| IMI Galil | Assault rifle | 5.56x45mm | Israel | Used by marines. |
| TAR-21 | Assault rifle |       5.56x45mm | Israel | Used by marines. |
| AKS-74U | Carbine | 5.45x39mm | Soviet Union | Used by paratroopers |
| CAR-15 | Carbine |       5.56x45mm | USA | Used by paratroopers |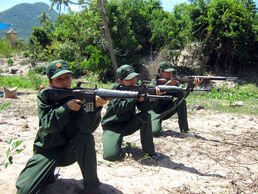 Sniper Rifles
| | | | | |
| --- | --- | --- | --- | --- |
| Name | Type | Cartridge | Origin | Note |
| SVD Dragunov | Sniper Rifle | 7.62x54mm | Soviet Union | |
| SVU Dragunov | Sniper Rifle | 7.62x54mm | Russia | Used by paratroopers |
| IMI Galatz | Sniper Rifle | 7.62x51mm | Israel | |
| KVSK | Sniper Rifle | 12.7x108mm | Russia | |
Submachine guns
| | | | | |
| --- | --- | --- | --- | --- |
| Name | Type | Cartridge | Origin | Note |
| PM-63 | Submachine gun |         9x19mm | Poland | |
| UZI | Submachine gun | 9x19mm | Israel | Used by paratroopers |
| MP5 | Submachine gun |         9x19mm | Germany | Used by paratroopers and polices |
Light machine guns
| | | | | |
| --- | --- | --- | --- | --- |
| Name | Type | Cartridge | Origin | Note |
| PK/PKM | Light machine gun | 7.62x54mm | Soviet Union | Standard squad automatic weapon |
| RPK | Light machine gun,LSW |        7.62x39mm | Soviet Union | Standard LSW |
| RPK-74 | Light machine gun,LSW | 5.45x39mm | Soviet Union | Standard LSW |
| IMI Negev | Light machine gun | | Israel | |
| M60 | Light machine gun |       7.62x51mm | USA | Standard LMG |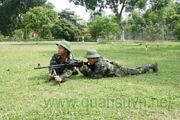 Launchers
| | | | | |
| --- | --- | --- | --- | --- |
| Name | Type  |         Cartridge | Origin | Note |
| RPG-7V | Rocket launcher |     85mm rocket | Soviet Union | |
| RPG-29 | Rocket launcher |    105mm rocket | Soviet Union | |
| M72 | Rocket launcher |     66mm rocket | USA | |
| M79 | Grenade launcher |   40x46mm grenade | USA | |
| GP-25 | Grenade launcher |    40mm grenade | Soviet Union | |
| M32 | Grenade launcher |   40x46mm grenade | South Africa | |