The USS Antietam (CV-36) is a aircraft carrier of U.S Navy belonging to the "Long Hull" ships of the Essex Class. The name of the ship is based in the Battle of Antietam, it was descomissioned and sold as scrap in 1974.
History
The aircraft carrier was commissioned on Jan. 28, 1945. During the Korean War, he made one trip to the belligerent shores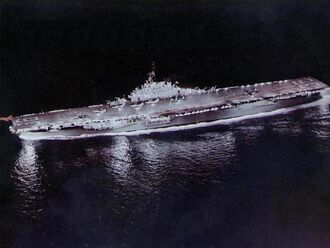 : September 8, 1951 - May 2, 1952. In November 1951 calling for boarding the plane crashed, a fire broke out, during which six people were killed and 10 injured, 7 aircraft burned. In 1952 he underwent refits and received the experimental angular deck. Reclassified as an aircraft carrier strike, October 1, 1952 received an index CVA-36, August 1, 1953 was again reclassified as anti-aircraft carrier assigned to index CVS-36. On April 21, 1957 served as the base for the aircraft Training Center Naval Aviation in Pensacola. May 4, 1961 has risen from the board of an aircraft carrier with two balloon aeronaut in an open gondola climbed to a record height of 34,668 meters. September 11, 1961, alongside with sister ship "Shangri-La" participated in the humanitarian assist after a hurricane in Galveston, Texas. From 2 to 6 November 1961 also participated in after a hurricane in the coast of British Honduras. May 8, 1963 it was removed to the reserve after 10 years, May 1, 1973 decommissioned, 28 February 1974 and sold to cut the metal.
See also
List of Aircraft Carriers

List of Aircraft Carriers of the United States Navy

List of World War II Ships