Jurassic World: Dominion Dominates Fandom Wikis - The Loop
Play Sound
Theodore Roosevelt, Jr.

Roosevelt, 1915
26th President of the United States

In office
September 14, 1901 – March 4, 1909

Vice President

None
(1901–1905)


Charles Warren Fairbanks


(1905–1909)

Preceded by

William McKinley, Jr.

Succeeded by

William Howard Taft

25th

Vice President of the United States

In office
March 4, 1901 – September 14, 1901
President
William McKinley, Jr.

Preceded by

Garret Augustus Hobart

Succeeded by

Charles Warren Fairbanks

33rd Governor of New York

In office
January 1, 1899 – December 31, 1900
Lieutenant

Timothy Lester Woodruff

Preceded by

Frank Swett Black

Succeeded by

Benjamin Barker Odell, Jr.

Assistant Secretary of the Navy

In office
April 19, 1897 – May 10, 1898
President
William McKinley, Jr.

Preceded by

William McAdoo

Succeeded by

Charles Herbert Allen
Personal details
Born

New York City, New York
Died
January 6, 1919


Cove Neck, New York

Resting place

Youngs Memorial Cemetery


Oyster Bay, New York
Political party
Republican
Other political
affiliations
Progressive (1912–1916)
Spouse(s)

Alice Hathaway Lee


(m. 1880—1884, her death)


Edith Kermit Carow


(m. 1886—1919, his death)
Relations

Anna Roosevelt

(sister)

Elliott Bulloch Roosevelt

(brother)

Corinne Roosevelt

(sister)
Theodore Douglas Robinson (nephew)
Anna Eleanor Roosevelt (niece)

Corinne Douglas Robinson

(niece)

Gracie Hall Roosevelt

(nephew)

Children

Alice Lee Roosevelt

Ethel Carow Roosevelt

Parents
Theodore Roosevelt, Sr.


Martha Stewart Bulloch

Alma mater
Harvard University
Columbia Law School
Profession

Politcian
Author
Historian
Explorer
Conservationist

Religion
Dutch Reformed
Signature
Military service
Service/branch
United States Army
Years of service
1898
Rank
Colonel
Commands
1st United States Volunteer Cavalry
Battles/wars
Spanish–American War
 • Battle of Las Guasimas
 • Battle of San Juan Hill
Awards
Nobel Peace Prize (1906)
Medal of Honor (Posthumously; 2001)
The coat of arms of Theodore Roosevelt

A contemporary book plate used by Roosevelt for his personal library

[1]

Information
Date of origin
17th century
Shield
Argent upon a grassy mound a rosebush bearing three roses gules barbed and seeded proper proper.
Crest and mantle
Upon a torse argent and gules, Three ostrich plumes each per pale gules and argent, the mantling gules doubled argent.
Motto
Qui plantavit curabit, Latin for "he who has planted will preserve".[1]
Theodore "T.R." Roosevelt, Jr.[2] (/ˈroʊzəvɛlt/ ROH-zə-velt;[3]) (October 27, 1858 – January 6, 1919) was the 26th President of the United States (1901–1909). He is noted for his exuberant personality, range of interests and achievements, and his leadership of the Progressive Movement, as well as his "cowboy" persona and robust masculinity.[4] He was a leader of the Republican Party and founder of the first incarnation of the short-lived Progressive ("Bull Moose") Party of 1912. Before becoming president, he held offices at the city, state, and federal levels. Roosevelt's achievements as a naturalist, explorer, hunter, author, and soldier are as much a part of his fame as any office he held as a politician. Roosevelt was 42 years old when sworn in as President of the United States in 1901, making him the youngest president ever.[5] Roosevelt was also the first of only three sitting presidents to have won the Nobel Peace Prize.[6] The Teddy bear is named for him, despite his contempt for being called "Teddy".[7]
Born into a wealthy family in New York City, Roosevelt was a sickly child who suffered from asthma and stayed at home studying natural history. To overcome his physical weakness, he embraced a strenuous life. Home-schooled, he became an eager student of nature. He attended Harvard University, where he studied biology, boxed, and developed an interest in naval affairs. In 1881, one year out of Harvard, he was elected to the New York State Assembly, where he became a leader of the reform faction of his Republican Party (the "GOP"). His The Naval War of 1812 (1882) established his professional reputation as a serious historian; he wrote numerous books on hunting, the outdoors, and current political issues, as well as frontier history. In 1884, his first wife and his mother died on the same day. He temporarily left politics and went to the frontier, becoming a rancher in the "Badlands" in the Dakotas. Returning to New York City, he ran for mayor in 1886, finishing third with 60,000 votes. He later gained fame by taking vigorous charge of the city police. At the national level, he was a leader in civil service reform. The Spanish–American War broke out in 1898 while Roosevelt was, effectively, running the Department of the Navy. He promptly resigned and formed the Rough Riders, a volunteer cavalry regiment that fought in Cuba. The war hero was elected governor in 1898 and in 1900 was nominated for vice president. He successfully energized the GOP base as a highly visible campaigner to reelect President William McKinley, Jr. on a platform of high tariffs, the gold standard, imperialism, prosperity at home and victory abroad.
In 1901, President McKinley was assassinated and Roosevelt became president. He attempted to move the Republican Party (GOP) toward Progressivism, including trust busting and increased regulation of businesses. In 1904, Roosevelt became the first person elected to a term in his own right after having ascended to the presidency (from the Vice-Presidency) upon the death of his predecessor,[8] winning the largest percentage of the popular vote since the uncontested election of 1820. Roosevelt coined the phrase "Square Deal" to describe his domestic agenda, emphasizing that the average citizen would get a fair share under his policies. As an outdoorsman and naturalist, he promoted the conservation movement. On the world stage, Roosevelt's policies were characterized by his slogan, "Speak softly and carry a big stick". Roosevelt was the force behind the completion of the Panama Canal; sent the Great White Fleet on a world tour to demonstrate American power; and negotiated an end to the Russo-Japanese War, for which he won the Nobel Peace Prize.[9]
At the end of his second term, Roosevelt promoted his friend William Howard Taft for the 1908 Republican nomination. He toured Africa and Europe. On his return in 1910 he broke bitterly with President Taft on issues of progressivism and personalities. In the 1912 election Roosevelt tried and failed to block Taft's renomination. He launched the Bull Moose Party that called for far-reaching progressive reforms. They both lost to Democrat Woodrow Wilson, as the Taft conservatives gained control of the Republican party for decades to come. Roosevelt led a major expedition to the Amazon jungles but contracted diseases which ruined his health. Roosevelt has consistently been ranked by scholars as one of the greatest U.S. Presidents[10] His face, alongside George Washington, Thomas Jefferson, and Abraham Lincoln, adorns Mount Rushmore.
Early Life and Family
Theodore Roosevelt, Jr. was born on October 27, 1858, in a four-story brownstone at 28 East 20th Street, in the modern-day Gramercy section of New York City, to philanthropist Theodore "Thee" Roosevelt, Sr. (1831—1878) and socialite Martha Stewart "Mittie" Bulloch (1835—1884). Roosevelt had an older sister named Anna (1855—1931) (known as Bamie), a younger brother named Elliott (1860—1894), and a younger sister named Corinne (1861—1933). Thee was of Dutch and Welsh descent while Mittie was of Scottish and French descent.
Through his father, Theodore was a grandson of businessman Cornelius Van Schaack Roosevelt (1794—1871) and Margaret Barnhill (1799—1861) as well as a nephew of philanthropist James Alfred Roosevelt (1825—1898) and politician Robert Barnhill Roosevelt (1829—1906). Through his mother, Theodore was a grandson of Major James Stephens Bulloch (1793—1849) and Martha P. "Patsy" Stewart (1799—1864) as well as a nephew of Civil War Confederate veteran Irvine Stephens Bulloch (1842—1898) and half-nephew of Civil War Confederate veteran James Dunwoody Bulloch (1823—1901). He was also fifth cousin to the 32nd President of the United States, Franklin Delano Roosevelt (1882—1945), and he was the uncle and guardian of Franklin's wife, First Lady Anna Eleanor Roosevelt (1884—1962).
Sickly and asthmatic as a child, young Theodore Jr. had to sleep propped up in bed or slouching in a chair during much of his early years, and had frequent ailments. Despite his illnesses, he was hyperactive and often mischievous.[11] His lifelong interest in zoology was formed at age seven upon seeing a dead seal at a local market. After obtaining the seal's head, the young Roosevelt and two of his cousins formed what they called the "Roosevelt Museum of Natural History". Learning the rudiments of taxidermy, he filled his makeshift museum with animals that he killed or caught, studied, and prepared for display. At age nine, he codified his observation of insects with a paper titled "The Natural History of Insects".[12]
Encouraged by his father, the boy began exercising and boxing to combat his poor physical condition.[13] Two trips abroad had a lasting impact: family tours of Europe in 1869 and 1870, and Egypt 1872 to 1873.
Theodore Sr. had a tremendous influence on his son, who wrote of him, "My father, Theodore Roosevelt, was the best man I ever knew. He combined strength and courage with gentleness, tenderness, and great unselfishness. He would not tolerate in us children selfishness or cruelty, idleness, cowardice, or untruthfulness."[14]
Education
Young "Teedie", as he was nicknamed as a child,[16] was mostly home schooled by tutors and his parents. A leading biographer says: "The most obvious drawback to the home schooling Roosevelt received was uneven coverage of the various areas of human knowledge."[17] He was solid in geography (thanks to his careful observations on all his travels) and well read in history, strong in biology, French, and German, but struggled in mathematics, Latin, and Greek.
He entered Harvard College in the fall of 1876. His father's death in 1878 was a tremendous blow, but Roosevelt redoubled his activities. He did well in science, philosophy, and rhetoric courses but fared poorly in Latin and Greek. He studied biology with considerable interest and was already an accomplished naturalist and published ornithologist. He had a photographic memory and developed a lifelong habit of devouring books, memorizing every detail.[18] He was an eloquent conversationalist who, throughout his life, sought out the company of the smartest people. He could multitask in impressive fashion, dictating letters to one secretary and memoranda to another, while browsing through a new book. While at Harvard, Roosevelt was active in rowing, boxing, the Alpha Delta Phi literary society, the Delta Kappa Epsilon fraternity, and was a member of the Porcellian Club. He also edited The Harvard Advocate. He was runner-up in the Harvard boxing championship.
Upon graduating, Roosevelt underwent a physical examination, and his doctor advised him that because of serious heart problems, he should find a desk job and avoid strenuous activity. He chose to embrace strenuous life instead.[19] He graduated Phi Beta Kappa (22nd of 177) from Harvard with an Bachelors magna cum laude in 1880. He entered Columbia Law School, where he was a diligent student but showed little interest in a legal career; he spent much of his time writing a book on the War of 1812. When offered a chance to run for the New York Assembly as a Republican in 1881, he dropped out of law school to pursue his new goal: "I intended to be one of the governing class." He was elected and overnight became a prominent player in state politics, and a rising star in the Republican Party (the "GOP").[20]
First marriage
On his 22nd birthday, he married Alice Hathaway Lee (July 29, 1861—February 14, 1884), daughter of George Cabot Lee and Caroline Watts Haskell. She died young of an undiagnosed case of kidney failure (in those days called Bright's disease) two days after their daughter Alice Lee Roosevelt was born. Her pregnancy had masked the illness. Theodore's mother Mittie died of typhoid fever on the same day, at 3:00 am, some eleven hours earlier, in the same house. After the nearly simultaneous deaths of his mother and wife, the distraught Theodore left young Alice in the care of his sister Bamie in New York City while he took time for self-recovery. He took custody of his daughter when she was three. In his diary, he wrote a large 'X' on the page and then, "The light has gone out of my life."
For the rest of his life, he rarely spoke of his wife Alice at all and did not write about her in his autobiography. As late as 1919, when Roosevelt was working with Joseph Bucklin Bishop on a biography that included a collection of his letters, Roosevelt did not mention either of his marriages.[21]
While at Harvard, Roosevelt began a systematic study of the role played by the nascent US Navy in the War of 1812, largely completing two chapters of a book he would publish after graduation.[22][23] Helped in part by his two uncles, he did his own research using original source materials and official US Navy records. Roosevelt's carefully researched book was comparable to modern doctoral dissertations, complete with drawings of individual and combined ship maneuvers, charts depicting the differences in iron throw weights of cannon shot between American and British forces, and analyses of the differences between English and American leadership down to the ship-to-ship level. Published after Roosevelt's graduation from college, The Naval War of 1812 was praised for its scholarship and style. This book established Roosevelt's reputation as a serious historian.[24] One modern naval historian wrote: "Roosevelt's study of the War of 1812 influenced all subsequent scholarship on the naval aspects of the War of 1812 and continues to be reprinted. More than a classic, it remains, after 120 years, a standard study of the war."[24]
Early political career
State Assemblyman
Roosevelt was a member of the New York State Assembly (New York Co., 21st D.) in 1882, 1883 and 1884. In 1883, he was the Republican minority candidate for Speaker. In 1884, he lost the nomination for Speaker to Titus Sheard by a vote of 41 to 29 in the Republican Assembly caucus.[25] He was a Republican activist during his years in the Assembly, writing more bills than any other New York state legislator did. Already a leading player in state politics, he attended the Republican National Convention in 1884 and fought alongside the Mugwump reformers; they lost to the Stalwart faction that nominated James G. Blaine. Refusing to join other Mugwumps in supporting Grover Cleveland, the Democratic nominee, he debated with his friend Henry Cabot Lodge the pros and cons of staying loyal. When asked by a reporter whether he would support Blaine, he replied, "That question I decline to answer. It is a subject I do not care to talk about."[26] Upon leaving the convention, he complained "off the record" to a reporter about Blaine's nomination. In a crucial moment of his budding political career, he resisted the instinct to bolt from the Party that would overwhelm his political sense in 1912. In an account of the convention, another reporter quoted Roosevelt as saying that he would give "hearty support to any decent Democrat." He would later take great (and to some historical critics such as Henry Pringle, disingenuous) pains to distance himself from his earlier comment, indicating that while he made it, it had not been made "for publication."[27] Leaving the convention with his idealism disillusioned by party politics, Roosevelt said he had no further aspiration but to retire to his ranch in the Badlands of the Dakota Territory, which he had purchased the previous year while on a buffalo hunting expedition.
Return to New York
After the uniquely severe U.S. winter of 1886-1887 wiped out his herd of cattle (together with those of his competitors) and most of his $80,000 investment,[28] Roosevelt returned to the East. In 1885, he had built Sagamore Hill in Oyster Bay, New York on Long Island, which was his home and estate until his death.
In 1886, Roosevelt ran as the Republican candidate for mayor of New York City, portraying himself as "The Cowboy of the Dakotas." Due to information on the in-progress election, Republican insiders warned voters that George was leading and that Roosevelt was likely beat, thus causing a last-minute defection of Republican voters to the Democratic candidate Hewitt. Theodore Roosevelt took third place. The election results showed Hewitt (D) with 90,552 votes, George (United Labor) with 68,110, and Roosevelt (R) with 60,435.[29]
Cowboy in Dakota
Roosevelt built a second ranch, which he named Elk Horn, thirty-five miles (56 km) north of the boomtown of Medora, North Dakota. On the banks of the Little Missouri, Roosevelt learned to ride western style, rope, and hunt. He identified himself with the herdsman of history—with the cowboy—a man, he said, who possesses, "few of the emasculated, milk-and-water moralities admired by the pseudo-philanthropists; but he does possess, to a very high degree, the stern, manly qualities that are invaluable to a nation."[30][31] He rebuilt his life and began writing about frontier life for national magazines, as well publishing three books:
Hunting Trips of a Ranchman, New York and London:

G. P. Putnam's Sons

, 1885
Ranch Life and the Hunting-Trail, New York:

The Century Company

, 1888
The Wilderness Hunter, New York and London:

G. P. Putnam's Sons

, 1893
As a deputy sheriff, Roosevelt hunted down three outlaws who stole his riverboat and were escaping north with it up the Little Missouri. Capturing them, he decided against hanging them (apparently yielding to established law procedures in place of vigilante justice), and sending his foreman back by boat, he took the thieves back overland for trial in Dickinson, guarding them forty hours without sleep and reading Tolstoy to keep himself awake. When he ran out of his own books, he read a dime store western that one of the thieves was carrying.[32] While searching for a group of relentless horse thieves, Roosevelt met Seth Bullock, the famous sheriff of Deadwood, South Dakota. The two would remain friends for life.[33]
Second marriage
On December 2, 1886, he married his childhood friend Edith Kermit Carow (August 6, 1861—September 30, 1948), a daughter of Charles Carow and Gertrude Elizabeth Tyler.[34] They honeymooned in Europe, and Roosevelt led a group to the summit of Mont Blanc, an achievement that resulted in his induction into the English Royal Society.[35] Edith was also best friends with his sister Corinne. They had five children:
Reentering public life
Civil Service Commission
In the 1888 presidential election, Roosevelt campaigned in the Midwest for Benjamin Harrison. President Harrison appointed Roosevelt to the United States Civil Service Commission, where he served until 1895.[36] In his term, Roosevelt vigorously fought the spoilsmen and demanded enforcement of civil service laws. His close associate, friend, and biographer, Joseph Bucklin Bishop, described Roosevelt's assault on the spoils system:
The very citadel of spoils politics, the hitherto impregnable fortress that had existed unshaken since it was erected on the foundation laid by Andrew Jackson, was tottering to its fall under the assaults of this audacious and irrepressible young man..... Whatever may have been the feelings of the (fellow Republican party) President (Harrison) – and there is little doubt that he had no idea when he appointed Roosevelt that he would prove to be so veritable a bull in a china shop—he refused to remove him and stood by him firmly till the end of his term.[37]
During this time, the New York Sun described Roosevelt as "irrepressible, belligerent, and enthusiastic"[37]
Despite Roosevelt's support for Harrison's reelection bid in the presidential election of 1892, the eventual winner, Grover Cleveland (a Bourbon Democrat), reappointed him to the same post.[38]
New York City Police Commissioner
Roosevelt became president of the board of New York City Police Commissioners in 1895. During his two years in this post, Roosevelt radically reformed the police department. The police force was reputed as one of the most corrupt in America. The NYPD's history division records that Roosevelt was "an iron-willed leader of unimpeachable honesty, (who) brought a reforming zeal to the New York City Police Commission in 1895."[39] Roosevelt and his fellow commissioners established new disciplinary rules, created a bicycle squad to enforce New York's traffic laws, and standardized the use of pistols by officers.[40] He selected the Colt New Police Revolver in .32 Colt Caliber as the first standard issue pistol for the NYPD. Roosevelt implemented regular inspections of firearms and annual physical exams, appointed 1,600 recruits based on their physical and mental qualifications and not on political affiliation, established Meritorious Service Medals, and closed corrupt police hostelries. During his tenure, a Municipal Lodging House was established by the Board of Charities, and Roosevelt required officers to register with the Board. He also had telephones installed in station houses.
In 1894, Roosevelt met Jacob Riis, the muckraking Evening Sun newspaper journalist who was opening the eyes of New York's rich to the terrible conditions of the city's millions of poor immigrants with such books as, How the Other Half Lives. In Riis' autobiography, he described the effect of his book on the new police commissioner:
When Roosevelt read [my] book, he came..... No one ever helped as he did. For two years we were brothers in (New York City's crime-ridden) Mulberry Street. When he left I had seen its golden age..... There is very little ease where Theodore Roosevelt leads, as we all of us found out. The lawbreaker found it out who predicted scornfully that he would "knuckle down to politics the way they all did," and lived to respect him, though he swore at him, as the one of them all who was stronger than pull.... that was what made the age golden, that for the first time a moral purpose came into the street. In the light of it everything was transformed.[41]
Roosevelt made a habit of walking officers' beats late at night and early in the morning to make sure they were on duty.[42] As Governor of New York State before becoming vice president in March 1901, Roosevelt signed an act replacing the Police Commissioners with a single Police Commissioner.[43]
Emergence as a national figure
Roosevelt had always been fascinated by naval history. Urged by Roosevelt's close friend, Congressman Henry Cabot Lodge, President William McKinley appointed Roosevelt to the post of Assistant Secretary of the Navy in 1897. Because of the inactivity of Secretary of the Navy John D. Long, this gave Roosevelt control over the department. Ten days after the battleship Maine exploded [44] in the harbor of Havana, Cuba, the Secretary left for a massage, and Roosevelt became Acting Secretary for four hours. Roosevelt told the Navy worldwide to prepare for war, ordered ammunition and supplies, brought in experts, and went to Congress asking for authority to recruit as many sailors as he wanted, thus moving the nation toward war.[45] Roosevelt was instrumental in preparing the Navy for the Spanish–American War[46] and was an enthusiastic supporter of testing the U.S. military in combat, at one point saying, "I should welcome almost any war, for I think this country needs one".[47][48]
War in Cuba
On April 19, Congress passed joint resolution demanding Spanish withdrawal from Cuba and authorized the President to use as much military force as he thought necessary to help Cuba gain independence from Spain. President McKinley signed the joint resolution on April 20, 1898, and the ultimatum was sent to Spain. In response, Spain severed diplomatic relations with the United States on April 21. On the same day, the U.S. Navy began a blockade of Cuba.[49] Spain declared war on April 23. On April 25, Congress declared that a state of war between the U.S. and Spain had existed since April 21, the day the blockade of Cuba had begun.[49]
On that same day, April 25, Roosevelt resigned from his position as assistant Secretary of the Navy and with the aid of U.S. Army Colonel Leonard Wood, Roosevelt found volunteers from cowboys from the Western territories to Ivy League friends from New York, forming the First U.S. Volunteer Cavalry Regiment. The newspapers called them the "Rough Riders."
Assembling the Rough Riders in Texas
In planning the regiment in Washington, San Antonio, Texas, was selected as the regiment's mobilization site and their encampment was established in the San Antonio's International Fair Grounds, now called Roosevelt Park. On May 5, Colonel Wood arrived in and set up a recruiting table next to the bar of the Menger Hotel.[50] After securing modern multiple round Krag smokeless carbines in Washington thanks to Wood and Roosevelt s influence with the War Department, Roosevelt arrived on May 16 and joined the regiment's training. The Rough Riders received their horses and equipment from Fort Sam Houston's Quartermaster Depot but as in other aspects, their gear was unusual. They worn brown canvas stable fatigues for field service, carried machetes in lieu of sabers and had a dynamite gun and Colt Machine guns. These last were a gift from some of the educated East Coast Rough Riders, including Woodbury Kane of William Tiffany.
Diversity was an understatement for Roosevelt's incredible mix of men in the regiment that included Ivy Leaguers, football and baseball athletes, golf and polo players, gentlemen from the most exclusive clubs in New York and Boston, cowboys, frontiersmen, full-blooded and mixed-blooded Indians, hunters, miners, prospectors, former soldiers, tradesmen, sheriffs and assorted adventurers.
On May 28, orders came through from the War Department and Roosevelt and his men debarked on trains from San Antonio and began a grueling train ride for Tampa Florida.[51]
Leaving Tampa and Landing in Cuba
The Rough Riders were part of the Cavalry Division commanded by the former dashing Confederate cavalry officer turned US representative, Joseph Wheeler. Wheeler was given command of the Cavalry Division which was one of 3 divisions that were part of V Corps under Lt General William Rufus Shafter. After loading the ships and a delay of almost a week in the Tampa Bay because of reports of the Spanish Navy being nearby, Roosevelt and his men departed Tampa on June 13[52] and landed in Daiquiri on June 23, 1898, the Rough Riders quickly marched past the 1st Infantry Division commanded by Civil War veteran and Geronimo fighter, General Henry Ware Lawton and got to Siboney, Cuba one day later. With Shafter still at sea, Wheeler as senior general, was in command of ground forces. Not willing to be put on the march toward Santiago de Cuba behind the Infantry and hearing of Spaniards dug in at Las Guasimas, Cuba, without waiting for a change of orders from Shafter who said that the Cavalry Division was supposed to trail behind the infantry and that no one was to move forward until all soldiers had landed, after a conference with Cuban General, Calixto García. Hearing from Garcia, that Cuban insurrecto had clashed with the Spaniards left and right flanks that straddled the Camino Real road that went from Siboney to Santiago de Cuba, Wheeler was told that there were two largely parallel roads from the beaches of Siboney to Las Guasimas. Wheeler decided in a secret meeting with his brigade commanders late on 24 June that the following morning, 25 June 1898, that he would send elements of the 1st and 10th Regular Cavalry on the lower road northwest and the 1st Volunteers, "Rough Riders," commanded by Wood and Roosevelt and future Arizona territorial governor, Alexander Brodie as his two squadron commanders on the parallel road running along a ridge up from the beach. To throw off his infantry rival, Wheeler would leave one regiment of his Cavalry Division, the 9th, at Siboney so that he could claim that his move north was only a limited reconnaissance if things went wrong.
Las Guasimas
The Rough Riders met the Spaniards on the left trail (hardly more than a bridle path) just after the Regulars came within cannon fire distance of the Spaniards on the parallel Camino Real to their east. The ensuing fight was to be known as the Battle of Las Guasimas. While seen by some as a minor skirmish it was the first test of the new volunteer cavalry regiment under fire. The Rough Riders handled themselves fairly well and even though the Spaniards lines initially ran almost in an upside-down "U" shape around them, they fought their way through Spanish resistance and together with the Regulars forced the Spaniards to abandon their positions earlier than previously planned.[52]
San Juan Hill
Originally, Roosevelt held the rank of Lieutenant Colonel and served under Colonel Wood. In Roosevelt's own account, The Rough Riders, "after General Young was struck down with the fever, Wood took charge of the brigade. This left me in command of the regiment, of which I was very glad, for such experience as we had had is a quick teacher."[52] Accordingly, Wood was promoted to Brigadier General of Volunteer Forces, and Roosevelt was promoted to Colonel and given command of the Regiment.[52]
Under his leadership, the Rough Riders became famous for dual charges up Kettle Hill and San Juan Hill on July 1, 1898 (the battle was named after the latter "hill," which was the shoulder of a ridge known as San Juan Heights). Out of all the Rough Riders, Roosevelt was the only one with a horse, as the troopers' horses had been left behind because transport ships were scarce. He rode back and forth between rifle pits at the forefront of the advance up Kettle Hill, an advance that he urged in absence of any orders from superiors. He was forced to walk up the last part of Kettle Hill on foot, because of barbed wire entanglement and after his horse, Little Texas, tired.
For his actions, Roosevelt was nominated for the Medal of Honor, which was later disapproved. As historian John Gable wrote, "In later years Roosevelt would describe the Battle of San Juan Hill on July 1, 1898, as 'the great day of my life' and 'my crowded hour.'..... (but) Malaria and other diseases now killed more troops than had died in battle. In August, Roosevelt and other officers demanded that the soldiers be returned home."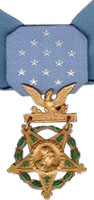 In 2001, Roosevelt was posthumously awarded the Medal of Honor for his actions. He was the first and, to date, is the only President of the United States to be awarded America's highest military honor, and the only person in history to receive both his nation's highest honor for military valor and the world's foremost prize for peace.[53] His eldest son Ted also earned a posthumous Medal of Honor during World War II, for rallying and leading troops in the midst of heavy German resistance during the invasion of Normandy in June 1944; he died a month later and was awarded the Medal of Honor in September.
After return to civilian life, Roosevelt preferred to be known as "Colonel Roosevelt" or "The Colonel." As a moniker, "Teddy" remained much more popular with the public, despite the fact he found it vulgar and called it "an outrageous impertinence."[54] Headline writers knew him as "T.R."[55][56][57] Political friends and others working closely with Roosevelt customarily addressed him by his rank or unshortened first name.
Governor and Vice-President
On leaving the Army, Roosevelt was elected governor of New York in 1898 as a Republican. He made such an effort to root out corruption and "machine politics" that Republican boss Thomas Collier Platt forced him on McKinley as a running mate in the 1900 election, against the wishes of McKinley's manager, Senator Mark Hanna. Roosevelt was a powerful campaign asset for the Republican ticket, which defeated William Jennings Bryan in a landslide based on restoration of prosperity at home and a successful war and new prestige abroad. Bryan stumped for Free Silver again, but McKinley's promise of prosperity through the gold standard, high tariffs, and the restoration of business confidence enlarged his margin of victory. Bryan had strongly supported the war against Spain, but denounced the annexation of the Philippines as imperialism that would spoil America's innocence. Roosevelt countered with many speeches that argued it was best for the Filipinos to have stability, and the Americans to have a proud place in the world. Roosevelt's six months as Vice President (March to September 1901) were uneventful.[58] On September 2, 1901, at the Minnesota State Fair, Roosevelt first used in a public speech a saying that would later be universally associated with him: "Speak softly and carry a big stick, and you will go far."
Presidency 1901–1909
Main article:
Presidency of Theodore Roosevelt
On September 6, President McKinley was shot while at the Pan-American Exposition in Buffalo, New York. Initial reports in the succeeding days suggested his condition was improving, so Roosevelt embarked on a vacation at Mount Marcy in northeastern New York. He was returning from a climb to the summit on September 13 when a park ranger brought him a telegram informing him that McKinley's condition had deteriorated, and he was near death.[59]
Roosevelt and his family immediately departed for Buffalo. When they reached the nearest train station at North Creek, at 5:22 AM on September 14, he received another telegram informing him that McKinley had died a few hours earlier. Roosevelt arrived in Buffalo that afternoon, and was sworn in there as president at 3:30 pm by U.S. District Judge John R. Hazel at the Ansley Wilcox House.
Roosevelt kept McKinley's Cabinet and promised to continue McKinley's policies. One of his first notable acts as president was to deliver a 20,000-word address to Congress[60] asking it to curb the power of large corporations (called "trusts"). For his aggressive attacks on trusts over his two terms, he has been called a "trust-buster." In the 1904 presidential election, Roosevelt won the presidency in his own right in a landslide victory. His vice president was Charles W. Fairbanks.
Roosevelt also dealt with union workers. In May 1902, United Mine Workers went on strike to get higher pay wages and shorter workdays. He set up a fact-finding commission that stopped the strike, and resulted in the workers getting more pay for fewer hours.
In August 1902, Roosevelt was the first president to be seen riding in an automobile in public.[61] This took place in Hartford, CT. The car was a Columbia Electric Victoria Phaeton, manufactured in Hartford. The police squad rode bicycles alongside the car. (The reference includes a photo of the event.)
In 1904, he issued a corollary to the Monroe Doctrine, which allows the United States to "exercise international policy power" so they can intervene and keep smaller countries on their feet.[62]
Roosevelt helped the well-being of people by passing laws such as The Meat Inspection Act of 1906 and The Pure Food and Drug Act. The Meat Inspection Act of 1906 banned misleading labels and preservatives that contained harmful chemicals. The Pure Food and Drug Act banned food and drugs that are impure or falsely labeled from being made, sold, and shipped. Roosevelt was also served as honorary president of the school health organization American School Hygiene Association from 1907 to 1908, and in 1909 he convened the first White House Conference on the Care of Dependent Children.[63]
The Gentlemen's Agreement with Japan came into play in 1907, banning all school segregation of Japanese, yet controlling Japanese immigration in California. That year, Roosevelt signed the proclamation establishing Oklahoma as the 46th state of the Union.
Building on McKinley's effective use of the press, Roosevelt made the White House the center of news every day, providing interviews and photo opportunities. After noticing the White House reporters huddled outside in the rain one day, he gave them their own room inside, effectively inventing the presidential press briefing.[64] The grateful press, with unprecedented access to the White House, rewarded Roosevelt with ample coverage.[64]
He chose not to run for another term in 1908, and supported William Howard Taft for the presidency, instead of Fairbanks. Fairbanks withdrew from the race, and would later support Taft for re-election against Roosevelt in the 1912 election.
Main article:
List of federal judges appointed by Theodore Roosevelt
Roosevelt appointed a record 75 federal judges. Roosevelt appointed three Justices to the Supreme Court of the United States: Oliver Wendell Holmes, Jr. (1902), William Rufus Day (1903), and William Henry Moody (1906). In addition to these three, Roosevelt appointed 19 judges to the United States Courts of Appeals, and 53 judges to the United States district courts.
Post-presidency
Smithsonian-Roosevelt African Expedition (1909–1910)
In March 1909, shortly after the end of his presidency, Roosevelt left New York for the Smithsonian-Roosevelt African Expedition, a safari in east and central Africa outfitted by the Smithsonian Institution.[65] Roosevelt's party landed in Mombasa, British East Africa (now Kenya), traveled to the Belgian Congo (now Democratic Republic of the Congo) before following the Nile to Khartoum in modern Sudan. Financed by Andrew Carnegie and by his own proposed writings, Roosevelt's party hunted for specimens for the Smithsonian Institution and for the American Museum of Natural History in New York.[66] The group, led by the legendary hunter-tracker R. J. Cunninghame, included scientists from the Smithsonian and was joined from time to time by Frederick Selous, the famous big game hunter and explorer. Among other items, Roosevelt brought with him four tons of salt for preserving animal hides, a lucky rabbit's foot given to him by boxer John L. Sullivan, a Holland and Holland double rifle in .500/450 donated by a group of 56 admiring Britons, a Winchester 1895 rifle in .405 Winchester, an Army (M1903) Springfield in .30-06 caliber stocked and sighted for him, a Fox No. 12 shotgun, and the famous Pigskin Library, a collection of classics bound in pig leather and transported in a single reinforced trunk. Participants on the Expedition included Roosevelt's son, Kermit, Edgar Alexander Mearns, Edmund Heller, and John Alden Loring.
Roosevelt and his companions killed or trapped approximately 11,400[66] animals, from insects and moles to hippopotamuses and elephants. The 1000 large animals included 512 big game animals, including six rare White rhinos. The expedition consumed 262 of the animals. Tons of salted animals and their skins were shipped to Washington, D.C.; the quantity was so large that it took years to mount them all, and the Smithsonian shared many duplicate animals with other museums. Regarding the large number of animals taken, Roosevelt said, "I can be condemned only if the existence of the National Museum, the American Museum of Natural History, and all similar zoological institutions are to be condemned."[67]
Although the safari was ostensibly conducted in the name of science, it was as much a political and social event as it was a hunting excursion; Roosevelt interacted with renowned professional hunters and land-owning families, and met many native peoples and local leaders. Roosevelt became a Life Member of the National Rifle Association, while President, in 1907 after paying a $25 fee.[68] He later wrote a detailed account in the book African Game Trails,[69] where he describes the excitement of the chase, the people he met, and the flora and fauna he collected in the name of science.
Republican Party schism
Excerpts from a speech given by Theodore Roosevelt at Carnegie Hall, March 12, 1912. Recorded August 1912 by Thomas Edison. Duration 4:07.

---

Problems playing this file?
Roosevelt certified William Howard Taft to be a genuine "progressive" in 1908, when Roosevelt pushed through the nomination of his Secretary of War for the Presidency. Taft easily defeated three-time candidate William Jennings Bryan. Taft promoted a different progressivism, one that stressed the rule of law and preferred that judges rather than administrators or politicians make the basic decisions about fairness. Taft usually proved a less adroit politician than Roosevelt and lacked the energy and personal magnetism, not to mention the publicity devices, the dedicated supporters, and the broad base of public support that made Roosevelt so formidable. When Roosevelt realized that lowering the tariff would risk severe tensions inside the Republican Party—pitting producers (manufacturers and farmers) against merchants and consumers—he stopped talking about the issue. Taft ignored the risks and tackled the tariff boldly, on the one hand encouraging reformers to fight for lower rates, and then cutting deals with conservative leaders that kept overall rates high. The resulting Payne-Aldrich tariff of 1909 was too high for most reformers, but instead of blaming this on Senator Nelson Wilmarth Aldrich and big business, Taft took credit, calling it the best tariff ever. He again had managed to alienate all sides. While the crisis was building inside the Party, Roosevelt was touring Africa and Europe, to allow Taft to be his own man.[70]
Unlike Roosevelt, Taft never attacked business or businessmen in his rhetoric. However, he was attentive to the law, so he launched 90 antitrust suits, including one against the largest corporation, U.S. Steel, for an acquisition that Roosevelt had personally approved. Consequently, Taft lost the support of antitrust reformers (who disliked his conservative rhetoric), of big business (which disliked his actions), and of Roosevelt, who felt humiliated by his protégé. The left wing of the Republican Party began agitating against Taft. Senator Robert M. La Follette, Sr. of Wisconsin created the National Progressive Republican League (precursor to the Progressive Party (United States, 1924)) to defeat the power of political bossism at the state level and to replace Taft at the national level. More trouble came when Taft fired Gifford Pinchot, a leading conservationist and close ally of Roosevelt. Pinchot alleged that Taft's Secretary of Interior Richard Ballinger was in league with big timber interests. Conservationists sided with Pinchot, and Taft alienated yet another vocal constituency.
Roosevelt, back from Europe, unexpectedly launched an attack on the courts. His famous speech at Osawatomie, Kansas, in August 1910 was the most radical of his career and openly marked his break with the Taft administration and the conservative Republicans. Osawatomie was well known as the base used by John Brown when he launched his bloody attacks on slavery. Taft was deeply upset. Roosevelt was attacking both the judiciary and the deep faith Republicans had in their judges (most of whom had been appointed by McKinley, Roosevelt or Taft). In the 1910 Congressional elections, Democrats swept to power, and Taft's reelection in 1912 was increasingly in doubt. In 1911, Taft responded with a vigorous stumping tour that allowed him to sign up most of the party leaders long before Roosevelt announced.
Election of 1912
Main articles:
U.S. presidential election, 1912
and
Progressive Party (United States, 1912)
Republican primaries
Despite his new doubts about Taft's leadership abilities, Roosevelt still was friendly towards him[71] and was in favor of his re-election. On October 27, 1911, however, Roosevelt and Taft's deteriorating friendship officially came to an end when Taft's administration filed an antitrust suit against US Steel,[71][72] which Roosevelt labeled as a "good trust". After he finally broke with Taft, Roosevelt saw himself as the only person who could save the Republican party from defeat in the upcoming Presidential election and announced himself as a candidate for the Republican nomination.[71] Roosevelt, however, had delayed too long, and Taft had already won the support of most party leaders in the country. Because of LaFollette's nervous breakdown on the campaign trail before Roosevelt's entry, most of LaFollette's supporters went over to Roosevelt, the new progressive Republican candidate.
Roosevelt, stepping up his attack on judges, carried nine of the states that held preferential primaries, LaFollette took two, and Taft only one. The 1912 primaries represented the first extensive use of the presidential primary, a reform achievement of the progressive movement. However, these primary elections, while demonstrating Roosevelt's continuing popularity with the electorate, were not nearly as pivotal as primaries would become later in the century. There were fewer states where a common voter had an opportunity to express a recorded preference. Many more states selected convention delegates at state party conventions, or in caucuses, which were not as open as they later became. While Roosevelt was popular with the public, most Republican politicians and party leaders supported Taft, and their support proved difficult to counter in states without primaries.
Formation of the Bull Moose Party
See also:
New Nationalism
At the Republican Convention in Chicago, despite being the incumbent, Taft's victory was not immediately assured. After two weeks, Roosevelt, realizing he would not win the nomination outright, asked his followers to leave the convention hall. They moved to the Auditorium Theatre, and then Roosevelt, along with key allies such as Pinchot and Albert Beveridge created the Progressive Party, structuring it as a permanent organization that would field complete tickets at the presidential and state level. It was popularly known as the "Bull Moose Party", which got its name after Roosevelt told reporters, "I'm as fit as a bull moose."[73] At the convention Roosevelt cried out, "We stand at Armageddon and we battle for the Lord." Roosevelt's platform echoed his 1907–1908 proposals, calling for vigorous government intervention to protect the people from the selfish interests.[74]
To destroy this invisible Government, to dissolve the unholy alliance between corrupt business and corrupt politics is the first task of the statesmanship of the day." – 1912 Progressive Party Platform, attributed to him[75] and quoted again in his autobiography[76] where he continues "'This country belongs to the people. Its resources, its business, its laws, its institutions, should be utilized, maintained, or altered in whatever manner will best promote the general interest.' This assertion is explicit..... Mr. Wilson must know that every monopoly in the United States opposes the Progressive party..... I challenge him..... to name the monopoly that did support the Progressive party, whether ... the Sugar Trust, the Steel Trust, the Harvester Trust, the Standard Oil Trust, the Tobacco Trust, or any other..... Ours was the only program to which they objected, and they supported either Mr. Wilson or Mr. Taft.....
Assassination attempt
While Roosevelt was campaigning in Milwaukee, Wisconsin, on October 14, 1912, a saloonkeeper named John Flammang Schrank shot him, but the bullet lodged in his chest only after penetrating his steel eyeglass case and passing through a thick (50 pages) single-folded copy of the speech he was carrying in his jacket.[77] Roosevelt, as an experienced hunter and anatomist, correctly concluded that since he was not coughing blood, the bullet had not completely penetrated the chest wall to his lung, and so declined suggestions he go to the hospital immediately. Instead, he delivered his scheduled speech with blood seeping into his shirt.[78] He spoke for 90 minutes. His opening comments to the gathered crowd were, "Ladies and gentlemen, I don't know whether you fully understand that I have just been shot; but it takes more than that to kill a Bull Moose."[79] Afterwards, probes and x-ray showed that the bullet had traversed three inches (76 mm) of tissue and lodged in Roosevelt's chest muscle but did not penetrate the pleura, and it would be more dangerous to attempt to remove the bullet than to leave it in place. Roosevelt carried it with him for the rest of his life.[80]
Because of the bullet wound, Roosevelt was taken off the campaign trail in the final weeks of the race (which ended election day, November 5). Though the other two campaigners stopped their own campaigns in the week Roosevelt was in the hospital, they resumed it once he was released. The bullet lodged in his chest caused his rheumatoid arthritis—which he had suffered from for years[81]—to get worse and it soon prevented him from doing his daily stint of exercises;[81] Roosevelt would soon become obese as well.[81] Roosevelt, for many reasons, failed to move enough Republicans in his direction. He did win 4.1 million votes (27%), compared to Taft's 3.5 million (23%). However, Wilson's 6.3 million votes (42%) were enough to garner 435 electoral votes. Roosevelt had 88 electoral votes to Taft's 8 electoral votes. This meant that Taft became the only incumbent president to place third in a re-election bid. But Pennsylvania was Roosevelt's only eastern state; in the Midwest, he carried Michigan, Minnesota and South Dakota; in the West, California and Washington; he did not win any southern states.
1913–1914 South American Expedition
Main article:
Roosevelt–Rondon Scientific Expedition
Roosevelt's popular book Through the Brazilian Wilderness[82] describes his expedition into the Brazilian jungle in 1913 as a member of the Roosevelt-Rondon Scientific Expedition, co-named after its leader, Brazilian explorer Cândido Rondon. The book describes the scientific discovery, scenic tropical vistas, and exotic flora and fauna experienced during the adventure. A friend, Father John Augustine Zahm, had searched for new adventures and found them in the forests of South America. After a briefing of several of his own expeditions, he persuaded Roosevelt to commit to such an expedition in 1912. To finance the expedition Roosevelt received support from the American Museum of Natural History, promising to bring back many new animal specimens.
Once in South America, a new far more ambitious goal was added: to find the headwaters of the Rio da Duvida, the River of Doubt, and trace it north to the Madeira and thence to the Amazon River. It was later renamed Roosevelt River in honor of the former president. Roosevelt's crew consisted of his son Kermit, Colonel Rondon, a naturalist, George K. Cherrie, sent by the American Museum of Natural History, Brazilian Lieutenant Joao Lyra, team physician Dr. José Antonio Cajazeira, and 16 skilled paddlers and porters (called camaradas in Portuguese). The initial expedition started, probably unwisely, on December 9, 1913, at the height of the rainy season. The trip down the River of Doubt started on February 27, 1914.
During the trip down the river, Roosevelt suffered a minor leg wound after he jumped into the river to try to prevent two of his crew's canoes from smashing against the rocks.[81][83] The flesh wound he received, however, soon gave him tropical fever that resembled the malaria he contracted while in Cuba fifteen years before.[81][83] Because the bullet lodged in his chest from the failed assassination attempt in 1912 was never removed, his health worsened from the infection.[83] This weakened Roosevelt so greatly that six weeks into the adventure he had to be attended day and night by the expedition's physician and his son, Kermit. By then he could not walk because of both the infection in his injured leg and an infirmity in his other from a traffic accident a decade earlier. Roosevelt was riddled with chest pains, fighting a fever that soared to 103 °F (39 °C), and at times so delirious that he would repeat endlessly the opening line from Coleridge's poem Kubla Khan.[84] Regarding his condition as a threat to the survival of the others, Roosevelt insisted he be left behind to allow the by then poorly provisioned expedition to proceed as rapidly as it could. Only an appeal by his son persuaded him to continue.
Despite Roosevelt's continued decline and loss of over 50 pounds (20 kg) of his original 220, Commander Rondon had been repeatedly slowing down the pace of the expedition in dedication to his commission's mapmaking and other geographical goals that demanded regular stops to fix the expedition's position by sun-based survey.
Upon Roosevelt's return to New York, friends and family were startled by his physical appearance and fatigue. Roosevelt wrote to a friend that the trip had cut his life short by ten years. He might not have known just how accurate that analysis would prove. For the rest of his few remaining years he would be plagued by flare-ups of malaria and leg inflammations so severe that they would require surgery.[85][86]
Before Roosevelt had even completed his sea voyage home, doubts were raised over his claims of exploring and navigating a completely uncharted river over 625 miles (1,000 km) long. When he had recovered sufficiently he addressed a standing-room-only convention organized in Washington, D.C. by the National Geographic Society and satisfactorily defended his claims. The River of Doubt later was named the Rio Roosevelt.
World War I
When World War I began in 1914, Roosevelt strongly supported the Allies and demanded a harsher policy against Germany, especially regarding submarine warfare. Roosevelt angrily denounced the foreign policy of President Wilson, calling it a failure regarding the atrocities in Belgium and the violations of American rights.[87] In 1916, he campaigned energetically for Charles Evans Hughes and repeatedly denounced Irish-Americans and German-Americans who Roosevelt said were unpatriotic because they put the interest of Ireland and Germany ahead of America's by supporting neutrality. He insisted one had to be 100% American, not a "hyphenated American" who juggled multiple loyalties. When the U.S. entered the war in 1917, Roosevelt sought to raise a volunteer infantry division, but Wilson refused.[88]
Roosevelt's attacks on Wilson helped the Republicans win control of Congress in the off-year elections of 1918. Roosevelt was popular enough to seriously contest the 1920 Republican nomination, but his health was broken by 1918, because of the lingering malaria. His family and supporters threw their support to Roosevelt's old military companion, General Leonard Wood, who was ultimately defeated by Taft supporter Warren G. Harding.[89]
His youngest son Quentin, a daring pilot with the American forces in France, was shot down behind German lines in 1918 at the age of 20. It is said the death of his son distressed him so much that Roosevelt never recovered from his loss.[90]
Death
Despite his health issues, Roosevelt remained active to the end of his life. He was an enthusiastic proponent of the Scouting movement. The Boy Scouts of America gave him the title of Chief Scout Citizen, the only person to hold such title. One early Scout leader said, "The two things that gave Scouting great impetus and made it very popular were the uniform and Teddy Roosevelt's jingoism."[91] On the night of January 5, 1919 at 11:00 PM, he experienced breathing problems. He felt better after treatment from his family physician Dr. George W. Faller and went to bed. Theodore's last words were "Please put out that light, James." to his family servant James Amos.
Between 4:00 AM and 4:15 AM the next morning, Roosevelt died unexpectedly in his sleep at Sagamore Hill from a blood clot detaching itself from a vein and entering his lungs.[92] Upon receiving word of his death, his son Archie telegraphed his siblings simply, "The old lion is dead."[90] Woodrow Wilson's vice president, Thomas R. Marshall, said that "Death had to take Roosevelt sleeping, for if he had been awake, there would have been a fight."[93] In addition to sisters Corinne and Bamie and his wife Edith, Theodore was survived by five children and eight grandchildren at the time of his death.
Political positions and speeches
Main article:
Political positions of Theodore Roosevelt
Theodore Roosevelt introduced the phrase "Square Deal" to describe his progressive views in a speech delivered after leaving the office of the Presidency in August 1910. In his broad outline, he stressed equality of opportunity for all citizens and emphasized the importance of fair government regulations of corporate 'special interests'.
Roosevelt was one of the first Presidents to make conservation a national issue. In a speech that Roosevelt gave at Osawatomie, Kansas, on August 31, 1910, he outlined his views on conservation of the lands of the United States. He favored using America's natural resources, but opposed wasteful consumption.[94] One of his most lasting legacies was his significant role in the creation of 5 national parks, 18 national monuments, and 150 National Forests, among other works of conservation. Roosevelt was instrumental in conserving about 230 million acres (930,000 km2) of American soil among various parks and other federal projects.[95]
In the Eighth Annual Message to Congress (1908), Roosevelt mentioned the need for federal government to regulate interstate corporations using the Interstate Commerce Clause, also mentioning how these corporations fought federal control by appealing to states' rights.
Positions on immigration, minorities, and civil rights
"I don't go so far as to think that the only good Indians are dead Indians, but I believe nine out of ten are, and I shouldn't like to inquire too closely into the case of the tenth."
In an 1894 article on immigration, Roosevelt said, "We must Americanize in every way, in speech, in political ideas and principles, and in their way of looking at relations between church and state. We welcome the German and the Irishman who becomes an American. We have no use for the German or Irishman who remains such..... He must revere only our flag, not only must it come first, but no other flag should even come second."[97]
Roosevelt took an active interest in immigration, and within months of assuming the presidency had launched an extensive reorganization of the federal immigration depot at Ellis Island. Roosevelt himself "straddled the immigration question,"[98] taking the position that "we cannot have too much immigration of the right sort, and we should have none whatever of the wrong sort."[99] As president, his stated preferences were relatively inclusive, across the then diverse and mostly European sources of immigration:
It is unwise to depart from the old American tradition and discriminate for or against any man who desires to come here and become a citizen, save on the ground of that man's fitness for citizenship...We can not afford to consider whether he is Catholic or Protestant, Jew or Gentile; whether he is Englishman or Irishman, Frenchman or German, Japanese, Italian, or Scandinavian or Magyar. What we should desire to find out is the individual quality of the individual man...[100]
Roosevelt was the first president to appoint a representative of the Jewish minority to a cabinet position – Secretary of Commerce and Labor, Oscar S. Straus, 1906–09. Straus (who had helped co-found the Immigration Protective League in 1898) became thereby, in 1906, the Roosevelt Administration's cabinet official overseeing immigration, through which appointment he helped secure passage of, and implement, the U.S. Immigration Act of 1907.[101]
In 1886 Roosevelt said: "I don't go so far as to think that the only good Indians are dead Indians, but I believe nine out of ten are, and I shouldn't like to inquire too closely into the case of the tenth. The most vicious cowboy has more moral principle than the average Indian. Turn three hundred low families of New York into New Jersey, support them for fifty years in vicious idleness, and you will have some idea of what the Indians are. Reckless, revengeful, fiendishly cruel, they rob and murder, not the cowboys, who can take care of themselves, but the defenseless, lone settlers on the plains. As for the soldiers, an Indian chief once asked Sheridan for a cannon. "What! Do you want to kill my soldiers with it?" asked the general. "No," replied the chief, "want to kill the cowboy; kill soldier with a club." He later became much more favorable.[102][103]
Regarding African-Americans, Roosevelt said, "I have not been able to think out any solution of the terrible problem offered by the presence of the Negro on this continent, but of one thing I am sure, and that is that inasmuch as he is here and can neither be killed nor driven away, the only wise and honorable and Christian thing to do is to treat each black man and each white man strictly on his merits as a man, giving him no more and no less than he shows himself worthy to have."[104]
Roosevelt appointed numerous African Americans to federal office, such as Walter L. Cohen of New Orleans, Louisiana, a leader of the Black and Tan Republican faction whom he named register of the federal land office.[105]
Contrasting the European conquest of North America with that of Australia, Roosevelt wrote: "The natives [of Australia] were so few in number and of such a low type, that they practically offered no resistance at all, being but little more hindrance than an equal number of ferocious beasts";[106] however, the Native Americans were "the most formidable savage foes ever faced ever encountered by colonists of European stock."[107] He regarded slavery as "a crime whose shortsighted folly was worse than its guilt" because it "brought hordes of African slaves, whose descendants now form immense populations in certain portions of the land."[108] Contrasting the European conquest of North America with that of South Africa, Roosevelt felt that the fate of the latter's colonists would be different because, unlike the Native American, the African "neither dies out nor recedes before their advance", meaning the colonists would likely "be swallowed up in the overwhelming mass of black barbarism."[109]
Starting in 1907 eugenicists in many States started the forced sterilization of the sick, unemployed, poor, criminals, prostitutes, and the disabled. Roosevelt said in 1914: "I wish very much that the wrong people could be prevented entirely from breeding; and when the evil nature of these people is sufficiently flagrant, this should be done. Criminals should be sterilized and feeble-minded persons forbidden to leave offspring behind them."[110]
Writer
A speech by Roosevelt as a former President

---

Problems playing this file?
Roosevelt was a prolific author, writing with passion on subjects ranging from foreign policy to the importance of the national park system. Roosevelt was also an avid reader of poetry. Poet Robert Frost said Roosevelt "was our kind. He quoted poetry to me. He knew poetry."[111]
As an editor of Outlook magazine, he had weekly access to a large, educated national audience. In all, Roosevelt wrote about 18 books (each in several editions), including his Autobiography,[112] The Rough Riders[113] History of the Naval War of 1812,[114] and others on subjects such as ranching, explorations, and wildlife. His most ambitious book was the four volume narrative The Winning of the West, which connected the origin of a new "race" of Americans (i.e. what he considered the present population of the United States to be) to the frontier conditions their ancestors endured throughout the 17th, 18th, and early 19th centuries.
In 1907, Roosevelt became embroiled in a widely publicized literary debate known as the nature fakers controversy. A few years earlier, naturalist John Burroughs had published an article entitled "Real and Sham Natural History" in the Atlantic Monthly, attacking popular writers of the day such as Ernest Thompson Seton, Charles G. D. Roberts and William J. Long for their fantastical representations of wildlife. Roosevelt agreed with Burroughs' criticisms, and published several essays of his own denouncing the booming genre of "naturalistic" animal stories as "yellow journalism of the woods". It was the President himself who popularized the negative term "nature faker" to describe writers who depicted their animal characters with excessive anthropomorphism.[115]
Character and beliefs
Roosevelt intensely disliked being called "Teddy," and was quick to point out this fact to those who referred to him as such, though it would become widely used by newspapers during his political career. He attended church regularly. Of including the motto "In God We Trust" on money, in 1907 he wrote, "It seems to me eminently unwise to cheapen such a motto by use on coins, just as it would be to cheapen it by use on postage stamps, or in advertisements." He was also a member of the Freemasons and Sons of the American Revolution.[116]
Roosevelt had a lifelong interest in pursuing what he called, in an 1899 speech, "The Strenuous Life". To this end, he exercised regularly and took up boxing, tennis, hiking, rowing, polo, and horseback riding. As governor of New York, he boxed with sparring partners several times a week, a practice he regularly continued as president until one blow detached his left retina, leaving him blind in that eye (a fact not made public until many years later). Thereafter, he practiced judo attaining a third degree brown belt and continued his habit of skinny-dipping in the Potomac River during winter.[117][118]
He was an enthusiastic singlestick player and, according to Harper's Weekly, in 1905 showed up at a White House reception with his arm bandaged after a bout with General Leonard Wood.[119] Roosevelt was also an avid reader, reading tens of thousands of books, at a rate of several a day in multiple languages. Along with Thomas Jefferson, Roosevelt is often considered the most well read of any American politician.[120]
Legacy
Historians credit Roosevelt for changing the nation's political system by permanently placing the presidency at center stage and making character as important as the issues. His notable accomplishments include trust busting and conservationism. However, he has been criticized for his interventionist and imperialist approach to nations he considered "uncivilized". His friend, historian Henry Brooks Adams, proclaimed, "Roosevelt, more than any other living man..... showed the singular primitive quality that belongs to ultimate matter the quality that medieval theology assigned to God—he was pure act." Historians typically rank Roosevelt among the top five presidents.[121][122]
Memorials
Roosevelt was included with George Washington, Thomas Jefferson and Abraham Lincoln at the Mount Rushmore Memorial, designed in 1927 with the approval of Republican President Calvin Coolidge.
For his gallantry at San Juan Hill, Roosevelt's commanders recommended him for the Medal of Honor. In the late 1990s, Roosevelt's supporters again took up the flag for him. On January 16, 2001, President Bill Clinton awarded Theodore Roosevelt the Medal of Honor posthumously for his charge up San Juan Hill, Cuba, during the Spanish–American War. His eldest son Ted received the Medal of Honor for heroism at the Battle of Normandy in 1944. The Roosevelts thus became one of only two father-son pairs to receive this honor (the other pair being Arthur MacArthur, Jr. and Douglas MacArthur).
He was awarded an honorary doctorate (LL.D.) by Yale University in October 1901, during celebrations for the bicentenary of the university.[123]
Roosevelt's legacy includes several other important commemorations. The United States Navy named two ships for Roosevelt: the USS Theodore Roosevelt (SSBN-600), a submarine that was in commission from 1961 to 1982; and the USS Theodore Roosevelt (CVN-71), an aircraft carrier that has been on active duty in the Atlantic Fleet since 1986.
On November 18, 1956, the United States Postal Service released a 6¢ Liberty Issue postage stamp honoring Roosevelt. A second stamp of face value 32¢ was issued on 3 February 1998 as part of the Celebrate the Century stamp sheet series.
The Roosevelt Memorial Association (now the Theodore Roosevelt Association) or "TRA", was founded in 1920 to preserve Roosevelt's legacy. The Association preserved Roosevelt's birthplace, "Sagamore Hill" home, papers, and video film. In 1941, it published the Theodore Roosevelt Cyclopedia, a compendium of Roosevelt's key writings, sayings and conversations, which is available online.
In 2008 Columbia Law School awarded a law degree to Roosevelt, posthumously making him a member of the class of 1882.[124] Among the hundreds of schools and streets named in Roosevelt's honor are Roosevelt High School in Seattle, Washington, the surrounding Roosevelt neighborhood, the district's main arterial, Roosevelt Way N.E., and Roosevelt Middle School in Eugene, Oregon.
The Hollywood Roosevelt Hotel in Los Angeles is named after him, as is the Roosevelt Hotel in New York City.
In Chicago, the city renamed 12th Street to Roosevelt Road four months after Roosevelt's death.[125] In Philadelphia, Roosevelt Boulevard, also known as U.S. 1, was named in his honor in 1918.
In popular culture
Roosevelt's 1901 saying "Speak Softly and Carry a Big Stick" is still quoted by politicians and columnists in different countries—not only in English but also in translation to various other languages.
A quote from Roosevelt's 1912 Progressive Party platform was cited as an epigram by Julian Assange, founder of WikiLeaks, in his 2006 manifesto: "Behind the ostensible government sits enthroned an invisible government, owing no allegiance and acknowledging no responsibility to the people. To destroy this invisible government, to dissolve the unholy alliance between corrupt business and corrupt politics is the first task of the statesmanship of the day."[126][127]
Roosevelt's lasting popular legacy, however, is the stuffed toy bears—teddy bears—named after him following an incident on a hunting trip in Mississippi in 1902. Roosevelt famously refused to shoot a defenseless black bear. After the cartoonist Clifford K. Berryman illustrated the President with a bear, a toy maker heard the story and asked Roosevelt if he could use his name on a toy bear. Roosevelt approved, and the teddy bear was born. Bears and later bear cubs became closely associated with Roosevelt in political cartoons thereafter.[128]
On June 26, 2006, Roosevelt, again, made the cover of Time magazine magazine with the lead story, "The Making of America—Theodore Roosevelt—The 20th Century Express": "At home and abroad, Theodore Roosevelt was the locomotive President, the man who drew his flourishing nation into the future."[129]
In 1905, Roosevelt, an admirer of various western figures, named Captain Bill McDonald of the Texas Rangers, as his bodyguard and entertained the legendary Texan in the White House. Ironically, in the 1912 campaign, McDonald was Woodrow Wilson's bodyguard. Wilson thereafter named the Democrat McDonald as U.S. Marshal for the Northern district of Texas.[130]
Roosevelt has been portrayed many times in film and on television. The actor Karl Swenson played him in the 1967 western picture Brighty of the Grand Canyon, the story of a real-life burro who guided Roosevelt on a hunting trip to find mountain lions.[131]
Brian Keith portrayed Roosevelt in the 1975 film The Wind and the Lion, a dramatization of the Perdicaris incident of 1904.
In the play Arsenic and Old Lace, and the 1944 film of the same name, the character Teddy Brewster is convinced he is Roosevelt. He is enlisted in this role by his aunts to bury their victims' bodies in the cellar by asking him to dig "another lock for the Panama Canal", then telling him someone has died of yellow fever and needs to be buried. When he runs up the stairs brandishing an imaginary sword and yelling "Charge!", his aunt Abby Brewster explains to Officer Brophy, "The stairs are always San Juan Hill". His bugle-blowing at all hours is the primary reason the aunts are being pressured to have him committed to a sanitarium.
He was also portrayed by actor Tom Berenger in 1997 for the TNT movie Rough Riders, a made-for-cable film about his exploits during the Spanish–American War in Cuba.[132]
Frank Albertson played Roosevelt in the episode "Rough and Ready" of the CBS series My Friend Flicka."[133]
Peter Breck played Roosevelt in 1961 episode "Yankee Tornado" of the ABC series Bronco.[134]
Robin Williams portrayed Roosevelt in the form of a wax mannequin that comes to life in Night at the Museum and its sequel Night at the Museum: Battle of the Smithsonian.
Roosevelt was portrayed in several episodes of the comic book story The Life and Times of Scrooge McDuck: the young Scrooge McDuck first meets Roosevelt in his Badlands years, later in a fictional siege of Fort Duckburg and finally in Panama during the construction of the Panama Canal.
George Burroughs Torrey painted a portrait of him.
Famed fictional gunslinger Morgan Kane was Roosevelt's bodyguard when Roosevelt was a general, and Kane worked as a Pinkerton special agent.
Since 2000, Roosevelt has been portrayed by a number of reprisers including historian and Rhodes Scholar, Clay Jenkinson of North Dakota and Joe Wiegand of Tennessee. Wiegand has portrayed Roosevelt in all 50 US states. In 2008, Wiegand portrayed Roosevelt in the White House at a celebration of the 150th anniversary of Roosevelt's birth.
Theodore Roosevelt is an important character in the Southern Victory Series (also known as Timeline-191), an alternate history series by Harry Turtledove. He was a New Yorker who moved to Montana to become a rancher after Alice Hathaway Lee Roosevelt rejects his marriage proposal. He raises and leads his own volunteer cavalry regiment (nicknamed the Unauthorized Regiment) in the Second Mexican War, fighting alongside George Armstrong Custer to repulse the Anglo-Canadian army led by Charles George Gordon. He later becomes the Democratic 28th president of the United States and leads the United States to victory in the Great War on the side of the Central Powers. He runs for a third term as president, but is defeated by Socialist candidate, Upton Sinclair and dies of a brain hemorrhage in 1924. He is buried in Arlington National Cemetery as a final insult to the Confederate States of America and is regarded as one of the most esteemed Presidents in United States (alternate) history.
Media
Theodore Roosevelt was one of the first presidents whose voice was recorded for posterity. Several of his recorded speeches survive.[135] A 4.6-minute voice recording,[136] which preserves Roosevelt's lower timbre ranges particularly well for its time, is among those available from the Michigan State University libraries. (This is the 1912 recording of The Right of the People to Rule, recorded by Edison at Carnegie Hall). In what some consider the best example of Roosevelt's animated oratorical style, an audio clip[137] sponsored by the Authentic History Center includes his defense[138] of the Progressive Party in 1912 wherein he proclaims it the "party of the people" in contrast with the other major parties.
Ancestry
Ancestors of Theodore Roosevelt
16. Jacobus Roosevelt
8. James Jacobus Roosevelt
17. Annatje Bogart
4.

Cornelius Van Schaack Roosevelt

18. Cornelius Van Schaack, Jr.
9. Maria Helen Van Schaack
19. Angeltje Yates
2. Theodore Roosevelt, Sr.
20. John Barnhill
10. Robert Craig Barnhill
21. Elizabeth Lusk
5. Margaret Barnhill
22. Thomas Potts
11. Elizabeth Potts
23. Elizabeth Luckens
1. Theodore Roosevelt, Jr.
24. Archibald Stobo Bulloch
12. Capt. James Bulloch II
25. Mary De Veaux
6. James Stephens Bulloch
26. Dr. John Irvine
13. Ann Irvine
27. Ann Elizabeth Baillie
3.

Martha Stewart Bulloch

14. Gen. Daniel Stewart
7. Martha P. Stewart
30. Joseph Oswald, Jr.
15. Susannah Oswald
31. Anne Carter
References
Bibliography
Full biographies
Brands, Henry William

. (1997). T.R.: The Last Romantic. New York: Basic Books. full biography OCLC 36954615 ISBN 9780465069583

Cooper, John Milton

The Warrior and the Priest: Woodrow Wilson and Theodore Roosevelt. (1983) ISBN 9780674947511, a dual scholarly biography
Dalton, Kathleen. Theodore Roosevelt: A Strenuous Life. (2002) ISBN 0-679-76733-9, full scholarly biography
Gould, Lewis L. Theodore Roosevelt (2012) 105pp, very short biography by leading scholar
Harbaugh, William Henry. The Life and Times of Theodore Roosevelt. (1963), full scholarly biography
Morris, Edmund The Rise of Theodore Roosevelt, to 1901 (1979); vol 2: Theodore Rex 1901–1909. (2001); vol 3: Colonel Roosevelt (2010); Pulitzer prize for Volume 1.
Pringle, Henry F. Theodore Roosevelt (1932; 2nd ed. 1956), full scholarly biography
Putnam, Carleton Theodore Roosevelt: A Biography, Volume I: The Formative Years (1958), only volume published, to age 28.
Ricard, Serge, ed. A Companion to Theodore Roosevelt (2011) excerpt and text search, 28 new essays by scholars; focus on historiography
Personality and activities
DiSilvestro, Roger, Theodore Roosevelt in the Badlands: A Young Politician's Quest in the American West, Walker & Co, 2011. ISBN 9780802717214
Fehn, Bruce. "Theodore Roosevelt and American Masculinity." Magazine of History (2005) 19(2): 52–59. ISSN 0882-228x Provides a lesson plan on TR as the historical figure who most exemplifies the quality of masculinity.
Gluck, Sherwin. "T.R.'s Summer White House, Oyster Bay." (1999) Chronicles the events of TR's presidency during the summers of his two terms.
Greenberg, David. "Beyond the Bully Pulpit," Wilson Quarterly (2011) 35#3 pp22–29. The president's use of publicity, rhetoric and force of personality

Millard, Candice

. River of Doubt: Theodore Roosevelt's Darkest Journey. (2005); his deadly 1913-1914 trip to the Amazon

McCullough, David

.

Mornings on Horseback, The Story of an Extraordinary Family, a Vanished Way of Life, and the Unique Child Who Became Theodore Roosevelt

. (2001) popular biography to 1884
O'Toole, Patricia. When Trumpets Call: Theodore Roosevelt after the White House. (2005). 494 pp.
Renehan, Edward J. The Lion's Pride: Theodore Roosevelt and His Family in Peace and War. (Oxford University Press, 1998), examines TR and his family during the World War I period
Testi, Arnaldo (1995). "The Gender of Reform Politics: Theodore Roosevelt and the Culture of Masculinity," Journal of American History, Vol. 81, No. 4, pp. 1509–1533. in JSTOR
Thompson, J. Lee Theodore Roosevelt Abroad: Nature, Empire, and the Journey of an American President (Palgrave Macmillan, 2010), 240 pp., ISBN 978-0-2301-0277-4 TR in Africa & Europe, 1909–10
Watts, Sarah. Rough Rider in the White House: Theodore Roosevelt and the Politics of Desire. 2003. 289 pp.
Yarbrough, Jean M. Theodore Roosevelt and the American Political Tradition (University Press of Kansas; 2012) 337 pages; TR's political thought and its significance for republican self-government.
Domestic policies
Brinkley, Douglas

(2009). The Wilderness Warrior: Theodore Roosevelt and the Crusade for America. New York, N.Y: HarperCollins. ISBN 978-0-06-056528-2.

 

Dorsey, Leroy G. "The Frontier Myth and Teddy Roosevelt's Fight for Conservation". in Myth America: A Historical Anthology, Volume II. 1997. Gerster, Patrick, and Cords, Nicholas. (editors.) Brandywine Press, St. James, NY. ISBN 1-881089-97-5
Gould, Lewis L. The Presidency of Theodore Roosevelt. (1991), standard history of his domestic and foreign policy as president
Keller, Morton, ed., Theodore Roosevelt: A Profile (1967) excerpts from TR and from historians.
Murphey, William. "Theodore Roosevelt and the Bureau of Corporation: Executive-Corporate Cooperation and the Advancement of the Regulatory State," American Nineteenth Century History (March 2013) 14#1 pp 73–111.
Swanson, Ryan A. "'I Never Was a Champion at Anything': Theodore Roosevelt's Complex and Contradictory Record as America's 'Sports President,'" Journal of Sport History (2011) 38#3 pp 425–446.
Zacks, Richard. Island of Vice: Theodore Roosevelt's Doomed Quest to Clean Up Sin-Loving New York (2012)
Politics
Blum, John Morton

. (1954). The Republican Roosevelt. Cambridge: Harvard University Press. how TR did politics OCLC 310975

Chace, James

. 1912: Wilson, Roosevelt, Taft, and Debs – The Election That Changed the Country. (2004). 323 pp. ISBN 9780743203944
Gould, Lewis L. Four Hats in the Ring: The 1912 Election and the Birth of Modern American Politics (2008) by a leading scholar excerpt and text search
Haverkamp, Michael. "Rossevelt and Taft: How the Republican Vote Split in Ohio in 1912," Ohio History (2001) 110#1 pp 121–35 online edition
Kohn, Edward P. "A Necessary Defeat: Theodore Roosevelt and the New York Mayoral Election of 1886," New York History, 87 (Spring 2006), 205–27.
Kohn, Edward. "Crossing the Rubicon: Theodore Roosevelt, Henry Cabot Lodge, and the 1884 Republican National Convention." Journal of the Gilded Age and Progressive Era (2006) 5#1 pp 18–45.
Milkis, Sidney M. Theodore Roosevelt, the Progressive Party, and the Transformation of American Democracy (Lawrence: University Press of Kansas, 2009). 361pp
Mowry, George. The Era of Theodore Roosevelt and the Birth of Modern America, 1900-1912. (1954) general survey of era
Mowry, George E. Theodore Roosevelt and the Progressive Movement. (1946) focus on 1912
Mowry, George E. "Theodore Roosevelt and the Election of 1910." The Mississippi Valley Historical Review, (1939) 25#4 pp. 523–534 in JSTOR
Powell, Jim. Bully Boy: The Truth About Theodore Roosevelt's Legacy (Crown Forum, 2006). attacks TR policies from conservative/libertarian perspective. ISBN 0-307-23722-2
Foreign and military policies
Beale Howard K. Theodore Roosevelt and the Rise of America to World Power. (1956). standard history of his foreign policy
Hendrix, Henry J. Theodore Roosevelt's Naval Diplomacy: The US Navy & the Birth of the American Century (2009)
Holmes, James R. Theodore Roosevelt and World Order: Police Power in International Relations (2006). 328 pp.
Jones, Gregg. Honor in the Dust: Theodore Roosevelt, War in the Philippines, and the Rise and Fall of America's Imperial Dream (2012) excerpt and text search
Marks III, Frederick W. Velvet on Iron: The Diplomacy of Theodore Roosevelt (1979)
McCullough, David.

The Path between the Seas: The Creation of the Panama Canal, 1870–1914

(1977).
Oyos, Matthew. "Courage, Careers, and Comrades: Theodore Roosevelt and the United States Army Officer Corps," Journal of the Gilded Age & Progressive Era (2011) 10#1 pp 23–58. On TR's controversial reforms
Ricard, Serge. "The Roosevelt Corollary." Presidential Studies Quarterly 2006 36(1): 17–26.
Ricard, Serge. "Theodore Roosevelt: Imperialist or Global Strategist in the New Expansionist Age?" Diplomacy and Statecraft, (2008) 19#4 pp 639–657
Rofe, J. Simon. "'Under the Influence of Mahan': Theodore and Franklin Roosevelt and their Understanding of American National Interest," Diplomacy and Statecraft, (2008) 19#4 pp 732–745
Rofe, J. Simon and John M. Thompson. "'Internationalists in Isolationist times' - Theodore and Franklin Roosevelt and a Rooseveltian Maxim," Journal of Transatlantic Studies (2011), 9#1 pp 46–62.
Tilchin, William N. and Neu, Charles E., eds. Artists of Power: Theodore Roosevelt, Woodrow Wilson, and Their Enduring Impact on U.S. Foreign Policy. (Praeger, 2006). 196 pp.
Tilchin, William N. Theodore Roosevelt and the British Empire: A Study in Presidential Statecraft (1997)
Primary sources
Auchincloss, Louis, ed. Theodore Roosevelt, The Rough Riders and an Autobiography (Library of America, 2004) ISBN 978-1-931082-65-5
Auchincloss, Louis, ed. Theodore Roosevelt, Letters and Speeches (Library of America, 2004) ISBN 978-1-931082-66-2
Brands, H.W. ed. The Selected Letters of Theodore Roosevelt. (2001)
Harbaugh, William ed. The Writings of Theodore Roosevelt (1967). A one-volume selection of Roosevelt's speeches and essays.
Hart, Albert Bushnell and Herbert Ronald Ferleger, eds.

Theodore Roosevelt Cyclopedia

(1941), Roosevelt's opinions on many issues; online version at TheodoreRoosevelt.org
Morison, Elting E., John Morton Blum, and

Alfred D. Chandler, Jr.

, eds., The Letters of Theodore Roosevelt, 8 vols. (1951–1954). Very large, annotated edition of letters from TR.
Roosevelt, Theodore (1999). Theodore Roosevelt: An Autobiography. online at Bartleby.com.
Roosevelt, Theodore. The Works of Theodore Roosevelt (National edition, 20 vol. 1926); 18,000 pages containing most of TR's speeches, books and essays, but not his letters; a CD-ROM edition is available; some of TR's books are available online through Project Bartleby
"Theodore Roosevelt books and speeches on Project Gutenberg". http://www.gutenberg.org/browse/authors/r#a729

. Retrieved October 5, 2010

.

 

Roosevelt, Theodore. Original Handwritten and Typed Letters, Notes, and Documents by Theodore Roosevelt. Shapell Manuscript Foundation.
External links