The Taurus 24/7 is a double action pistol created by Taurus in 2002 and launched in the market in 2004. It isn't being widely used by the military however, it is being heavily used by the police and civilian customers.
Description
First Taurus 24/7 pistols were presented in 2004, in attempt to offer a new,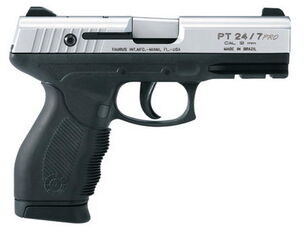 lightweight and potent pistol for police, security and civilian users. These pistols were available in a variety of "major" calibers, and in a number of finish options. early pistols were Double Action Only but recently Taurus also introduced a conventional Double / Single action 24/7 pistols.
Taurus 24/7 pistols are short recoil operated, locked breech pistols that use modified Browning-type locking, with single lug on the barrel engaging the ejection port in the slide. Frames of Taurus 24/7 pistols are made from impact-resistant polymer; slides can be made from carbon or stainless steel. Trigger is either double / single action or double action only, striker-fired, with internal firing pin block safety and manual safety, located on the left side of the frame. Magazines are double stack. Sights are fixed. front part of the frame, below the barrel, is shaped to form an integral Picatinny-type accessory rail.
Specifications
| | |
| --- | --- |
| Type | Double Action or Double Action Only semiautomatic |
| Caliber(s) | 9x19 Parabellum, .40 S&W and .45 ACP |
| Weight unloaded | 788g |
| Length | 181mm |
| Barrel length | 102mm |
| Magazine capacity | 17 (9mm), 15 (.40) or 12 (.45) rounds |
See also
Taurus Millenium Pro

Heckler & Koch HK P2000