Jurassic World: Dominion Dominates Fandom Wikis - The Loop
Play Sound
Swedish Armed Forces
Försvarsmakten

Coat of Arms of the Swedish Armed Forces

Current form
1975
Service branches
Swedish Army
Swedish Air Force
Swedish Navy
Headquarters
Stockholm
Leadership
Supreme Commander

General Sverker Göranson

Minister for Defence

Karin Enström

Director General

Peter Sandwall

Manpower
Military age
16-70 years old[1]
Conscription
No
Available for
military service
2,065,782 males, age 18-47 (2010 est.),
1,995,451 females, age 18-47 (2010 est.)
Fit for
military service
1,709,592 males, age 18-47 (2010 est.),
1,649,875 females, age 18-47 (2010 est.)
Reaching military
age annually
58,937 males (2010 est.),
56,225 females (2010 est.)
Active personnel
14,000 in 2011 [2]
Reserve personnel
10,600 reserves and 15,300 home guards in 2011 [2]
Expenditures
Budget
SEK 45.578 billion (USD ~6.46 billion) (2012)[3]
Percent of GDP
1.35% (2009)[4]
Related articles
History
Military history of Sweden
Ranks
Military ranks of the Swedish Armed Forces
The Swedish Armed Forces (Swedish language: Försvarsmakten ) is a Swedish Government Agency responsible for the maintenance and operation of the armed forces of Sweden. The primary task of the Swedish Armed Forces is to train, organize and deploy military forces, domestically and abroad, while maintaining the long-term ability to defend the country in the event of war. The Armed Forces consists of three service branches; the Army, the Air Force and the Navy. Since 1994 the three branches are organized in one unified Government Agency. However, they maintain their separate identities through the use of different uniforms, ranks, and other service specific traditions.
The Supreme Commander is a four-star general or flag officer that is the agency head of the Swedish Armed Forces, and is the highest ranking professional officer on active duty. The Supreme Commander in turn reports, normally through the Minister for Defence, directly to the Government of Sweden, which in turn answers to the Parliament of Sweden. The King of Sweden was, before the enactment of the 1974 Instrument of Government, the de jure commander in chief, but currently only has a ceremonial role in the Armed Forces as the head of state. Sweden's military forces were for over a century built upon the concepts of conscription and territorial defence, supporting the longstanding national policy of non-alignment. Until the end of the Cold War nearly all men reaching the age of military service were conscripted. In the summer of 2010, peacetime conscription was abolished, to be replaced with an all-volunteer army. The transfer to the new system is planned to be fully completed in 2018.
Units from the Swedish Armed Forces are currently on deployment in Afghanistan (as part of ISAF) and in Kosovo. Moreover, Sweden contributes military observers to various countries and serve as the lead nation for an EU Battle Group approximately once every three years.
Doctrine
Main article:
Foreign relations of Sweden
The Swedish Armed Forces have four main tasks:[5]
To assert the territorial integrity of Sweden.
To defend the country if attacked by a foreign nation.
To support the civil community in case of disasters (e.g. flooding).
To deploy forces to international peace support operations.
Sweden aims to have the option of remaining neutral in case of proximate war.[6] However, Sweden cooperates militarily with a number of foreign countries. As a member of the European Union, Sweden is acting as the lead nation for EU Battlegroups[7] and also has a close cooperation, including joint exercises, with NATO through its membership in Partnership for Peace and Euro-Atlantic Partnership Council.[8] In 2008 a partnership was initiated between the Nordic countries to, among other things, increase the capability of joint action, and this led to the creation of NORDEFCO.[9][10] As a response to the expanded military cooperation the defence proposition of 2009 stated that Sweden will not remain passive if a Nordic country or a member of the European Union were attacked.[11]
Recent political decisions have strongly emphasized the capability to participate in international operations, to the point where this has become the main short-term goal of training and equipment acquisition.[12][13][14] However, after the 2008 South Ossetia war territorial defense was once again emphasized. Until then most units could not be mobilized within one year. In 2009 the Minister for Defence stated that in the future all of the armed forces must capable of fully mobilizing within one week.[15] In 2013, after incursions into Swedish airspace by Russian combat aircraft were widely reported, only six percent of Swedes expressed confidence in the ability of the nation to defend itself.[16]
Personnel
From national service to an all-volunteer force
In mid-1995, with the national service system based on universal military training, the Swedish Army consisted of 15 maneuver brigades and, in addition, 100 battalions of various sorts (artillery, engineers, rangers, air defense, amphibious, security, surveillance etc.) with a mobilization-time of between one and two days. When national service was replaced by a selective service system, fewer and fewer young men where drafted due to the reduction in size of the armed forces. By 2010 the Swedish Army had two battalions that could be mobilized within 90 days. When the volunteer system has been fully implemented by 2019, the army will consists of 7 maneuver battalions and 14 battalions of various sorts with a readiness of one week. The Home Guard will be reduced in size to 22 000 soldiers.[17]
| | | | |
| --- | --- | --- | --- |
| | National Service Force 1995 | Selective Service Force 2010 | All-Volunteer Force 2019 |
| Maneuver units | 15 brigades | 2 battalions | 7 battalions |
| Auxiliary units | 100 battalions | 4 companies | 14 battalions |
| Readiness | 1 to 2 days | 90 days | 7 days |
Personnel structure
Military personnel of the Swedish Armed Forces consists of:
Officer OFF/K - Regular continuously serving officers (OF1-OF9).
Officer OFF/T - Reserve part-time officers (OF1-OF3).
Specialistofficer SO/K - Regular continuously serving NCO (OR6-OR9).
Specialistofficer SO/T - Reserve part-time serving NCO (OR6-OR7).
GSS/K - Regular continuously serving enlisted (OR1-OR5).
GSS/T - Reserve part-time serving enlisted (OR1-OR5).
K = Continuously, T = Part-time
Planned size of the Swedish Armed Forces 2011-2020
| Category | Continuously serving | Part-time serving | Contracted |
| --- | --- | --- | --- |
| OFF | 3,900 OFF/K | 2,500 OFF/T | - |
| SO | 4,900 SO/K | included in the above SO/T | - |
| GSS | 6,600 GSS/K | 9,500 GSS/T | - |
| Swedish Home Guard | - | - | 22,000 |
Annual recruitment of GSS is assumed to be about 4,000 persons.
Source:[18]
Criticism and research
In 2008, professor Mats Alvesson of the University of Lund and Karl Ydén of the University of Göteborg claimed in an op-ed, based on Ydén's doctoral dissertation, that a large part of the officer corps of the Swedish Armed Forces was preoccupied with administrative tasks instead of training soldiers or partaking in international operations. They claimed that Swedish officers were mainly focused on climbing the ranks and thereby increasing their wages and that the main way of doing this is to take more training courses, which decreases the number of officer that are specialized in their field. Therefore, the authors claimed, the Swedish Armed Forces were poorly prepared for its mission.[19]
Major changes have been made to the officer system since then.
Ranks
See: Military ranks of the Swedish armed forces
Organization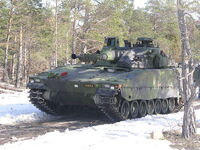 Armed Forces Headquarters
The Armed Forces Headquarters is the highest level of command in the Swedish Armed Forces.[20] It is led by the Supreme Commander with a civilian Director General as his deputy, with functional directorates having different responsibilities (e.g. the Military Intelligence and Security Service). Overall, the Armed Forces Headquarters have about 1000 employees, including civilian personnel.[21][22]
Branches
Schools
Some of the schools listed below answer to other units, listed under the various branches of the Armed Forces.
Artillery Combat School (ArtSS) located in

Boden

Armed Forces Technical School (FMTS) located in Halmstad
Air Force Uppsala Schools (LSS) located in Uppsala
National Defence College (FHS) located in Stockholm
Field Work School (FarbS) located in

Eksjö

Air Force Air Officer School (FBS) located in Uppsala
Parachute Ranger School (Fallskärmsjägarskolan - FJS) located in

Karlsborg

Flight School (FlygS) located in Linköping/Malmen
Helicopter Combat School (HkpSS) located in Linköping/Malmen
Home Guard Combat School (HvSS) located in

Södertälje

Command School (LedS) located in

Enköping

Anti-Aircraft Combat School (LvSS) located in Halmstad
Military Academy Halmstad (MHS H) located in Halmstad
Military Academy Karlberg (MHS K) located in Stockholm/Karlberg
Land Warfare Centre (MSS) located in Skövde also a detachment in

Kvarn

[23]
Naval Warfare School (SSS) located in Karlskrona and Stockholm/Berga
Centres
Armed Forces Centre for Defence Medicine (FömedC) located in Gothenburg, with a section in Linköping
Armed Forces Logistics (FMLOG) located in Stockholm,

Boden

, Karlskrona and

Arboga

Armed Forces Intelligence and Security Centre (FMUndSäkC) located in Uppsala
Armed Forces Musical Centre (FöMusC) located in Stockholm/

Kungsängen

Recruitment Centre (RekryC) located in Stockholm
National CBRN Defense Centre (SkyddC) located in

Umeå

Swedish EOD and Demining Centre (SWEDEC) located in

Eksjö

Swedish Armed Forces International Center (Swedint) located in Stockholm/Kungsängen
Military units
Deployed units and units ready for or mobilization
The table describes what units Sweden currently has deployed abroad and what units may be mobilized within one year. Ready-within-one-year means that there is equipment but no currently contracted personnel. Mobilizing units outside of the R10-R90 readiness range will entail placing units on a wartime footing, wherein officers would have to leave their current assignments in order to command their units.
Nordic Battle Group
The Nordic Battle Group is a temporary formation of the Swedish Armed Forces, tasked as one of the EU Battle Groups. Sweden was lead nation for a Battle Group during the first half of 2011.
International deployment
Currently, Sweden has deployed military forces in Afghanistan with the International Security Assistance Force and in Kosovo as a part of the multinational Kosovo Force as well as a naval force deployed to the gulf of Aden as a part of Operation Atalanta. Military observers from Sweden have been sent to a large number of countries, including Georgia, North Korea, Lebanon, Israel and Sri Lanka and Sweden also participates with staff officers to missions in Sudan and Chad
Other government agencies reporting to the Ministry of Defence
Main article:
Government agencies in Sweden
Voluntary defence organizations
Swedish Home Guard

(Hemvärnet)

Lottorna

(Swedish Women's Voluntary Defence Service)
See also
Per Albin Line

Swedish National Inspectorate of Strategic Products

List of Swedish monarchs
References
Manpower-numbers are taken from CIA - The World Factbook
External links