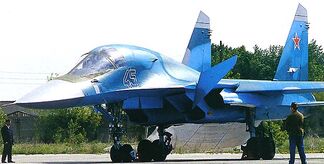 The Sukhoi Su-34 Fullback is a Russian fighter-bomber designed to replace the Su-24 Fencer in this role, the Fullback is expected to from the core of the Russian Air Force, alongside the Yak-130 the advanced trainer and the Sukhoi T-50 the 5th generation fighter.
Description
The Su-34, although from the "Flanker" family is distinguished from all its relatives. He is in practice a very modified Su-27, having seen changed his profile, benefits and even their main function as combat aircraft. Although it was designed with the goal of replacing more than 500 fighter-bombers Su-24, Su-34 has also been adapted in order to allow bombing missions over the sea against naval forces. The basic structure of the Su-27 was flexible enough to allow it to be modified so that it could serve as a way of balancing the scales at sea, before the clear domain of naval NATO allies.
The Su-34 operates on land, with considerable autonomy and capacity to carry anti-ship missiles, it can be used to attack groups of U.S. aircraft carriers that are at a distance of up to 1.100 km of land. This distance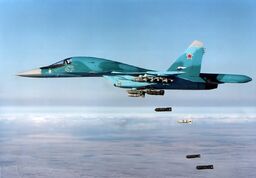 was considered necessary to prevent the use of versions of Tomahawk missiles that were available in the '80s and early '90s.
The two crew members sit side by side and the plane has facilities such as toilets, and a "kitchen" where they can warm up pre cooked meals. Special seats permit massaging the back of the crew members thus improving the conditions in very long journeys. Besides the facilities, the crew of two, is protected by an extra titanium armor, which added more to 1500 kg plane, which forced the Russian engineers to increase the number of components of composite materials and special plastics. The Su-34 should also replace other aircraft so as Su-24 Fencer was developed and also the ability of Su-34 to operate as a bomber capable of attacking ground targets. With capacity for refueling, the Su-34 can carry out attacks within a radius of up to 6,000 km Initially, this was considered a naval bomber based on land, known as Su-32FN. Later the aircraft was adapted in order to perform various tasks. The Su-34 can carry anti-ship missiles, the same as it can carry precision bombs.
Specifications
General Characteristics
Length: 23.34 m (72 ft 2 in)
Wingspan: 14.7 m (48 ft 3 in)
Height: 6.09 m (19 ft 5 in)
Loaded weight: 39,000 kg (85,980 lb)
Useful load: 8,000 kg (17,600 lb)
Max takeoff weight: 45,100 kg (99,425 lb)
Powerplant: 2× Lyulka AL-31FM1 turbofans, 13,500 kgf (132 kN, 29,762 lbf) with afterburner each
Performance
Maximum speed:

High altitude: Mach 1.8 (1,900 km/h, 1,180 mph)
Low altitude: Mach 1.2 (1,400 km/h, 870 mph) at sea level

Combat radius: 1,100 km (680 mi)
Ferry range: 4,000 km (2,490 mi)
Service ceiling: 15,000 m (49,200 ft)
Wing loading: 629 kg/m² (129 lb/ft²)
Thrust/weight: 0.68
Armament
1 × 30 mm GSh-30-1 (9A-4071K) cannon, 180 rounds
Defensive weapons include the

R-27 Alamo

, R-73 Archer and

R-77 Adder

series, with the PESA providing the capability to track ten targets and concurrently engage four with BVR missile shots.
12x hardpoints for up to 8,000 kg (17,630 lb) of ordnance, including Kh-29, Kh-25,

Kh-36

, Kh-38,

Kh-41

, Kh-59M, Kh-58,

Kh-31P

,

Kh-35 Ural

,

Kh-65S

,

Kh-SD

,
2 Moskit,
See also