Jurassic World: Dominion Dominates Fandom Wikis - The Loop
Play Sound
Specialised Infantry Group
SIG

SIG insignia

Active
2017–Present
Country
 United Kingdom
Branch
 British Army
Role
Specialised Infantry Training
Size
Group
Part of
6th (United Kingdom) Division
Headquarters
Aldershot Garrison
The Specialised Infantry Group (Spec Inf Gp) is a formation of the British Army, created as a result of the Army 2020 Refine reorganisation, intended to train foreign forces.[1][2]
History
The Specialised Infantry Group is the second newest larger formation of the British Army. The group was formed for counter-terrorism training, operations, and specialised training. The group was formed in October 2017 when the two first battalions joined, being, 4th Battalion, The Rifles (4 RIFLES) and 1st Royal Scots Borderers Battalion, The Royal Regiment of Scotland (1 SCOTS).[3][4][5][6][7]
In February 2018 the group deployed their companies for the first time on operations. Just a few months later in July the group added the 2nd Battalion, The Princess of Wales' Royal Regiment (2PWRR) and also the addition of the Joint Counter Terrorist Training and Advisory Team.[4][5][6][7]
In January 2019 the group added their fifth unit, 2nd (King's) Battalion, The Duke of Lancaster's Regiment to the group. In April, the 3rd Battalion The Royal Gurkha Rifles joined the group, making a total of 6 units.[4][6][6][7][8][9]
Unlike the other battalions of the British Army the specialised infantry battalions will be a smaller, reduced, stregnth of 267 men compared to the normal 559.[4][10] In 2019, the group joined the 6th (United Kingdom) Division after Force Troops Command was renamed in the beginning of August. In October, all units are expected to have at minimum a company deployed to Spec Inf Operations.
Deployments
In February 2018, the 4th Battalion, The Rifles deployed for the first time to Kuwait to work with the Kuwait Army and Kuwait National Guard.[11] R Company, 4 Rifles also trained the Afghan Army and forces in Iraq and Afghanistan.[12] In July 2018, C Company from the 2nd Battalion, The Princess of Wales' Royal Regiment was dispatched to Nigeria, where 1 SCOTS have also been engaged in training the Nigerian Army for their fight against Boko Haram .[13]
Composition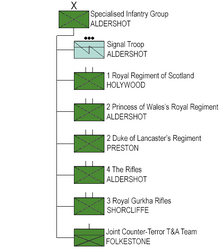 The composition of the Spec Inf Gp in December 2020 is listed below.
Specialised Infantry Group
Specialised infantry battalions have a strength of 267 soldiers compared to the other infantry battalions which have 559 or more.[27][28]
Commanders
Commanders of the group have included:
See also
Security Force Assistance Brigade

(US Army equivalent)
References