The Special Air Service Regiment, officially abbreviated SASR though commonly known as the SAS,[5] is an elite[6] special operations force of the Australian Army. An is one of Australia's premier special missions unit with the other unit being the 2nd Commando Regiment (Australia) While it is modelled on the British SAS (operating under the same motto, "Who Dares Wins") the regiment is a direct command unit of the Australian Special Operations Command. It draws on the experiences of the World War II Australian Services Reconnaissance Department and Australian commandos, such as "Z Force", and is based at Campbell Barracks.As well being one of the best tier 1 units in the world.
Role
The SASR is tasked to provide special operations capabilities in support of the Australian Defence Force.This includes conducting Special reconnaissance,Counter-insurgency,Foreign internal defense,Direct action,Counter-terrorism and intelligence gathering operations.[7]
The SASR currently has 3 sabre squadrons, known as 1,3 and 4 Squadron.[2] These squadrons rotate through the two roles performed by the SAS. One squadron conducts the counterterrorism/special recovery (CT/SR) role, and the remaining squadrons conduct the warfighting/reconnaissance role.
Warfighting special reconnaissance and kill or capture operations
In the Warfighting role the SASR typically operates in small patrols of 5-6 operators with the task of infiltrating enemy-held territory and providing intelligence on enemy activities and capabilities. In this role the SASR seeks to evade rather than confront the enemy. SASR soldiers also direct fire support including air strikes to destroy enemy installations and disrupt or kill enemy forces whenever possible. SASR reconnaissance patrols can be inserted by air, land or sea (including by submarine) and have proven capable of covering large distances and staying concealed in jungle, desert and mountain terrain.[8] SASR patrols conduct sabotage,raids,HVT Manhunting operations,Direct action,Special Recovery operations and Counter-Insurgency operations.
Counter-terrorism and special recovery
The SASR provides Australia's domestic Tactical Assault Group (West), while the 2nd Commando Regiment provides Tactical Assault Group (East). TAG West maintains a short-notice capability to conduct military operations beyond the scope of state and federal police tactical groups. Offensive counter-terrorist operations may include direct action and hostage recovery.
History
Early years
The Australian Special Air Service was established on 25 July 1957 as the 1st Special Air Service Company.[9] Then in 1960 the company became part of the Royal Australian Regiment and was given the responsibility for commando and special forces operations in the Australian Army.[9] The SASR was expanded to three sabre squadrons and gained regimental status on 20 August 1964 when the Australian Special Air Service Regiment (SASR) was established.
The SASR first saw action in 1965 as part of the British Commonwealth force stationed in north Borneo during the Indonesian Confrontation. The Australian SASR troopers operated alongside their British and New Zealand counterparts in operations aimed at stopping Indonesian infiltration into Malaysia, taking part in Operation Claret. Despite often being deployed in the reconnaissance role, SASR units inflicted at least 20 kills on Indonesian forces in a series of ambushes and contacts, on both sides of the border. Three SASR soldiers were killed during these operations, one gored by an elephant and the other two drowned during a river crossing.[10]
Vietnam
The SASR was responsible for providing intelligence to both the 1st Australian Task Force (1 ATF) and U.S. forces deployed in the region. As in Borneo the SASR operated closely with the New Zealand SAS, with a New Zealand SAS troop being attached to each Australian squadron. SASR squadrons rotated through Vietnam on year-long deployments until the last squadron was withdrawn in October 1971. During its time in Vietnam, the regiment was extremely successful in the reconnaissance role. Members of the regiment were known to enemies as 'phantoms of the jungle' due to their stealth.[citation needed]
On 18 January 1967, an Australian SASR patrol became engaged in a fire fight with a large enemy group and one SASR patrol member was wounded. The patrol was extracted under fire. The injured soldier was returned to Australia for treatment, but due to complications he died. Another went missing in action and two others were killed by friendly fire.[citation needed]
The remains of the last Australian soldier who went missing in action in 1969 after falling into the jungle during a suspended rope extraction were found in August 2008.[11] Australia's SASR also worked with U.S. Army Special Forces, and provided instructors to the LRRP School.[citation needed] Some members also served with MACV-SOG units. Soldiers often went on exchange with American Special Forces.
Post-Vietnam
The Australian withdrawal from Vietnam brought to an end the doctrine of 'forward defence' through involvement in Southeast Asian wars. Instead, the Australian military's new focus was on the defence of continental Australia against external attack. In line with this change, the SASR took the lead in developing the Australian Army's capability to conduct patrol operations in Northern Australia.[12] This role is now filled by the Army's three Regional Force Surveillance Units.
Following the Sydney Hilton bombing in February 1978 the SASR was given responsibility for providing Australia's military counter-terrorism response force.[13] In addition to being able to respond to terrorist attacks in Australian cities, the SASR counter-terrorism unit was also required to be capable of boarding ships and oil platforms.
Peacekeeping
The first SASR units to deploy on active service after the Vietnam War did so as part of Australian peacekeeping deployments. The first major deployment of SASR troops occurred when a squadron-sized group deployed as part of the Commonwealth Monitoring Force in Rhodesia during the 1980 changeover to Zimbabwe. Small SASR teams were attached to Australian forces in Somalia to provide an elite response and VIP protection. Contrary to some reports, SASR did not provide a security team for service in Cambodia although some SASR-qualified signals sergeants from 152 Signal Squadron were deployed as part of the Australian military contribution to the United Nations Advance Mission in Cambodia (UNAMIC) and FCU UNTAC. SASR-qualified medical sergeants were also deployed as part of the contribution to the United Nations Assistance Mission for Rwanda, some of whom were present during the Kibeho Massacre. There is a dedicated security sergeant's position within the Multinational Force and Observers (MFO) allocated to SASR and several SAS-qualified signals sergeants have also been deployed to MFO in Sinai. In addition, individual members of the SASR have been attached to a wide range of Australian peacekeeping deployments.
Blackhawk tragedy
Deaths during training accidents make up the majority of the SASR's fatalities. The worst accident in the regiment's history occurred on 12 June 1996 when two S-70-A9 Blackhawk helicopters from the 5th Aviation Regiment carrying SASR troopers collided during a live-fire counter-terrorism/special-recovery operation exercise at fire support base Barbara in the high-range training area at Townsville, Queensland.[14]
This activity was part of Exercise Day Rotor 96 and took place on the second day of the exercise, sometime after 6:30pm, requiring the pilots to use night vision goggles. Thirty seconds from the landing zone, one of the helicopters veered to the right, clipping the tail rotor of a second aircraft. Both aircraft caught fire, with one Black Hawk crashing immediately while the other was able to make a crash landing. Crash survivors and soldiers from the other helicopters risked the flames and exploding ammunition to rescue their comrades and retrieve the bodies of the dead.[15][16]
Fifteen members of the SASR and three members of the 5th Aviation Regiment lost their lives in the accident, while fourteen personnel were given official recognition for their part in the rescue and evacuation operations.[17]
Broader horizons
In 1998 the SASR made its first squadron-strength deployment since Vietnam when 1 Squadron, with an attached New Zealand SAS troop, was deployed to Kuwait as part of the American-led Operation Desert Thunder. While this crisis was resolved peacefully, if military action had been taken the SASR's role would have the rescue of aircraft crew shot down by Iraqi air defences (CSAR).
The SASR played a key role in the Australian-led international peacekeeping force in East Timor between September 1999 and February 2000. 3 Squadron spearheaded most operations conducted by the international force during the early days of the intervention in East Timor and, as in Vietnam, served as the eyes and ears of the force. 1 Squadron replaced 3 Squadron in December 1999 and was subsequently replaced by 2 Squadron. During operations in East Timor the SASR was involved in a number of significant contacts with pro-Indonesian militia, including at Aidabasalala on 16 October 1999.[18]
Domestic security and controversy
The SASR formed a key element of the security force in place for the Sydney Olympic Games in 2000. During the Games two SASR squadrons were available for counter-terrorist operations, a role which has increased in prominence since the terrorist attacks in the United States on 11 September 2001, and the SASR has since formed part of the security force for events such as the 2003 Rugby World Cup. The SASR currently provides one of Australia's two elite Tactical Assault Groups (designated TAG (West)), the other TAG being provided by the 2nd Commando Regiment.
In August 2001, the SASR was involved in the Tampa affair when its counter-terrorist squadron was ordered to Christmas Island and to board the MV Tampa once it illegally entered Australian waters.[19] While the members of the SASR involved did what they could to improve conditions on the Tampa, the use of an elite military unit to prevent asylum seekers[19] landing in Australia was not supported by all members of the regiment and remains controversial.[20] Less controversial, however, was the SASR's involvement in the boarding of the North Korean freighter MV Pong Su in 2003.
Afghanistan and Iraq
In October 2001 the Australian government announced that it was sending a special forces task group built around an SASR squadron to participate in the campaign against al-Qaeda and the Taliban in Afghanistan (designated Operation Slipper). After staging through Kuwait, 1 Squadron arrived in Afghanistan in November 2001 with the other SASR squadrons rotating in at approximately six-monthly intervals. The SASR's main role in Afghanistan was to conduct reconnaissance and surveillance of al-Qaeda and Taliban positions, activities and capabilities. SASR force elements also conducted some offensive operations. The SASR initially operated in southern Afghanistan with the U.S Marines before moving to eastern Afghanistan where it played a key role in Operation Anaconda.As well as playing a crucial part in the battle of takur ghar while providing air and sniper support during the battle which lead the two sasr units commander to get the bronze star for his and units role in the operation.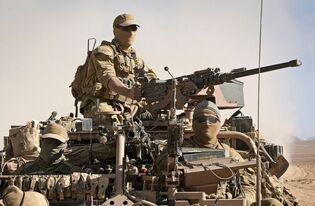 During Operation Anaconda, SASR teams were to provide on-location, in-depth operational intelligence and reconnaissance after they infiltrated the Shahi-Kot Valley ten days prior to the operation, and also saved the lives of 24 soldiers of the 75th Ranger Regiment after their helicopter was shot down, by providing sniper overwatch and guiding in precise air strikes to end the enemy advance. Two SASR advisory and liaison officers were attached with the 10th Mountain Division to help plan the 10th Mountain's air assault operations.
Four days into the operation, the SASR achieved what the U.S Special Forces, surveillance satellites and drones had failed to do. SASR operators studied previous Afghan mountain battles against the Soviets, and identified a potential escape route for the al-Qaeda leadership. Other coalition special forces teams had attempted to establish observation posts in the district, but they had barely lasted a day before being discovered by shepherds or villagers. The Australians inserted a patrol undetected to monitor the escape route. From more than 1200 metres, high on a mountain, the patrol spotted a group of al-Qaeda figures dressed in Russian camouflage and wearing black balaclavas. They carried more advanced weapons than normal insurgents, and appeared to be guarding a white-robed older man with a cane as they fled the battlefield. U.S intelligence at first guessed this was Osama Bin-Laden but later revised the identification to Bin Laden's second-in-command, Al-Zawahiri. A U.S airstrike was called in to eliminate the target. There is some doubt about whether the bombing was a success.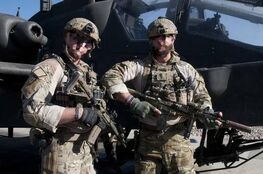 The SASR withdrew from Afghanistan in November 2002 after all three SASR warfighting squadrons had served in the country.[21] One member of the SASR, Sergeant Andrew Russell, was killed during this deployment when the patrol vehicle he was travelling in hit a land mine.
The SASR provided the majority of the ground-force element of the Australian contribution to the 2003 invasion of Iraq, moving in quickly and successfully, thus enhancing Australia's standing amongst its allies.[22] The Australian Special Forces Task Group was built around 1 Squadron, with a platoon from the 4th Battalion, Royal Australian Regiment and a troop from the Incident Response Regiment available to support the SASR. 1 Squadron operated in western Iraq where it was successful in securing its area of operations, including the huge but undefended Al Asad air base.[23] While 3 squadron and a small group of operators from the 2nd Commando Regiment were part of the US led Task Force 121 doing joint operations with Delta Force and SEAL Team Six. While 1 Squadron conducted operations with Joint Task Force 2 conducting kill or capture operations in Basra.As well as 2 squadron conducting operations with the British Special Air Service.Though media reports have claimed that elements of the SASR have subsequently conducted foreign internal defence and training operations in Iraq.As well as operating alongside Norwegian and German special forces conducting Counter-insurgency and special reconnaissance operations
The SASR was redeployed to Afghanistan in August or September 2005. The Australian Special Forces Task Group in Afghanistan consisted of elements from the SASR, 4th Battalion, Royal Australian Regiment (Commando), the Incident Response Regiment and logistic support personnel. This task group was withdrawn in September 2006. A special operations task group, including SASR, was redeployed to Afghanistan in April 2007.[24] On 16 January 2009, it was announced that Trooper Mark Donaldson was awarded the Victoria Cross for Australia, the highest award for gallantry in the Australian honours system, for gallant acts performed whilst serving with the SASR in Afghanistan.[25]
On 23 January 2011 Corporal Ben Roberts-Smith was awarded the Victoria Cross for single-handedly neutralising two machine-gun positions during an operation in Afghanistan.[26]
On 26 March 2013, it was announced that the Australian Army's Special Operations Command will receive the first Army battle honour since the end of the Vietnam War for outstanding performance during the Shah Wali Kot Offensive in Afghanistan from May to June 2010. The battle honour, titled Eastern Shah Wali Kot, has been awarded in recognition of the operational actions of the Special Air Service Regiment (SASR) and 2nd Commando Regiment from the Australian Special Operations Task Group Rotation XII.[27]
On 13 april 2018 sources have shown of the SASR executing joint operations with both NZSAS and JW GROM in iraq.With sources saying they were primarily doing joint Hvt manhunting operations hunting down taliban commanders while the ADF hasn't commented on the operations conducted the minister of defence hasn't Confirmed nor denied on these operations.
East Timor
An SASR troop was deployed to Timor Leste in May 2006 as part of Operation Astute.[28] In March 2007 SASR personnel took part in the Battle of Same.[29] It was reported in October 2006 that 20 SASR operators were in the southern Philippines, supporting Filipino operations against the Abu Sayyaf and Jemaah Islamiah terrorist groups, but this was denied by the Department of Defence.[30][31][32]
Africa
In March 2012, the Sydney Morning Herald reported that operators from 4 Squadron had been operating in Africa, specifically Zimbabwe,Nigeria and Kenya, gathering intelligence on terrorism and developing plans to rescue kidnapped Australian civilians.[1] Professor Hugh White from the Australian National University was quoted as saying that, as soldiers, they would not have the legal cover of the Australian Secret Intelligence Service if caught.[1] The Herald also said the then Minister for Foreign Affairs Kevin Rudd had argued for 4 Squadron to be used in Libya during the civil war, but was overruled by the Minister for Defence, Stephen Smith, and the Chief of the Defence Force, General David Hurley.[1] Stephen Smith denied that SASR operators were operating "at the outer reaches of Australian and international law" but did not confirm or deny the operation in Africa.[33]
Organisation
As of 2014[2]
, the regiment is organised into Four squadrons were each is divided into four troops (Water Troop,Airborne Troop,Mountain Troop and Mobility Troop) As well as four Squadron which is comprised of Operatives within Asis.Each troop comprises five patrols with 5-6 operators in each patrol.And there is believed that a 4th squadron is to believed to exist but the government has not acknowledge the existence of the unit publicly
1 Squadron (Assault Team)
2 Squadron (Assault Team) (disbanded being replaced by sub unit)
3 Squadron (Assault team)
4 Squadron (The goverment has not publicly acknowledged there exsistence publicly but are believed to conduct Covert operations,Special Recovery operations)
152 Signal
It wa disclosed in 2012 that six female soldiers were being trained in the U.S. for their work with 4 Squadron.[1]
Uniform and equipment
The standard dress of the regiment is the new Multicam-design camouflage which became standard issue to special forces troops in 2012, and is now being introduced to all other Australian Army soldiers in Afghanistan and will eventually become the standard Operational Combat Uniform (OCU).[34] Qualified SASR members wear a sand-coloured beret with metal gold- and silver-winged dagger badge on a black shield. This differs from the British 22 SAS, which has a woven cap badge of the same design. SASR 'Ibis' style parachute wings (rounded at the bottom and straight on top) are worn on the right shoulder only on formal summer, winter or mess dress. SASR-qualified parachute jump instructors (PJI) on posting to the Parachute Training School wear the SASR beret badge on an airborne maroon beret and may wear a purchased parachute badge. In Iraq and Afghanistan, SASR operators generally wore long hair and beards. The regiment is organised into four 'sabre' squadrons, each of up to 100 'beret qualified' operators, and an embedded signal squadron (152 Signal squadron), logistic support squadron, and operational support squadron, which conducts the selection and training courses.[8] Only a small percentage of the regiment are 'beret-qualified' operators. The majority of the regiment personnel are highly trained specialist staff who are posted to the unit to provide support for all operations. These include signallers, mechanics and technicians, medical staff, storemen, and various specialists.
'Beret-qualified' SASR members are informally known as 'operators' and support staff as 'blackhats', due to the dark-blue berets they wear. Infantry soldiers who are posted to the unit as storemen, drivers, clerks, etc., wear the dark 'rifle-green' infantry beret. There are also a number of support personnel who are qualified to wear the sandy beret but have chosen or been directed to remain serving in their particular specialist field. There are also beret-qualified members who have been injured and subsequently moved into a support-related area.[citation needed]
Signals Corps personnel undertake the same selection and reinforcement cycle training as the rest of the Army, but are rarely released for corps transfer to infantry due to the requirement to provide SAS-qualified corps signallers to the regiment. Personnel from 152 Signal Squadron are encouraged to attempt selection, but as a rule, if successful, they remain in the signal squadron and do not transfer into a 'sabre' squadron. However, in being beret-qualified, they receive a significant pay rise and increased posting longevity to SASR. Members of 152 Signal Squadron are affectionately known as 'chooks' and are often fully integrated into the five-man SASR patrols.
Operator of the Regiment are armed with a number of weaponry systems depending on what the mission dictates. These include the primary weapons the Heckler & Koch HK416,M4 carbine and The Regiment also issues the SIG MCX and the Heckler & Koch MP7 for Counter Terrorism operations.The primary systems is complemented with the two issued sidearms, the Hk USP Tactical and the Glock 19.[35] For medium range engagements, the Regiment issues the Heckler & Koch HK417,[36]Mk 14 Enhanced Battle Rifle and the Mk 12 Special Purpose Rifle.An for long range engagements the Regiment issues the Barrett M82,M110 Semi-Automatic Sniper System,Knight's Armament Company SR-25,Barrett MRAD,Tango 51 and the M24 Sniper Weapon System.[37] Support weapons systems used include the Mark 48 machine gun,M249 light machine gun and the FN Minimi.[35][38] The Regiment also uses a number of direct and indirect fire support weapons including the M72 66mm rockets, M3 MAAWS 84mm, FGM-148 Javelin, M2-QCB Browning machine gun, Mk19 grenade launcher and also the 81mm mortars.[39]
Selection and Training
Selection is open to all serving Australian Defence Force personnel.
It involves a 21-day "Cadre Course" as the first step, which assesses both the individual's strength and endurance (both mental and physical), as well as overall fitness, ability to remain calm in combat, and to work effectively in small teams.
Candidates must first complete the "Special Forces Barrier Phase", that tests physical fitness. It includes push-ups, endurance marches and swimming. An average 64% of applicants pass this series which includes 10 chin-ups, 60 push-ups and 100 sit-ups. This is followed by a 2.4 km run with a completion time of 10:30 seconds, a 3.2 km run in 16 minutes, 5 km run with a completion time of 22 minutes and a 15 km fast march carrying 28 kg in 2 hours 15 minutes as well as a 2-minute water tread and a 400-meter swim, which must be completed in 12 minutes. All tasks are compacted into 8 hours.
30% of candidates will pass the SASR Cadre Phase. A successful candidate will continue on to the 21-day SASR selection.The success rate of passing the SASR selection is incredibly low were that only 10% will pass selection.[40]
During the 18 month reinforcement cycle known as "REO,[41] candidates must complete a number of courses before qualifying as an operator. Reinforcement is designed to provide students with the core tactical knowledge they will need to join a sabre squadron. This training cycle consists of a number of courses.
Special Forces Advanced Weapons Training (including heavy weapons)
Special Forces Advanced Marksman Course
Special Forces Advanced Combat Medic Course
Special Forces Advanced free fall Parachutist Course
Special Forces Reconnaissance Patrol Course
Special Forces Advanced Demolitions Course[41]
Special Forces Advanced Methods of Entry Course
Special Forces Advanced CQC Course [42]
Special Forces Urban Combat Course
Special Forces Close Quarter Fighting Course
Special Forces Combat Survival Course
Special Forces Artic Warefare Course
Special Forces Advance Driving Course
Special Forces Combat Diving Course
Special Forces Foreign Language Course
Special Forces surveillance and Reconnaissance Course
Special Forces foreign weapons course
Close Quarter Fighting (CQF) encompasses a more offensive role that allows soldiers to physically control or apply skills up to lethal force in situations where the use of a primary weapon system has been negated by circumstances. The responsibility for this system currently sits with Special Forces Training Centre. This course is currently only available to Special Forces.[43]
Communications are essential to special operations. Therefore, this three week signaller course is designed to train operators to operate secure tactical and operational radio-telephone and communications equipment and also standard operating procedures integral to Special Forces.
This course trains candidates in in combat trauma, first aid and tactical combat casualty care (TCCC). Over a three week period, the Combat first aid course teaches advanced resuscitation and casualty management skills, casualty evacuation procedures and preventive medicine principles.
Special Forces Combat Survival Course (3 Weeks)
This course is conducted by the Combat Survival Wing of the Special Forces Training Centre. The high intensity Combat Survival Course is designed to train operators who may be separated from friendly forces in a combat environment. Instruction is given in surviving in global environments; evasion; resistance to interrogation, indoctrination and exploitation; and escape. Practical exercises are conducted in the sea, seacoast, arid and jungle environments, and culminates with an evasion and capture scenario. The course also includes a swimming component. Students will be challenged both physically and mentally while on the course. Students will need to be physically fit and have no medical injuries or limitations prior to arriving at Combat Survival Wing.)[42][44]
• Special Forces Artic Warfare Course (3 weeks)
This is course is believed to be done in Newzealand or Canada due there cold weather climates were students will be taught how to survive and fight in subzero environments which includes the ability to operate and adapt to subzero climates which includes operating snow mobiles,skis and more ways to triverse through cold weather environments and how to survive in blizzards and artic environments as well as getting students to feel what its like to fall through the polar ice caps.
Selected candidates must complete up to 18 months of "Reinforcement Cycle" before they join a sabre squadron as a junior trooper or troop commander (captain). A wide array of training and courses are also conducted throughout an SASR soldier's career to allow the regiment to have the most highly-qualified soldiers in the Australian Defence Force. Officers must complete additional courses to qualify as an operator in the regiment, with requisite expertise in operations, administration and command.
After completing the Reinforcement Cycle, the sandy beret will be awarded and the junior trooper or a captain acting as a troop commander will be posted to a sabre or fighting squadron and complete a 12-month training cycle from individual to troop-level training, and 6–12 months' pre-deployment training before being deployed to combat.
A new troop commander is carefully mentored by both troop sergeants and patrol commanders. Generally, a troop commander will serve in the unit for only two or four years, but may come back as a major subject to good performance. Soldiers may serve their entire career in the regiment, but this will usually include two-year external postings to the Special Forces Training Centre, as instructors. Promotion for soldiers is quite slow in the regiment. On receiving their coveted sand-coloured SASR beret, all soldiers are given the rank of trooper, which may involve a reduction from their previous rank, and will usually also change corps if they are not already members of the Infantry Corps. Despite a possible reduction in rank, SASR operators receive significant allowances, which make them among the highest-paid soldiers in the Australian Defence Force. With specialist allowances included, an SASR trooper earns about $100,000 per annum.[45]
Since its beginnings in 1964, the SASR has lost more men in training than in combat, due to the nature of the training regime.[45]
Reference in pop culture
In march 2012 EA released the trailer of Medal of honour warfighter worldwide were the game focused on tier 1 special forces groups from around the world and includes SASR as a playable unit on multiplayer.
On march 2019 Ubisosfts Tom Clancy's Rainbow six siege released two new operators Mozzie an Gridlock too use on multiplayer.
International Joint Training
The SASR are known to train with multiple tier 1 special forces units from around the world these include
• US - Delta force,SEAL Team Six,United States Army Special Forces
• UK - Special Air Service,Special Boat Service
• Polish - JW GROM,JW Komandosów
• German - Kommando Spezialkräfte,Kommando Spezialkräfte Marine
• Irish - Army Ranger Wing
• NZ - New Zealand Special Air Service
• Swedish - Särskilda operationsgruppen
• Norwegian - Forsvarets Spesialkommando (FSK),Marinejegerkommandoen(MJK)
• Dutch - Korps Commandotroepen
• South Korean - 707th Special Mission Group
• Austrian - Jagdkommando
• Canadian - Joint Task Force 2,Canadian Special Operations Regiment
• Israeli - Sayeret Matkal,Shayetet 13
• Danish - Jaeger Corps (Denmark),Frogman Corps
• Italian - 9th Paratroopers Assault Regiment "Col Moschin"
Notable members
Similar units
Alliances
See also
Notes
References
External links