Acting for the first time in May 31, 1918, the FT-17 light tank (faible Tonnage) had about 3,000 units built by the end of the conflict. Continued in use in the French army until the second World War, with about 1,500 of them still in operation in 1940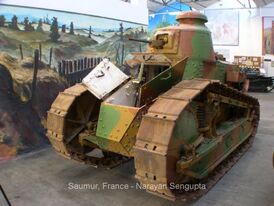 .
Description
Likewise the British, the French also faced the same problem from the trenches during the First World War.
The main problem identified by the French, was not the crossing of trenches (the problem that the British decided to cars Mk.I the Mk.V ) but the need to carry a gun along with the infantry as it advanced against the enemy.
The Renault FT -17 was a project of Louis Renault, the result of necessity that the French army had to have a mobile machine gun that could move under cover of some shielding.
Although relatively small and light compared with heavy British tanks, the FT -17 was however a 16mm frontal armor that was larger than the maximum shielding of the British tanks Mk.I Mk.V Although initially he was only equipped with a machine gun, then he was placed 37mm Hotchkiss cannon. The main feature of the FT -17, was placing the main armament in a tower with the capacity to rotate 360 degrees, which was a novelty for the time and that would become standard in cars of the future combat .
The Renault FT -17 tank was by far the most produced during World War I, with its production according to some sources to reach 4,000 units, or more than all remaining tanks allies and Germans together. But although built in large quantities and relatively inexpensive to construct the TF -17 has always had several mechanical problems and was often fixed on the ground.
French forces had not developed a support service for the battlefield to retrieve the tanks, unlike the Germans who have not developed ways to capture the tanks allies abandoned in the battlefield. The number of vehicles built was too big and he continued in production even after the end of war with upgrades. In 1944, when the liberation of Paris, the Germans used some of these cars to fight the French militia, although even then they were authentic museum pieces.
Operators
Afghanistan
Belgium
Brazil
Czechoslovakia
Estonia
Finland
France
German Empire
Nazi Germany
Iran
Japan
Lithuania
Netherlands
Romania
Soviet Union
Spain
Switzerland
Turkey
United States
Specifications
Model: Light Tank Renault FT -17
Weight: ton in July .
Garrison: two men (commander and driver)
Engine: Renault, 4 cylinder (35 hp)
Speed: 8 km / h ( road) and 5.7 km / h ( off road )
Range: 35.4 km ( highway)
Length: m 5.02
Width: 1,75 m
Height: 2.14 m
Main Armament: Cannon 37 mm
Weapons Secondary: 7.5 mm Hotchkiss machine gun
Ammunition: 240 rounds of 37 mm and 7.5 mm 4800
Hoof Shield: 22 mm (front ) and 6 mm ( bottom)
Tower Shield: n / a