We're Getting Mutants in the MCU - The Loop
Play Sound
The Remington Model 870 is a U.S.-made pump-action shotgun manufactured by Remington Arms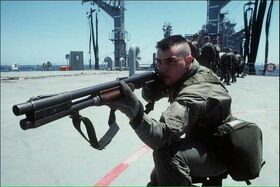 Company, Inc. It is widely used by the public for sport shooting, hunting, and self-defense. It is also commonly used by law enforcement and military organisations worldwide.
Development
The Remington 870 was the fourth major design in a series of Remington pump shotguns. John Pedersen designed the fragile Remington Model 10 (and later the improved Remington Model 29). Working with John Browning, Pedersen also helped design the Model 17 which was adopted by Ithaca as the Ithaca 37 and also
served as the basis for the Remington 31. The Model 31 was well-liked, but struggled for sales in the shadow of the Winchester Model 12. Remington sought to correct that in 1950 by introducing a modern, streamlined, rugged, reliable, and relatively inexpensive shotgun, the 870 Wingmaster.
Sales of the 870 have been steady. They reached 2 million guns by 1973 (ten times the number of Model 31 shotguns it replaced). By 1996, spurred by the basic "Express" model, sales topped seven million guns. On April 13, 2009 the ten millionth Model 870 was produced, and the 870 holds the record for best-selling shotgun in the history of the world.
Design details
The 870 features a bottom-loading, side ejecting receiver, tubular magazine under the barrel, dual action bars, internal hammer, and a bolt which locks into an extension in the barrel. The action, receiver, trigger system, safety catch and slide release catch of the Remington Model 870 shotgun are similar to those used on the Remington Model 7600 series pump-action centerfire rifles and carbines. The trigger group itself was first used in the automatic 11-48. 20 gauge stocks will also interchange. Several parts of the 870 will interchange with the semi-automatic Remington 1100 and 11-87.
The original 870 models were offered with fixed chokes. In 1986 Remington introduced the new Remington "Rem Choke" system of screw-in chokes (also fitted to Remington model 1100 auto-loading shotguns at the same time). Initially, the Rem Chokes were offered on barrel lengths of 21, 26 and 28". It was not offered on 30" barrels, deer guns, target guns or as a retrofit.
Variants
There are hundreds of variations of the Remington 870. From the original fifteen models offered, Remington currently produces dozens of models for civilian, law enforcement, and military sales. 870 variants can be grouped into:

Wingmaster – blued steel with high gloss or satin walnut stocks. 3 shell internal tube magazine.
Police – blued or

parkerized

steel with satin walnut, stained hardwood, or synthetic stocks. Action parts are heavy-duty and these models receive extra care and inspections during assembly.
Marine – nickel plated with synthetic stocks.
Express – matte black

bead-blasted

with laminated hardwood or synthetic stocks. Provides a lower cost model to the range.
Super Magnum – chambered for 3½" 12 gauge shotshells.
XCS - TriNyte coated external metal and nickel plated internals with speedfeed stocks.
Users
Country
Organization name
Quantity
Date
Austria
EKO Cobra
_
_
Canada

RCMP

_
_
Germany
Bundeswehr
_
_
Greece

EKAM

counter-terrorist unit of the

Hellenic Police

_
_
_
_
_
Ireland
Army Ranger Wing
_
_
Netherlands
Unité Spéciale de la Police group of the

Grand Ducal Police

_
_
Malasia
Malaysian Special Operations Force
_
_
United Kingdom
United Kingdom Special Forces (designated L74A1) and some

Specialist Firearms Officers

(as a breaching weapon)
_
_
United States
US Military (designated M870)
_
_
US Secret Service
1,600
2001
US Border Patrol
_
_
US Department of Education
_
_
Internal Revenue Service
_
_
Various police forces such as

Phoenix, Arizona SWAT

and Sparta, New Jersey Police Department
_
_
Specifications
Type: pump-action
Gauge: 12
Length: varies with model
Barrel length: 355 mm (14 in.), 457 mm (18 in.)
Weight 3-3.5 kg
Capacity: up to 7 or 8 rounds in underbarrel tube magazine
See also
External links