Line 15:
Line 15:
 

|commander1_label = Regional Director, PRO-13

 

|commander1_label = Regional Director, PRO-13

 

|nickname= ''PRO-13''

 

|nickname= ''PRO-13''

−

|motto= ''The Home of the Caraganon Cops''

+

|motto= ''Home of the ''

 

|battles=

 

|battles=

 

|anniversaries= April 1

 

|anniversaries= April 1
---
Latest revision as of 10:23, 4 August 2022
Police Regional Office 13

Unit Seal of the Police Regional Office 13

Active
April 1, 1996 - Present
Country
Philippines
Allegiance
Republic of the Philippines
Branch
Philippine National Police
Type

Police - Civilian Law Enforcement

Role
performs law enforcement functions
Part of
Under the Philippine National Police
Nickname(s)
PRO-13
Motto(s)
Home of the Brave, Friendly & Peace - Centered Police Force
Anniversaries
April 1
Decorations

Philippine Republic Presidential Unit Citation Badge
Commanders
Regional Director, PRO-13
PBGEN Romeo M. Caramat
The Police Regional Office Cordillera (PRO-13) is a division of the Philippine National Police (PNP) that has jurisdiction over Caraga, also known as the 5 Provinces and City of Butuan. It is headquartered in Camp Colonel Rafael C. Rodriguez.
History
Police Regional Office 13 is named after COL RAFAEL C RODRIGUEZ, who was the Commander of the Agusan Constabulary Command from June 24, 1951 to January 15, 1963.
COL. RAFAEL CAPADA RODRIGUEZ set foot in Agusan Province after WORLD WAR II. He headed the Agusan Constabulary Command from June 24, 1951 to January 15, 1953.
He was born on October 24, 1902, in Cebu. He was a proud graduate of then Philippine Constabulary Academy, now Philippine Military Academy, Class of 1926. He was married to Prosperidad Atega of Cabadbaran, Agusan del Norte and blessed four (4) sons and three (3) daughters.
One of his sons, DIRECTOR GENERAL UMBERTO A RODRIGUEZ, became the Chief, Philippine National Police from May 6, 1993 to July 8, 1994.
COL RAFAEL C RODRIGUEZ met his creator at the early stage of his life in 1956 by natural death at the age of 54.
In 1967, the Agusan province was then divided into two (2) provinces namely Agusan del Norte and Agusan del Sur. Consequently, the command was renamed as Agusan del Norte Constabulary Command (ADNCC). The ADNCC was temporarily stationed at Agusan Pequeno, then at the vicinity of Philippine Coast Guard Sub-station, Brgy Urduja and later in Brgy Agao in a place known as "PC Barracks", all of Butuan City.
In 1975, the Integrated National Police (INP) was created, paving the way for the renaming of the Command as Agusan del Norte PC/INP Command (ADN PC/INP Command). On June 26, 1981, the ADN PC/INP Command was moved to the "PC Reservation" in Brgy Libertad, Butuan City and named "Camp Rafael C Rodriguez", in honor of COL. RAFAEL C. RODRIGUEZ.
It was in 1990's when the "UNVEILING" of CAMP RAFAEL C. RODRIGUEZ MONUMENT was held which was graced by then DIRECTOR UMBERTO A RODRIGUEZ, Chief, PNP, the proud son. For the second time, on May 19, 2006, then POLICE CHIEF SUPERINTENDENT GEARY L BARIAS, RD, PRO 13 held another "UNVEILING" of this monument as it represents the POLICE REGIONAL OFFICE 13 (CARAGA) already, the office being activated on April 1, 1996. On February 6, 2012 during the 21st PNP Foundation Anniversary, this "MARKER" is proudly laid to portray the life of COL RAFAEL CAPADA RODRIGUEZ for the present and future generations to recognize and appreciate the history behind the name "Camp Rafael C. Rodriguez".
Divisions
City/Provincial Offices
The PNP PRO-13 has 6 police offices under it. Among the localities in 5 Provinces and City of Butuan are the only localities to have a dedicated police offices.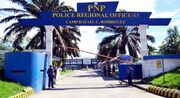 Old Province/City
New Province/City
Jurisdiction
City/Provincial Director
File:PNP Agusan del Norte logo.png
Agusan del Norte Police Provincial Office
(ADNPPO)
10 municipalities & 1 City
PCOL HELSON B WALIN
File:PNP Agusan del Sur logo.png
Agusan del Sur Police Provincial Office
(ADSPPO)
13 municipalities & 1 City
PCOL JOVITO C CANLAPAN
File:PNP Dinagat Islands logo.png
Dinagat Islands Police Provincial Office
(DIPPO)
7 municipalities
PCOL FRANKIE C CANDELARIO
File:PNP Surigao del Norte logo.png
Surigao del Norte Police Provincial Office
(SDNPPO)
20 municipalities & 1 City
PCOL RENATO C MERCADO
File:PNP Surigao del Sur logo.png
Surigao del Sur Police Provincial Office
(SDSPPO)
2 component city and 17 municipalities
PCOL JOSEPH B BOQUIREN
Butuan City Police Office
(BCPO)
5 Police Stations
PCOL EXCELSO L LAZAGA, JR
Regional Mobile Force Battalion 13
(RMFB 13)
Various
PCOL LAUDEMER M LAUDE
Gallery
External links