Jurassic World: Dominion Dominates Fandom Wikis - The Loop
Play Sound
The Picatinny rail (/ˈpɪkətɪni/ or /ˌpɪkəˈtɪni/), also known as a MIL-STD-1913 rail, STANAG 2324 rail, or tactical rail, is a bracket on some firearms that provides a standard mounting platform for accessories and attachments, similar to the Weaver rail mount.
Description
The rail consists of a series of ridges with a T-shaped cross-section interspersed with flat "spacing slots." Accessories are mounted either by sliding them on from one end or the other; by means of a Weaver mount which is clamped to the rail with bolts, thumbscrews or levers; or onto the slots between the raised sections.
History
The rail itself dates from work by the A.R.M.S. company in the early 1980s and Otto Repa in standardizing the Weaver design.[citation needed] Specifications for the M16A2E4 rifle and the M4E1 carbine received type classification generic in December 1994.[citation needed] These were the M16A2[1] and the M4[2] modified with new upper receivers where rails replaced hand guards.
The rail is named after the Picatinny Arsenal in New Jersey. The Picatinny Arsenal's role with the rail was to test/evaluate it and to create a military standard for it. This was Mil-STD-1913, dated 3 February 1995.[3]
Uses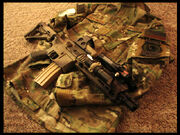 The Picatinny rail was originally for mounting scopes atop the receivers of larger caliber rifles, but, once established, its use so expanded to other such accessories as tactical lights, laser aiming modules, night vision devices, reflex sights, foregrips, bipods, and bayonets that Picatinny rails and accessories have replaced iron sights in the design of many firearms, and they are also on the undersides of semi-automatic pistol frames and grips. Their usefulness has led to their being used even in paintball and airsoft.
Technical specifications
The Picatinny locking slot width is 0.206 in (5.23 mm). The spacing of slot centers is 0.394 in (10.01 mm) and the slot depth is 0.118 in (3.00 mm).[4] The only differences between the Picatinny rail and the similar Weaver rail are the size of these slots and the fact that they are standardized. Weaver rails have a slot width of 0.180 in (4.57 mm), but are not necessarily consistent in the spacing of slot centers.[5] Some accessories are designed to fit on both Weaver and Picatinny rails; but most Picatinny devices will not fit on Weaver rails.[5] As of May 2012, however, most mounting rails are cut to Picatinny standards, and many accessories come with the recoil pin cut to the Weaver-compatible diameter. Also, many rail-mounted accessories come with only a single recoil pin – avoiding the issue of differing slot spacing.
See also
References
External links