We're Getting Mutants in the MCU - The Loop
Play Sound
Major General Patrick Henry Brady, USA (born October 1, 1936) is a retired American Army officer. While serving as a helicopter pilot in the Vietnam War, he received the United States military's highest decoration, the Medal of Honor.
Biography
Brady attended O'Dea High School[1] in Seattle, Washington, a strict, all-boys school run by the Congregation of Christian Brothers, where he was active in sports.
While in college at Seattle University, he initially hated the compulsory ROTC program and was kicked out.[2] Brady realized he would probably be drafted after graduation and reentered the ROTC to enter the service as an officer. After graduation he was commissioned a Second Lieutenant in the Army Medical Service Corps in 1959. In 1961 he served in Berlin (Germany) with the 279th Station Hospital. He graduated from the United States Army Aviation School at Fort Rucker, Alabama in 1963.[3]
During his first tour in Vietnam, then-Captain Brady served with the 57th Medical Detachment, where his commanding officer was the legendary Major Charles Kelly. After Kelly's death on July 1, 1964, Brady took command of the 57th Medical's Detachment A in Soc Trang. The following day, a Commander tossed the bullet that killed Kelly on Brady's desk in front of CPT Brady and asked if they were going to stop flying so aggressively. Brady picked up the bullet and replied, "we are going to keep flying exactly the way Kelly taught us to fly, without hesitation, anytime, anywhere."[4] On his second tour, Brady, now a Major, was second in command of the 54th Medical Detachment.[5] It was during this tour that Brady was awarded his Congressional Medal of Honor.
During his two tours in Vietnam Brady flew over 2,000 combat missions and evacuated more than 5000 wounded.[1] After Vietnam Brady continued serving in the US Army, retiring as a Major General in 1993 after 34 years of service. He now serves as Chairman of the Citizens Flag Alliance, an organization dedicated to protecting the American flag from desecration.[2]
Medal of Honor citation
Rank and organization: Major, U.S. Army, Medical Service Corps, 54th Medical Detachment, 67th Medical Group, 44th Medical Brigade.
Place and date: Near Chu Lai, Republic of Vietnam, January 6, 1968.
Entered service at: Seattle, Wash.
Born: October 1, 1936, Philip, S. Dak.
Citation:
For conspicuous gallantry and intrepidity in action at the risk of his life above and beyond the call of duty, Maj. Brady distinguished himself while serving in the Republic of Vietnam commanding a UH-1H ambulance helicopter, volunteered to rescue wounded men from a site in enemy held territory which was reported to be heavily defended and to be blanketed by fog. To reach the site he descended through heavy fog and smoke and hovered slowly along a valley trail, turning his ship sideward to blow away the fog with the backwash from his rotor blades. Despite the unchallenged, close-range enemy fire, he found the dangerously small site, where he successfully landed and evacuated 2 badly wounded South Vietnamese soldiers. He was then called to another area completely covered by dense fog where American casualties lay only 50 meters from the enemy. Two aircraft had previously been shot down and others had made unsuccessful attempts to reach this site earlier in the day. With unmatched skill and extraordinary courage, Maj. Brady made 4 flights to this embattled landing zone and successfully rescued all the wounded. On his third mission of the day Maj. Brady once again landed at a site surrounded by the enemy. The friendly ground force, pinned down by enemy fire, had been unable to reach and secure the landing zone. Although his aircraft had been badly damaged and his controls partially shot away during his initial entry into this area, he returned minutes later and rescued the remaining injured. Shortly thereafter, obtaining a replacement aircraft, Maj. Brady was requested to land in an enemy minefield where a platoon of American soldiers was trapped. A mine detonated near his helicopter, wounding 2 crewmembers and damaging his ship. In spite of this, he managed to fly 6 severely injured patients to medical aid. Throughout that day Maj. Brady utilized 3 helicopters to evacuate a total of 51 seriously wounded men, many of whom would have perished without prompt medical treatment. Maj. Brady's bravery was in the highest traditions of the military service and reflects great credit upon himself and the U.S. Army.[6]
Major decorations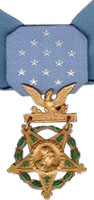 See also
Notes
References
 This article incorporates public domain material from websites or documents of the United States Army Center of Military History.
External links