Jurassic World: Dominion Dominates Fandom Wikis - The Loop
Play Sound
The North American F-82 Twin Mustang as a night fighter of the USAF from 1946 to the early days of the Korean War. The United States was the only known operator of this fighter.
History
Lockheed's P-38 Lightning was one of the most recognizable fighter planes in World War II. Few twin-engine fighters during that period were agile enough to survive for long in combat, but the Lightning fought successfully in all fronts, and its high speed, long range and heavy firepower proved to be especially lethal against Japanese forces in the Pacific. Its unusual twin-engine, twin-boom configuration continues to make it a favorite today among modelers and airplane buffs worldwide.
The immense distances between islands in the Pacific Theater required a fighter type that could fly for hours between islands, yet have its pilot fresh for combat at any time. The P-38 only had one pilot, so a new plane was needed. North American's solution was its XP-82 Twin Mustang, essentially two modified P-51H fuselages combined in a twin-boom configuration, carrying two pilots to share the tasks of flying and fighting. Although the Twin Mustang arrived too late for World War II, it joined the Air Force as the F-82 escort fighter and night fighter, and went on to a successful combat career in the Korean War.
As a double fuselaged P-51 Mustang, the post World War II P-82 in reality reached back to October 1940, when the P-51 prototype first flew. (The North American P-51 Mustang was developed in record time to satisfy British WWII requirements for a fighter that would take into account the early lessons of aerial combat over Europe. Among the aircraft's most notable features were a laminar flow wing section, aft mounted ventral radiator for minimum drag, and simple lines to ease the production that began in late 1941. A year later, the Army Air Forces adopted the P-51 for its own use. It ordered some 2,000 P-51Bs, a ground attack version o
f the Royal Air Force P-51 singleseat fighter.)
Since North American used some Curtiss P-40 technical data to quickly develop the YP-51, the P-82's ancestry may even be traced to 1937, when the experimental P-40 Warhawk was ordered. During May 1939, in competition with other pursuit prototypes, the Curtiss Warhawk was evaluated at Wright Field. This plane. was immediately selected for procurement under a first contract of nearly $13 million-largest at the time for a US fighter. The first P-40s (of 12,302 produced) were delivered in May 1940.
A special escort plane was needed. The ADO of 1942 responded to the AAF's 1941 air war plans that "urged development of special escort planes [even though] bombers for the moment could rely on current interceptor type models for support, especially the P-47. Since Republic's incoming P-47s also served as fighter bombers, these plans suggested employment of a modified bomber type for the escort role. The 1941 air war plans sounded a discordant note at a time of overwhelming faith in the bomber's supremacy. Moreover through the late summer of 1942, WWII experience tended to confirm that escorts were only necessary to support bombers past enemy fighters along the coasts of France and Belgium. Once the "fighter belt" was crossed, little if any German opposition would be met.
With even longer range than the latest P-51 then in production the new plane was to penetrate deep into enemy territory. This was a requirement learned the hard way. Two 1943 missions (17 August and 14 October) over Schweinfurt, Germany, had resulted in the loss of 120 B-17s (more than 25 percent of those engaged) and death or capture of 1,200 airmen. In the P-51's case, this had prompted the AAF to rush modification of the plane's fuselage to insert an extra tank that would extend range to more than 800 miles.
This P-51D, like the later P-51H and P-51K, closely resembled the P-51B and P-51C, both of which could carry 184 gallons of fuel internally, 150 gallons in external tanks, and remain in the air 4 hours and 45 minutes. In November 1943 (1 month before the first P-51Bs entered service with the British based Eighth Air Force), the AAF chose the P-51B and P-51C for escort duty over the battletested P-47 and Lockheed's slightly older P-38. This step was meant to stop the soaring bomber losses due to escorts being too short ranged even with extra fuel tanks. (The use of extra fuel tanks for longer range dated back to WWI, when it first proved a definite fire hazard. It was also long resisted on the grounds that interceptor type fighters weighted with fuel

would be more vulnerable to enemy aircraft.)
The new plane's immediate role would be to escort the B-29 bombers used in the Pacific against Japan.
On 7 January North American presented a bold design based on the successful P-51. North American's idea of joining two standard, well proven, P-51 fuselages (complete with engine) was not unique. It was reminiscent of the Heinkel 111Z transport and glider tug, a "Siamese Twin" arrangement of two Heinkel 111 bombers, built by the Germans earlier in the war. In any case, North American's plane proved to be the sole American example.
This design promised range, reliability, and less pilot fatigue (the two pilots could spell one another). The AAF endorsed it at once. In fact, a February letter contract to construct and test three experimental P-82s gave way in the same month to an order for 500 productions.
The XP-82 made its first flight on 6 July 1945.
The AAF accepted this XP-82 in August and a second one in September. Both were equipped with Packard Merlin V 1650 23 and 25 engines. (British Rolls Royce type engines built in the United States) The third experimental plane, designated XP82A, had two Allison V 1710 119 engines. It was accepted in October.
The Air Force accepted a grand total of 272 F-82s (including 22 prototype, test, and early productions received by the AAF). Specifically, the F-82 program consisted of 2 XF-82s, 1 XF-82A, 19 F-82Bs (known for a while as P-82Zs and all allocated to testing), 4 F-82As, 96 F-82Es, 91 F-82Fs, 45 F-82Gs, and 14-F82Hs.
The Caribbean Air Command was the first to receive F-82s, 15 by year's end. Fifth Air Force was next, with one squadron (the 68th) soon flying F-82s out of Itazuke Air Base in Japan. Another squadron (the 4th) was in place at Kadena Air Base, Okinawa, before the Korean war. It was part of the Twentieth Air Force, which once had directed the worldwide operations of all B-29 Superfortresses.
Few of the 40 F-82s available to the Far East Air Forces in mid 1950 were combat ready. In July, Fifth Air Forces (The Fifth was the largest air force under FEAF) spared three F-82s of the 68th Fighter All Weather Squadron for operations over Korea, but the planes proved of little value except against known and fixed targets. In addition, FEAF's F-82 operations (like ADC's, ADC resumed major air command status in January 1951) were hampered by parts shortages and maintenance troubles. If Fifth Air Force continued to use F-82s over Korea, only 60 days of extra supply support could be expected. Hence, although a few of SAC surplus F-82Es went to FEAF, all F-82s were withdrawn from combat in February 1952. Despite limited use, the F-82s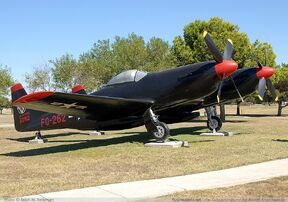 managed to leave a solid war record. They destroyed 20 enemy planes (4 in air fights, 16 on the ground). They scored the first aerial victory in Korea on 27 June 1950, downing a Soviet built Yakovlev Yak-11.
In the mid 1950s Air Defense units began trading F-82s for F-94s, and in early 1951 the few Twin Mustangs remaining in ADC were towing targets. The F-82s coming out of Korean combat in February 1952 lingered a bit longer in the inventory. After June 1953, no F-82s appeared on Air Force, Air National Guard, or Air Reserve Forces rolls.
Specifications
General Characteristics
Length: 42 ft 9 in (12.93 m)
Wingspan: 51 ft 3 in (15.62 m)
Height: 13 ft 10 in (4.22 m)
Wing area: 408 ft² (37.90 m²)
Empty weight: 15,997 lb (7,271 kg)
Max takeoff weight: 25,591 lb (11,632 kg)
Powerplant: 2× Allison V-1710-143/145 counter-rotating liquid-cooled V12 engines, 1,380 hp takeoff (1,029 kW each) each
Performance
Maximum speed: 482 mph (400 kn, 740 km/h) at 21,000 ft (6,400 m)
Range: 2,350 mi (1,950 nmi, 3,605 km)
Service ceiling: 38,900 ft (11,855 m)
Armament
Guns: 6 × .50 in (12.7 mm) M2 Browning machine guns
Rockets: 25 × 5 in (127 mm) rockets
Bombs: 4,000 lb (1,800 kg)
See also
Messeschmitt Bf-109Z Zwilling