We're Getting Mutants in the MCU - The Loop
Play Sound
The Modern Sub Machine Carbine or MSMC ia submachine gun created by INSAS chambered in the 5.56x30 MINSAS caliber.
Description
The Modern Sub Machine Carbine / MSMC submachine gun was born from the INSAS (Indian Small Arms System) program, which originally included three weapons - the 5.56mm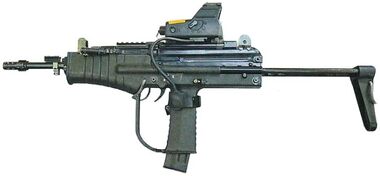 INSAS assault rifle, the 5.56mm INSAS squad automatic / LMG, based on the rifle, and a compact carbine. The INSAS rifle and LMG are already in service with Indian armed forces, but the original INSAS carbine program faced several difficulties. As a result, it was decided to design a carbine around smaller round, based on the shortened 5.56mm cartridge. The new round appears to be of same concept that experimental American Colt MARS, as it has bottlenecked case 30mm long, loaded with light, pointed bullet with steel penetrator core. The bullet weight is 2.6 gram and muzzle velocity from 300mm carbine barrel is listed as 650 m/s, resulting in muzzle energy value of 550 Joules - similar to modern pistol cartridges. The cartridge, known as 5.56x30 MINSAS, offers effective range of about 200 to 300 meters, with good penetration against body armor. The early carbines for this round, known as MINSAS, were based on the INSAS rifle, lightened and scaled down for shortened round. The MSMC, however, derives from this by having more compact, pistol-type layout, which also offers better balance and better maneuverability, especially in confined spaces.
The Modern Sub Machine Carbine/MSMC submachine gun is intended for Indian Special Operation troops, but it also can make a good Personal Defense Weapon for vehicle and gun crews and other non-infantry personnel operating in combat zones. As of now (spring 2010), the Modern Sub Machine Carbine/MSMC submachine gun is in its final stages of T&E by Indian military.
The Modern Sub Machine Carbine/MSMC submachine gun is a gas operated weapon, utilizing rotary bolt locking and a gas piston, located above the barrel. The receiver appears to be made from sheet steel, with outer polymer housing with integral pistol grip. The magazines are inserted into the pistol grip. Buttstock is of telescoped type. Safety / fire mode selector is ambidextrous and conveniently located above the trigger. Standard iron sights are complemented by the Picatinny rail, which can host a wide array of additional day and night sighting equipment. Another unusual accessory for the Modern Sub Machine Carbine / MSMC submachine gun is the bayonet lug, which is located above the barrel, just in front of the receiver.
Specifications
| | |
| --- | --- |
| Caliber | 5.56x30 MINSAS |
| Weight | 2.98 kg empty |
| Length (stock closed/open) | 500 / 700 mm |
| Barrel length | 300 mm |
| Rate of fire | ? rounds per minute |
| Magazine capacity | 30 rounds |
See also