The Mil Mi-35M Hind-E is the most advanced version of the Mi-24, it is currently used by Brazil and Venezuela.
Description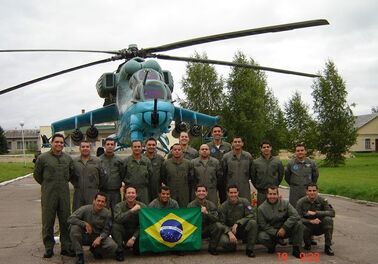 The reference Mi-35, together with the Mi-25 was used to designate aircraft exported. The designation was already used before the end of the Soviet Union.
But more recently, the new policy has led the manufacturer to recover the designation Mi-35 to refer to the most modern helicopter. Therefore, the Mi-35M is basically the modernized model Mi-24V and is characterized by changes in weaponry, including the replacement of the rotating barrel 12.7 mm caliber machine gun by two 23mm guns (already tried before, then without much success). It is also equivalent to the Mi-24VM, which is a conversion kit offered by the factory Mil. The 'new' model, like the Mi-24V from which it derived, is characterized by an increase in engine power, which together amounted to 4.450 hp. The Mi-24V/Mi-35 can reach higher altitudes than previous Mi-24D because of this modification. However there are some features that are specific to the Mi-35. Its main rotor and tail rotor are identical to the latest Mi-28's also from Mil. The weight of the Mi-35 is also slightly lower than that of their predecessors. Like other modernized versions of the Mi-35 is equipped for night fighting, featuring laser range finder, thermal imager and TV.
Operators
Brazil
Brazil has acquired a batch of 12 aircraft Mi-35M for operation by the Air Force. The helicopters will take part in surveillance operations in the Amazon, where its attack helicopter configuration with the ability to carry a battle group of eight men can be a tactical advantage in case of need. The Brazilian Mi-35 is the most advanced version of the Hind family, a little more effective than its Venezuelan "brother" and Russian cousins. The Brazilian Mi-35 will have the designation AH-2 Sabre.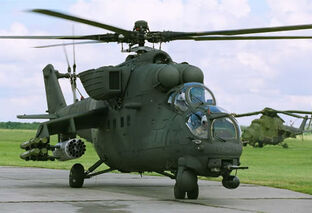 Ii's not known exactly which systems will be installed in the Brazilian helicopters, but they should be almost equal to the Hinds sold to Venezuela, although there is a Brazilian manufacturer of rockets who provides systems that can be installed on the Mi-35M
Venezuela
Acquired by the government of Hugo Chávez for armed patrol along the border with Colombia, They are not operated by the air force, but by the army, where they are called Mi-35 Piranha.
Specifications
Dimensions
Length: 18m
Rotor Diameter: 17m
Height: 4m
Weight
Maximum Weight: 11500 kg
Crew: 2 (Pilot and

Co-Pilot

) can carry more seven armed soldiers
Peformance
Engines: 2x Klimov TVA-3000 / VK-3500
Maximum Altittude: 5700 meters
Armament
Guns
1x

GSh-23

23mm machine gun
Missiles
See also