Jurassic World: Dominion Dominates Fandom Wikis - The Loop
Play Sound
The Mig-29 Fulcrum was a Soviet Made fighter developed to compete with the F-15 Eagle and the F-16 Fighting Falcon.
Description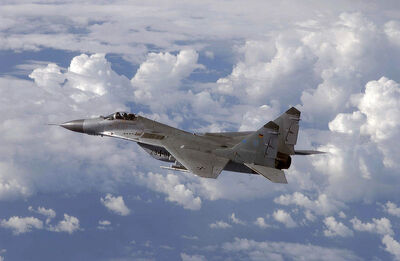 The Mikoyan Gurevich MiG-29A (NATO code name Fulcrum) is a twin-engine, super-sonic, high-performance fighter. When the Soviets got wind of the USAF's "FX" program, which resulted in the F-15 Eagle, they realized that the new fighter presented a serious threat to the (then) current line of fighters, such as the MiG-21 and MiG-23. Work began on 'Product 9' designated MiG-29A, began in 1974, with fight taking place on October 6, 1977. The "Fulcrum" features many advanced aerodynamic features that give the aircraft superb fighting capability despite having a very short combat radius. The MiG-29's wings are swept-back and tapered with square tips. LERXs are wide and curved down to the front. LERX begins on the nose below the mid-mount point, and the wings' trailing edges end at a high-mounted point. Twin jet engines are mounted low and to the sides of the fuselage. Diagonal-shaped air intakes give a box-like appearance. There are large exhausts. The fuselage is made of a long, thin, slender body with long, pointed drooping nose. There is a high-mounted bubble canopy. The tail fins have sharply tapered leading edges, canted outward with angular, cutoff tips. Flats are high-mounted on the fuselage, movable, swept-back, and tapered with a negative slant. The MiG-29 is a widely exported aircraft, flown by such nations as Cuba, Iran, North Korea, Peru, Russia, Ukraine and many former Soviet republics.
The Fulcrum is also available for MiG-29 tourist flights in Russia after financial problems of the gouvernment in the 1990ies.
Operators
Algeria - 69 MiG-29S in service [1]
Azerbaijan
Bangladesh - 14 MiG-29SEs and two MiG-29UBs in service.
Belarus
Bulgaria - 14 MiG-29S and 4 MiG-29UB, modernized in 2009.
Cuba
Eritrea
Hungary - has 12 in service as of January 2010.
India

Indian Air Force has 63 upgraded MiG-29 Baaz in service. The upgrade of all MiG-29 "Baaz" to latest MiG-29SMT standard is in process which will include latest avionics, Zhuk-ME Radar, engine, weapon control systems etc.
Indian Naval Air Arm has 45 MiG-29Ks on order as of January 2010, with 6 in inventory as of July 2010.

Iran - 20 MiG-29A and 4 MiG-29UB
Kazakhstan
Myanmar - 10 MiG-29Bs and two MiG-29UBs in service as of November 2008. Ordered 20 more MiG-29SMT fighters in 2009.
Peru - 19 in service as of Nov. 2008.
North Korea - 40 in service as of Nov. 2008. 12 initially bought from Belarus in 1995 and a follow up order of 18 MiG-29SE plus 3 new from Russia in 1996. Two were lost in accidents.
Poland - 36 in service
Russia - 406 in service as of Nov. 2008. An additional 100 MiG-29S (SE for the export designation) and another 34 MiG-29SMT are new from an order rejected from Algeria.
Serbia - Four in service
Slovakia - 21 MiG-29s received, 12 in active service.
Sri Lanka
Sudan - 12 on order, and 11 in service as of November 2008.
Syria
Turkmenistan
Ukraine - 80 as of January 2010.
United States - Evaluation only.
Uzbekistan
Yemen
Former Operators
Czechoslovakia - Received 18 MiG-29 and two MiG-29UB aircraft. Six Czechoslovak MiG-29s were capable of delivering nuclear weapons but equipment needed for carrying these weapons was removed as part a CFE treaty. All passed onto successor states.
Czech Republic - Inherited nine MiG-29 and one MiG-29UB. All sold to Poland in 1995 in exchange for 11 W-3A Sokol helicopters.
East Germany - 24 absorbed into the Luftwaffe upon reunification
Germany - One crashed, one on display, 22 sold to Poland
Iraq
Israel - leased from an unknown country, used for aggressor training.
Moldova - not operational, six MiG-29S in storage.
Romania - 17 MiG-29 and five MiG-29UB were delivered in 1989—1990.Withdrawn from service in 2003.
Soviet Union
Yugoslavia
Specifications
General characteristics
Crew: One
Length: 17.37 m (57 ft)
Wingspan: 11.4 m (37 ft 3 in)
Height: 4.73 m (15 ft 6 in)
Wing area: 38 m² (409 ft²)
Empty weight: 11,000 kg (24,250 lb)
Loaded weight: 16,800 kg (37,000 lb)
Max takeoff weight: 21,000 kg (46,300 lb)
Powerplant: 2× Klimov RD-33 afterburning turbofans, 8,300 kgf (81.4 kN, 18,300 lbf) each
Performance
Maximum speed: Mach 2.25 (2,400 km/h, 1,490 mph) At low altitude: Mach 1.25 (1,500 km/h, 930 mph)
Range: 1,430 km (772 nmi, 888 mi) with maximum internal fuel
Ferry range: 2,100 km (1,800 mi) with 1 drop tank
Service ceiling: 18,013 m (59,100 ft)
Rate of climb: initial 330 m/s average 109 m/s 0–6000 m (65,000 ft/min)
Wing loading: 442 kg/m² (90.5 lb/ft²)
Thrust/weight: 1.01
Armament
1 x 30 mm GSh-30-1 cannon with 150 rounds
7 Hard points: 6 x pylons under-wing, 1 x under fuselage
Up to 3,500 kg (7,720 lb) of weapons including six air-to-air missiles — a mix of semi-active radar homing (SARH) and AA-8 Aphid, AA-10 Alamo, AA-11 Archer, AA-12 Adder, FAB 500-M62, FAB-1000, TN-100, ECM Pods, S-24, AS-12, AS-14
Avionics
Phazotron N019, N010 radars
Fulcrum/Flanker Family
Similar Development
Lockheed Martin F-16I Sufa