watch 01:36
We're Getting Mutants in the MCU - The Loop
Play Sound
The Mekanika Uirapuru is a General Purpose Machine Gun of Brazilian origin and is chambered in the 7.62x51mm NATO calibre.
Description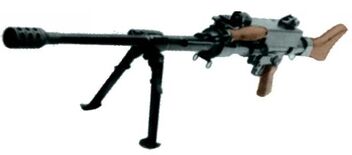 Originally rejected by the Brazilian Army, the Uirapuru received a second life in 1976 after refinements were imposed. The weapon was an initial design as put together by members of the Brazilian Army's engineering institute with one of the original members later tabbed to continue the development and make several key changes in making the weapon system serviceable by Brazilian Army standards.
Classified as a general purpose machine gun, the system can be vehicle (including armor in the coaxial role), sea-going vessels or aircraft-mounted as well as part of an infantry squad in the support firing role. The Uirapuru fires the 5.56x51mm NATO standard cartridge from a belt fed ammunition system of varying lengths. The barrel offers a quick change system and a flash suppressor as well as a handy bipod and wooden butt for supportive fire. An optional tripod is also available for the sustained fire role as is an awkwardly-angled carrying handle for increased portability. It is still being used by the Brazilian Army, probably also by the BFEsp.
Specifications
Operation
Action: Gas Operated; Automatic Fire Only
Cartridge: 7.62x51mm NATO
Feed System: Various; Metal-Link Belt Fed
Muzzle Velocity: 2,788 ft/sec (850m/sec)
Cyclic Rate-of-Fire: 700rds/min
Maximum / Effective Range: 4,593 ft (1,400m; 1,531yds)
Sights: Iron
Dimensions
Overall Length: 1300mm (51.18 in)
Barrel Length: 600.00 (23.62 in)
Empty Weight: 13.00 kg (28.66 lbs)
See also