We're Getting Mutants in the MCU - The Loop
Play Sound
The McDonnel Douglas F-15 Eagle is an all-weather, extremely maneuverable, tactical fighter designed to permit the Air Force to gain and maintain air superiority in aerial combat. Also of note, it is the first American fighter aircraft developed specifically for air-to-air combat since the F-86 Sabre designed in 1947.
Description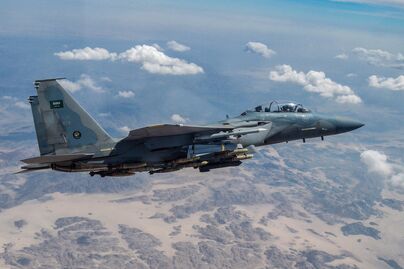 The Eagle's air superiority is achieved through a mixture of unprecedented maneuverability and acceleration, range, weapons and avionics. It can penetrate enemy defense and outperform and outfight any current enemy aircraft. The F-15 has electronic systems and weaponry to detect, acquire, track and attack enemy aircraft while operating in friendly or enemy-controlled airspace. The Eagle can be armed with the AIM-7F/M Sparrow orAIM-120 AMRAAM (Advanced Medium Range Air-to-Air Missile) radar guided missiles on its lower fuselage corners, with AIM-9L/M Sidewinder or AIM-120 missiles on two pylons under the wings, and an internal M61 Vulcan 20mm Gatling gun in the right wing root. The weapons and flight control systems are designed so one person can safely and effectively perform air-to-air combat.
The F-15's superior maneuverability, rate-of-climb, and acceleration are achieved through high engine thrust-to-weight ratio and low wing loading. Low wing-loading (the ratio of aircraft weight to its wing area) is a vital factor in maneuverability and, combined with the high thrust-to-weight ratio, enables the aircraft to turn tightly without losing airspeed; the concept of low wing loading has been used in many other great fighters long before the F-15, including the Spitfire of World War II. As a result, the F-15 is one of the deadliest (and best) fighters ever built. This is evident in the aircraft's reputation, for during Operation Iraqi Freedom in 2003, the Iraqi Air Force disobeyed orders and refused to fly out of fear of the F-15.
As of today, the F-15 kill ratio stands at 108 air-to-air victories and no air-to-air losses. The F-15 is used by the US, Israel, Japan, and Saudi Arabia. However, in US, it is being replaced by the F-22 Raptor.
Operators
Israel
See Also: F-15I Ra'am
Israeli Air Force has operated F-15s since 1977, received under Peace Fox I, II and III. These aircraft are currently organized into two F-15A/B squadrons and one F-15C/D squadron. The first 25 F-15A/Bs were early USAF production airframes, equipping the

133 Squadron

. The second batch was temporarily embargoed as a result of the 1982 Lebanon War. The IAF had 42 F-15A/C, 15 F-15B/D, and 25 F-15I aircraft in service as of November 2008.
Japan
Japan Air Self-Defence Force acquired 203 F-15Js and 20 F-15DJs from 1981, of which 2 F-15Js and 12 F-15DJs were made in U.S. and the rest by Mitsubishi under license. These aircraft are currently operated by 2 Hikotai (squadron) of 2. Kokudan (Air Wing), Chitose Air Base, 1 Hikotai of 5. Kokudan, Nyutabaru AB, 1 Hikotai of 6. Kokudan, Komatsu AB, 2 Hikotais of 7. Kokudan, Hyakuri AB and 1 Hikotai of 8. Kokudan, Tsuiki AB. In June 2007, the Air Self-Defense Force decided to upgrade certain F-15 aircraft with synthetic aperture radar pods; these aircraft will replace RF-4 aircraft currently in service. Japan had 157 F-15Js and 45 F-15DJs in use as of November 2008.
Saudi Arabia
Royal Saudi Air Force has operated 4 squadrons of F-15C/D (55/19) since 1981, received under Peace Sun. They are based at Dhahran, Khamis Mushayt and Taif air bases. A stipulation in the Camp David Peace Agreement limited the number of Saudi F-15 to 60, holding surplus air frames in Luke AFB for RSAF pilot training. This limitation was later abandoned. The RSAF had 139 F-15C/S and 22 F-15D Eagles in operation as of November 2008.
United States
United States Air Force operated 630 F-15 aircraft (499 in active duty and 131 in ANG, all variants) as of September 2008. Bold are active units.
| | |
| --- | --- |
| Active Duty | |
Specifications
General Characteristics
Crew: 1
Length: 63 ft 9 in (19.43 m)
Wingspan: 42 ft 10 in (13.05 m)
Height: 18 ft 6 in (5.63 m)
Wing area: 608 ft² (56.5 m²)
Airfoil: NACA 64A006.6 root, NACA 64A203 tip
Empty weight: 28,000 lb (12,700 kg)
Loaded weight: 44,500 lb (20,200 kg)
Max takeoff weight: 68,000 lb (30,845 kg)
Powerplant: 2× Pratt & Whitney F100-100, -220 or -229 afterburning turbofans

Dry thrust: 17,450 lbf (77.62 kN) each
Thrust with afterburner: 25,000 lbf for -220; 29,000 lbf for -229 (111.2 kN for -220; 129.0 kN for -229) each
Performance
Maximum speed:

High altitude: Mach 2.5+ (1,650+ mph, 2,660+ km/h)
Low altitude: Mach 1.2 (900 mph, 1,450 km/h)

Combat radius: 1,061 nmi (1,222 mi, 1,967 km) for interdiction mission
Ferry range: 3,000 nmi (3,452 mi, 5,556 km) with conformal fuel tanks and three external fuel tanks
Service ceiling: 65,000 ft (20,000 m)
Rate of climb: >50,000 ft/min (254 m/s)
Wing loading: 73.1 lb/ft² (358 kg/m²)
Thrust/weight: 1.12 (-220), 1.30 (-229)
Armament
Guns: 1× internally mounted 20 mm (0.787 in) M61A1 gatling gun, 940 rounds
Hardpoints: four wing, four fuselage, two wing stations, centerline station, optional fuselage pylons with a capacity of 16,000 lb (7,300 kg)
Missiles:
Avionics
Radar:

Raytheon AN/APG-63 or AN/APG-70 or

Although several F-15C aircraft were produced with APG-70 radar, all have been retrofitted to the AN/APG-63(V)1 configuration

Raytheon AN/APG-63(V)1 or
Raytheon AN/APG-63(V)2 Active Electronically Scanned Array (AESA) or
Raytheon AN/APG-63(V)3 Active Electronically Scanned Array (AESA)

Both active AF and ANG F-15Cs will receive another (up to) 48 V3 units between 2009-2015, over the existing 19 aircraft.

Countermeasures:

AN/APX-76 or AN/APX-119 Identify Friend/Foe (IFF) interrogator
Magnavox AN/ALQ-128 Electronic Warfare Warning Set (EWWS) -part of Tactical Electronic Warfare Systems (TEWS)
Loral AN/ALR-56 Radar Warning Receiver (RWR)-part of Tactical Electronic Warfare Systems (TEWS)
Northrop ALQ-135 Internal Countermeasures System (ICS) - part of Tactical Electronic Warfare Systems (TEWS)
AN/ALE-45 chaff/flare dispensers
Others:
Joint Helmet Mounted Cueing System
MXU-648 Cargo/Travel Pod - to carry personal belongings, and small pieces of maintenance equipment.
See also
References