Jurassic World: Dominion Dominates Fandom Wikis - The Loop
Play Sound
The McDonnell Douglas (now Boeing) F-15E Strike Eagle is the only F-15 Variant (Besides F-15SE Silent Eagle) that is a dedicated to all weather Air-to-Ground missions, his mainly visible differences with the normal F-15C Eagle is his camouflage and that the Strike Eagle uses conformal tanks.
Description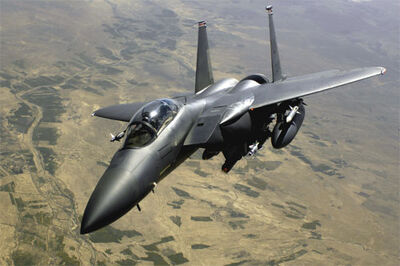 The F-15E is a fighter-bomber aircraft designed to replace the F-111F Aardvark as the USAF's strike fighter (another name for fighter-bomber). The plans for a ground attack Eagle were formed ever since testing began of the original F-15A Eagle. However, it was abandoned in 1975, primarily due to increasing costs. It was revived in 1982 when trials began with an F-15B. The production model first flew December 11, 1986, after it was chosen over its competitor, the F-16XL. The F-15's cockpit is state-of-the-art and the pilot has a wide angle Heads-Up Display as well as 3 Multi-Function Displays, while the Weapons Systems Operator (in the back seat) has 4 MFD's. The F-15E is based on the F-15C Eagle air superiority fighter. The Strike Eagle acquired air-to-ground capability, while retaining the F-15C's outstanding air-to-air capability. The disadvantage that the F-15E had to the F-111, which it was criticized for in its early life, was the fact that the F-15E didn't have the internal range (2,994 miles in the F-111 to 2,100 miles in the F-15E) nor the weapons payload capability (31,302 lbs to 24,471 lbs) as the Aardvark. However, despite these shortcomings, the F-15E is one of the most powerful aircraft in the U.S. arsenal. Strike Eagles were used in other countries, including Israel (Modificated as F-15I Ra'am, which means "Thunder"), South Korea (Modified as F-15K Slam Eagle), Saudi Arabia (F-15S),and Singapore (F-15SG, formerly F-15T). Boeing has begun work on the F-15SE Silent Eagle, a stealth version of the F-15E with internal payoad ability. The F-15SE has failed the Japanese F-X program.
Specifications
General Characteristics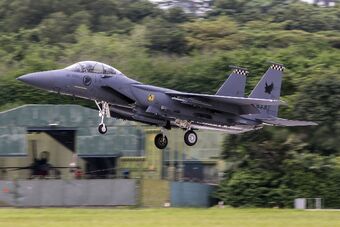 Crew: 2
Length: 63.8 ft (19.43 m)
Wingspan: 42.8 ft (13.05 m)
Height: 18.5 ft (5.63 m)
Wing area: 608 ft² (56.5 m²)
Airfoil: NACA 64A006.6 root, NACA 64A203 tip
Empty weight: 31,700 lb (14,300 kg)
Max takeoff weight: 81,000 lb (36,700 kg)
Powerplant: 2× Pratt & Whitney F100-229 afterburning turbofans, 29,000 lbf (129 kN) each
Performance
Maximum speed: Mach 2.5+ (1,650+ mph, 2,650+ km/h)
Ferry range: 2,400 mi (2,100 nmi, 3,900 km) with conformal fuel tank and three external fuel tanks
Service ceiling: 60,000 ft (18,200 m)
Rate of climb: 50,000+ ft/min (254+ m/s)
Armament
Guns: 1× 20 mm (0.787 in) M61 Vulcan gatling gun, 510 rounds of either M-56 or PGU-28 ammunition
Hardpoints: 2 wing pylons, fuselage pylons, bomb racks on CFTs with a capacity of 24,250 lb (11,000 kg) of external fuel and ordnance
Missiles:
Bombs:

CBU-103 CEM

CBU-104 Gator

CBU-105 SFW

GBU-38 JDAM

GBU-51 Paveway II

GBU-54 Laser JDAM

Others:

SUU-42A/A Flares/Infrared decoys

dispenser pod and

chaff

pod or

AN/ALQ-131 ECM pod

or
LANTIRN, Lockheed Martin Sniper XR &

LITENING targeting pods

or
up to 3× 600 US gallons (2,300 L) Sargent Fletcher drop tanks for ferry flight or extended range/loitering time.
Avionics
See also