Jurassic World: Dominion Dominates Fandom Wikis - The Loop
Play Sound
The Lockheed TriStar is a dual-role tanker/transport aircraft in service with the Royal Air Force (RAF). All are converted civilian Lockheed L-1011-500 TriStar airliners—previously operated by British Airways and Pan American World Airways—and entered service with the RAF in 1984.
The converted aircraft were purchased following theFalklands War, after a requirement for additional air-to-air refuelling operations had been identified. Of the nine in service, two are tankers (K1) with passenger space and also limited space for cargo loaded aft of the main deck; three are solely transport aircraft (C2); and the remaining four (KC1) can be used for either of the two roles. The TriStars form the air-to-air refuelling fleet of the RAF. They are due to be replaced by the Airbus A330 MRTT under the Future Strategic Tanker Aircraft (FSTA) programme.
The TriStar fleet is operated by No. 216 Squadron of RAF Brize Norton in Oxfordshire.
Design and development
The Royal Air Force operates nine L-1011-500s TriStars, six ex-British Airways and three ex-Pan Am.[1] The TriStars were bought in the immediate aftermath of the Falklands War to bolster the long range capability of the RAF in the transport and tanker roles, as the demands of refuelling Hercules supporting forces stationed in the Falklands was rapidly using up the fatigue life of the RAF's Handley Page Victor tankers. A requirement for at least four wide-bodied tanker/transports was drawn up. At the same time, British Airways wished to dispose of its Lockheed L-1011-500 aircraft, and so put in a joint bid with Marshall Aerospace to supply six TriStars.[2] The initial order for the ex-British Airways TriStars placed on 14 December 1982, The three ex-Pan Am aircraft were purchased in 1984.[3] All of the aircraft serve with No. 216 Squadron, based at RAF Brize Norton. Marshall Aerospace performed the conversion of the TriStars.[1] Two of the aircraft are passenger/tanker aircraft designated TriStar K1s. Another four can operate as either tankers or passenger/cargo aircraft - these are KC1s. Three are pure passenger aircraft; two TriStar C2 and the solitary TriStar C2A. The C2A differs from the C2s in having some military avionics and a new interior.[1]
The RAF's TriStars have been subject to progressive updating, including the fitting of flight deck armour and Directional Infrared Counter Measures to protect against ground fire when flying into Iraq. The aircraft were to be fitted with an updated cockpit, but this has since been abandoned due to the upcoming out-of-service-date.[4] The TriStar was expected to remain in service with the RAF until the end of this decade, when it was scheduled to be replaced by the Airbus A330 MRTT under the Future Strategic Tanker Aircraft (FSTA) programme. However, this date has been bought forward to 2014 under the Strategic Defence and Security Review of 2010. The Airtanker consortium, led by EADS, won the FSTA contract in January 2004. Beginning in April 2004, there have been continuing rumours about the fragile state of the contract negotiations. With continuing doubts over the FSTA program, Marshall Aerospace offered to buy and convert some of the large number of surplus commercial TriStars as tankers, but this was rejected.[5] This would give the UK a much needed increase in refuelling capacity (with the upcoming retirement of the VC10 fleet) at a fraction of the cost of the £13bn FSTA programme.
Operational history
The aircraft have seen service in many conflicts. Two were deployed to King Khalid International Airport, near Riyadh in Saudi Arabia during the 1991 Gulf War as tankers, with the rest used for transport between the Persian Gulf and United Kingdom. The two aircraft deployed received nose art naming them Pinky and Perky. During the 1999 Kosovo War, TriStars deployed to Ancona in Italy, again as tankers, with four aircraft involved. TriStars joined VC10s in the air-to-air refuelling role for Operation Veritas (Afghanistan), during which they provided aerial-refuelling for US Navy aircraft. The RAF deployed four TriStars during Operation Telic in the skies of Iraq, to an as-yet-undisclosed location.[citation needed]
TriStar air-to-air refuelling aircraft supported the British air strikes on Libya on 19–20 March 2011 as part of the coalition operations to enforce UN Resolution 1973.[6]
Variants
TriStar K1

Conversion of former British Airways TriStar 500s for tanker/transport/cargo role (not fitted with a cargo door), two aircraft.

TriStar KC1

Conversion of former British Airways TriStar 500s for tanker/cargo/transport role, four aircraft.

TriStar C1

Former British Airways TriStar 500s operated as passenger aircraft before tanker conversion.

TriStar C2

Former Pan Am TriStar 500s operated as passenger aircraft, with capability for carrying cargo and also Aeromed, two aircraft.

TriStar C2A

One former Pan Am TriStar 500 operated as passenger aircraft, different avionics to the two C2s.
Operators
Specifications (TriStar K1)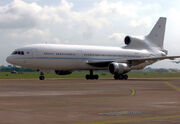 Data from The International Directory of Military Aircraft,[1] RAF TriStar page[7] Airliners.net [8]
General characteristics
Crew: 4 (1 captain, 1 co-pilot, 1 air engineer, 1 Air Loadmaster)
Capacity: 187 passengers (250 on C variant)[9]
Length: 50.05 m (164 ft 3 in)
Wingspan: 50.09 m (164 ft 4 in)
Height: 16.87 m (55 ft 4 in)
Wing area: 329.0 m² (3540 ft²)
Empty weight: 105,165 kg (242,684 lb)
Max. takeoff weight: 245,000 kg (540,000 lb)
Powerplant: 3 × Rolls-Royce RB.211-524B turbofans, 50,000 lbf (222.4 kN) each
Maximum Fuel Load: 136,080 kg (300,000 lb)
Performance
Maximum speed: Mach 0.90
Cruise speed: Mach 0.83 (483 kn, 894 km/h)
Range: 4,200 nmi (7,785 km)with maximum passenger payload
Service ceiling: 43,000 ft (13,000 m)
Rate of climb: 2,820 ft/min (14.3 m/s)
See also
Lockheed L-1011 TriStar

List of Lockheed aircraft
References
Notes
↑ 1.0 1.1 1.2 1.3 Frawley, Gerard (2002). The International Directory of Military Aircraft, 2002-2003. Fyshwick, ACT, Australia: Aerospace Publications Pty Ltd. p. 44. ISBN 1-875671-55-2.

 

↑ Prothero Air International March 1991, pp. 129–130.
↑ Air International December 1985, p.271.
↑

Airforces Monthly, January 2013, P.9

↑ Winchester Air International January 2009, p.53.
↑ Military Operations news (20 March 2011). "Updated: British Armed Forces launch strike against Libyan air defence systems". Ministry of Defence (United Kingdom). http://www.mod.uk/DefenceInternet/DefenceNews/MilitaryOperations/UpdatedBritishArmedForcesLaunchStrikeAgainstLibyanAirDefenceSystems.htm

. Retrieved 20 March 2011

.

 

↑ "RAF TriStar page". Raf.mod.uk. 2012-04-25. http://www.raf.mod.uk/equipment/tristar.cfm

. Retrieved 2012-09-23

.

 

↑ Lockheed L-1011-500 page, airliners.net.
↑ "Tristar". RAF. 2012-04-25. http://www.raf.mod.uk/equipment/tristar.cfm

. Retrieved 2012-09-23

.

 
Bibliography
Prothero, R.M. "Tristar:The answer to an operational requirement". Air International, March 1991, Vol 40 No. 3. pp. 128–134.
"TriStar Tankers...The RAF Goes Widebody". Air International, December 1985, Volume 29, No. 6. Bromley, UK: Fine Scroll. pp. 271–277, 309.
Winchester, Jim. "Aircraft of the RAF - Part 9 Tristar". Air International. January 2009, Vol 76, No 1. pp. 50–53.
Yenne, Bill, Lockheed. Crescent Books, 1987.
External links