Jurassic World: Dominion Dominates Fandom Wikis - The Loop
Play Sound
The Lockheed Corporation (originally Loughead Aircraft Manufacturing Company) was an American aerospace company. Lockheed was founded in 1912 and later merged with Martin Marietta to form Lockheed Martin in 1995.
History
Origins
The Alco Hydro-Aeroplane Company was established in San Francisco in 1912 by the brothers Allan and Malcolm Loughead. In 1916, the company was renamed the Loughead Aircraft Manufacturing Company and relocated to Santa Barbara, California. 1916 was also the year that then 20-year-old Santa Barbara native Jack Northrop became interested and took his first job in aviation working as a draftsman for the Loughead Aircraft Manufacturing Company. The company proceeded to design and construct the Model F-1 seaplane, which debuted on March 29, 1918, and set the American non-stop record for seaplane flight by flying from Santa Barbara to San Diego. Following the Model F-1, the company invested heavily in the design and development of a revolutionary monocoque aircraft called the Model S-1. However, the asking price of $2500 could not compete in a market that was saturated with post World War 1 $350 Curtiss JN-4s and De Haviland trainers. The Loughead Aircraft Manufacturing Company closed its doors in 1921.
In 1926, Allan Loughead, Jack Northrop, and Kenneth Jay secured funding to form the Lockheed Aircraft Company (the spelling was changed to match its phonetic pronunciation) in Hollywood. This new company utilized the some of the same technology originally developed for the Model S-1 to design the Vega Model. In March 1928, the company relocated to Burbank, CA and by year-end reported sales exceeding one million dollars. From 1926 to 1928 the company produced over 80 aircraft and employed more than 300 workers who were building five aircraft per week by April, 1929.
In July 1929, majority share holder Fred E. Keeler sold 87% of the Lockheed Aircraft Company to Detroit Aircraft Corporation. In August 1929, Allan Loughead resigned stating that "It was my conviction at the time that the merger was an unsound move."
The Great Depression ruined the aircraft market, and Detroit Aircraft went bankrupt. A group of investors headed by brothers Robert and Courtland Gross, and Walter Varney, bought the company out of receivership in 1932. The syndicate bought the company for a mere $40,000 ($660,000 in 2011). Ironically, Allan Loughead himself had planned to bid for his own company, but had raised "only" $50,000 ($824,000), which he felt was too small a sum for a serious bid.
In 1934, Robert E. Gross was named chairman of the new company, the Lockheed Corporation, which was headquartered at the airport in Burbank, California. His brother Courtlandt S. Gross was a co-founder and executive, succeeding Robert as Chairman following his death in 1961.
The first successful construction that was built in any number (141 aircraft) was the Vega, best known for its use to several first- and record setting flights by, among others, Amelia Earhart, Wiley Post and George Hubert Wilkins.
In the 1930s, Lockheed spent $139,400 ($2.29 million) to develop the Model 10 Electra, a small twin-engine transport. The company sold forty in the first year of production. Amelia Earhart and her navigator, Fred Noonan, flew this plane on their failed attempt to circumnavigate the world in 1937. Follow-on designs, the Lockheed Model 12 Electra Junior and the Lockheed Model 14 Super Electra expanded their market.
Pre-war production
The Lockheed Model 14 formed the basis for the Hudson bomber, which was supplied to both the British Royal Air Force and the United States military before and during World War II. Its primary role was submarine hunting. The Model 14 Super Electra were sold abroad, and more than 100 were license-built in Japan for use by the Imperial Japanese Army.[1] Lockheed was delivering airplanes to Japan until May 1939.[2]
Production during World War II
At the beginning of World War II, Lockheed – under the guidance of Clarence (Kelly) Johnson, who is considered one of the best known American aircraft designers – answered a specification for an interceptor by submitting the P-38 Lightning fighter plane, a somewhat unorthodox twin-engine, twin-boom design. The P-38 was the only American fighter aircraft in production throughout American involvement in the war, from Pearl Harbor to Victory over Japan Day. It filled ground attack, air-to-air, and even strategic bombing roles in all theaters of the war in which the United States operated. The P-38 was responsible for shooting down more Japanese aircraft than any other U.S. Army Air Forces type during the war; and is particularly famous for being the airplane that shot down Japanese Admiral Isoroku Yamamoto's airplane.
The Lockheed Vega factory was located next to Burbank's Union Airport which it had purchased in 1940. During the war, the entire area was camouflaged to fool enemy aerial reconnaissance. The factory was hidden beneath a huge burlap tarp painted to depict a peaceful semi-rural neighborhood, replete with rubber automobiles.[3][4] Hundreds of fake trees, shrubs, buildings and even fire hydrants were positioned to give a three dimensional appearance. The trees and shrubs were created from chicken wire treated with an adhesive and covered with feathers to provide a leafy texture.[5]
Lockheed ranked tenth among United States corporations in the value of wartime production contracts.[6] All told, Lockheed and its subsidiary Vega produced 19,278 aircraft during World War II, representing six percent of those produced in the war. This included 2,600 Venturas, 2,750 B-17 Flying Fortresses (built under license from Boeing), 2,900 Hudsons, and 9,000 Lightnings.[7]
Postwar production
During World War II, Lockheed, in cooperation with Trans-World Airlines (TWA), had developed the L-049 Constellation, a radical new airliner capable of flying 43 passengers between New York and London at a speed of 300 mph (480 km/h) in 13 hours. Once the Constellation (affectionately called "Connie") went into the production, the military received the first production models. After the war, the airlines received their original orders of Constellations. This gave Lockheed more than a year's head-start over other aircraft manufacturers in what was easily foreseen as the post-war modernisation of civilian air travel. The Constellations' performance set new standards which transformed the civilian transportation market. Its signature tri-tail was the result of many initial customers not having hangars tall enough for a conventional tail.
Lockheed produced a larger transport, the double-decked R6V Constitution, which was intended to make the Constellation obsolete. However, the design proved underpowered.
Skunk Works
Main article:
Skunk works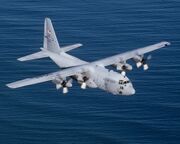 In 1943, Lockheed began, in secrecy, development of a new jet fighter at its Burbank facility. This fighter, the Lockheed P-80 Shooting Star, became the first American jet fighter to score a kill. It also recorded the first jet-to-jet aerial kill, downing a MiG-15 in Korea, although by this time the F-80 (as it came to be known in June 1948) was already considered obsolete.[8]
Starting with the P-80, Lockheed's secret development work was conducted by its Advanced Development Division, more commonly known as the Skunk Works. The name was taken from Al Capp's comic strip Li'l Abner. This organization has become famous and has spawned many successful Lockheed designs, including the U-2 (late 1950s), SR-71 Blackbird (1962) and F-117 Nighthawk stealth fighter (1978s). The Skunk Works often created high quality designs in a short time and sometimes with limited resources.
Projects during the Cold War
In 1954, the Lockheed C-130 Hercules, a durable four-engined transport, flew for the first time. The type remains in production to present day.
In 1956, Lockheed received a contract for the development of the Polaris Submarine Launched Ballistic Missile (SLBM), this would be followed by the Poseidon and Trident nuclear missiles.
Lockheed developed the F-104 Starfighter in late 1950s, the world's first Mach 2 fighter jet. In the early 1960s, the company introduced the C-141 Starlifter four-engine jet transport.
During the 1960s, Lockheed began development for two large aircraft: the C-5 Galaxy military transport and the L-1011 TriStar wide-body civil airliner. Both projects encountered delays and cost overruns. The C-5 was built to unclear initial requirements and suffered from structural weaknesses, which Lockheed was forced to correct at its own expense. The Tristar competed for the same market as the Douglas DC-10; delays in Rolls-Royce engine development caused the Tristar to fall behind the DC-10. The C-5 and L-1011 projects, along with the (canceled) U.S. Army AH-56 Cheyenne Helicopter program and embroiled shipbuilding contracts, caused Lockheed to lose large sums of money during the 1970s.
Drowning in debt, in 1971 Lockheed (then the largest US defense contractor) asked the US Government for a loan guarantee, to avoid insolvency. The measure was hotly debated in the US Senate. The chief antagonist was Senator William Proxmire (D-Wis), the nemesis of Lockheed and its chairman, Daniel J. Haughton. Following a fierce debate, Vice President Spiro T. Agnew cast a tie-breaking vote in favor of the measure. Lockheed finished paying off the $1.4 billion loan in 1977, along with about $112.22 million in loan guarantee fees.[9]
Bribery scandals
The Lockheed bribery scandals were a series of illegal bribes and contributions made by Lockheed officials from the late 1950s to the 1970s. In late 1975 and early 1976, a sub-committee of the U.S. Senate led by Senator Frank Church concluded that members of the Lockheed board had paid members of friendly governments to guarantee contracts for military aircraft.[10] In 1976, it was publicly revealed that Lockheed had paid $22 million in bribes to foreign officials[11] in the process of negotiating the sale of aircraft including the F-104 Starfighter, the so-called "Deal of the Century".
The scandal caused considerable political controversy in West Germany, the Netherlands, Italy and Japan. In the US, the scandal led to passage of the Foreign Corrupt Practices Act, and nearly led to the ailing corporation's downfall (it was already struggling due to the poor sales of the L-1011 airliner). Haughton resigned his post as chairman.
Attempted leveraged buyout
In the late 1980s, leveraged buyout specialist Harold Simmons conducted a widely publicized but unsuccessful takeover attempt on the Lockheed Corporation, after having gradually acquired almost 20 percent of its stock. Lockheed was attractive to Simmons because one of its primary investors was the California Public Employees' Retirement System (CalPERS), the pension fund of the state of California. At the time, the New York Times said, "Much of Mr. Simmons's interest in Lockheed is believed to stem from its pension plan, which is over financed by more than $1.4 billion. Analysts said he might want to liquidate the plan and pay out the excess funds to shareholders, including himself." Citing the "mismanagement" of its chairman, Daniel M. Tellep, Simmons stated a wish to replace its board with a slate of his own choosing, since he was the largest investor. His board nominations included former Texas Senator John Tower, the onetime chairman of the Armed Services Committee, and Admiral Elmo Zumwalt Jr., a former Chief of Naval Operations.[12][13] Simmons had first begun accumulating Lockheed stock in early 1989 when deep Pentagon cuts to the defense budget had driven down prices of military contractor stocks, and analysts had not believed he would attempt the takeover since he was also at the time pursuing control of Georgia Gulf.[14]
Timeline
1912: The

Alco Hydro-Aeroplane Company

established.
1916: Company renamed Loughead Aircraft Manufacturing Company.
1926: Lockheed Aircraft Company formed.
1929: Lockheed becomes a division of Detroit Aircraft.
1932:

Robert and Courtland Gross

take control of company after the bankruptcy of Detroit Aircraft. Company renamed Lockheed Aircraft Corporation, recognizing the company's reorganization under a board of directors.
1943: Lockheed's Skunk Works founded in Burbank, California.
1954: First flight of the C-130 Hercules.
1954: Maiden flight of the U-2.
1961: Grand Central Rocket Company acquired as

Lockheed Propulsion Company

.
1962: First flight of the A-12 Blackbird.
1964: First flight of the

SR-71 Blackbird

.
1970 First flight of the

L-1011 TriStar

.
1976: The Lockheed bribery scandals.
1977: Company renamed Lockheed Corporation, to reflect non-aviation activities of the company.
1978: The company's

Hollywood-Burbank Airport

is sold to its nearby cities and becomes

Burbank-Glendale-Pasadena Airport

(later renamed

Bob Hope Airport

in 2003).[15]
1981: First flight of the F-117 Nighthawk.
1985: Acquires

Metier Management Systems

.
1986: Acquires

Sanders Associates

electronics of Nashua, New Hampshire.
1991: Lockheed, General Dynamics and Boeing begin development of the F-22 Raptor.
1992: All aerospace related activities end at the Burbank facility.
1993: Acquires General Dynamics' Fort Worth aircraft division, builder of the F-16 Fighting Falcon.
1995: Lockheed Corporation merges with Martin Marietta to form Lockheed Martin.
Divisions
Lockheed's operations were divided between several groups and divisions, many of which continue to operate within Lockheed Martin.[16]
Aeronautical Systems group
Lockheed-California Company (CALAC), Burbank, California.
Lockheed-Georgia Company (GELAC), Marietta, Georgia.
Lockheed Advanced Aeronautics Company,

Saugus, California

.
Lockheed Aircraft Service Company (LAS), Ontario, California.
Lockheed Air Terminal, Inc. (LAT), Burbank, California, now Bob Hope Airport and owned by the Burbank-Glendale-Pasadena Airport Authority.
Missiles, Space, and Electronics Systems Group
Lockheed Missiles & Space Company, Inc., Sunnyvale, California.

Lockheed Propulsion Company

,

Redlands, California

.
Lockheed Space Operations Company, Titusville, Florida.
Lockheed Engineering and Management Services Company, Inc., Houston, Texas.
Lockheed Electronics Company, Inc., Plainfield, New Jersey.
Marine Systems group
Information Systems group
Datacom Systems Corporation, Teaneck, New Jersey.
CADAM Inc., Burbank, California.
Lockheed Data Plan, Inc.,

Los Gatos, California

.
DIALOG Information Services, Inc, Palo Alto, California.
Metier Management Systems, London, England.
Integrated Systems and Solutions, Gaithersburg, MD.
Product list
Main article:
List of Lockheed aircraft
A partial listing of aircraft and other vehicles produced by Lockheed.
Airliners and civil transports
Lockheed Constellation, famous airliner

Lockheed L-049 Constellation

, first model of the Lockheed Constellation

Lockheed L-649 Constellation

, improved Lockheed Constellation

Lockheed L-749 Constellation

, further improved Lockheed Constellation

Lockheed L-1049 Super Constellation

, largest produced model of the Lockheed Constellation

Lockheed L-1649 Starliner

, last model of the Lockheed Constellation

Lockheed Saturn

L-188 Electra

Lockheed JetStar, business jet
L-1011 TriStar,

wide-body

airliner

Odakyu

Type 500

monorail

for

Mukōgaoka-Yūen Monorail

(as Nihon-Lockheed Monorail, with Kawasaki Heavy Industries), in service from 1966 to 2001

Himeji Monorail

Type 100/200 (as Nihon-Lockheed Monorail, with Kawasaki Heavy Industries), in service from 1966 to 1974
Military transports
Fighters
Patrol and reconnaissance
Helicopters
CL-475

, rigid-rotor helicopter
XH-51A/B (Lockheed CL-595/Model 286), compound helicopter testbed
AH-56 Cheyenne, prototype attack compound helicopter
Missiles
Space technology
L-301

Agena

Apollo Launch Escape System

Hubble Space Telescope

Space Shuttle Operations
Sea vessels
See also
Skunk Works

Vega Aircraft Corporation

Lockheed-Kaiser
References
Notes
Bibliography
Allen, Richard Sanders. Revolution In The Sky. Brattleboro, VT: The Stephen Greene Press, 1964. LOC 63-20452.
Boyne, Walter J. Beyond the Horizons: The Lockheed Story. New York: St. Martin's Press, 1998. ISBN 0-312-19237-1.
Miller, Jay. Lockheed Martin's Skunk Works: The Official History, Updated Edition. Aerofax, 1995. ISBN 1-85780-037-0.
External links
| | |
| --- | --- |
| | Wikimedia Commons has media related to Lockheed. |