The Lavochkin La-7 was a Soviet aircraft created during the Second World War, created to solve the problem of the Lavochkin La-5's instability.
Description
The Lavochkin La-7 fighter was the last game of its kind to go into production during the war.
Its development, primarily intended to overco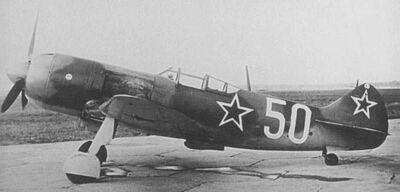 me the issue of stability that the La-5 had failed to resolve, which led to large number of losses in accidents.
The La-7 began to be developed from the autumn of 1943, as the production model La-5 was in full swing. It was initially built a prototype that used a more powerful engine, but the fact that the models have not received Lavochkin preference to receive these engines meant that the technicians had been limited to aerodynamic improvements to try to get better benefits. The development of the La-7 has been tested in wind tunnels, with the aim of improving the aerodynamic performance of the aircraft which was the main problem presented by the previous model. He first flew in November 1943, even with the provisional reference "La-120". Series production began in the spring of 1944 and lasted until mid-1946, a total of 5753 copies of the La -7 manufactured. Because he was not authorized to install the Shvetsov M-71 radial engine, the Lavochkin La-7 was little more than a La-5FN improved. Their armament was not standardized since so much was made of two or three 20mm cannons. The main change was the aerodynamic changes that have reduced consumption and gave the aircraft a greater operational range. After the war, there was still studies to continue to modernize the La-7, but the arrival of the jet quickly relegated this type of aircraft to secondary roles, being phased out from the early 50's.
Operators
Czechoslovakia
China
Soviet Union
North Korea
Specifications
General characteristics
Crew: 1
Length: 8.6 m (28 ft 3 in)
Wingspan: 9.8 m (32 ft 2 in)
Height: 2.54 m (8 ft 4 in)
Wing area: 17.59 m2 (189.3 sq ft)
Gross weight: 3,315 kg (7,308 lb)
Powerplant: 1 × Shvetsov ASh-82FN 14-cylinder, two-row, air-cooled radial, 1,096 kW (1,470 hp)
Propellers: 3-bladed VISh-105V-4
Performance
Maximum speed: 661 km/h (411 mph; 357 kn) @ 6,000 meters (19,685 ft)
Range: 665 km (413 mi; 359 nmi) (1944 model)
Service ceiling: 10,450 m (34,285 ft)
Time to altitude: 5.3 minutes to 5,000 meters (16,404 ft)
Armament
Guns: 2 × 20mm ShVAK cannons with 200 rounds per gun or 3×20 mm Berezin B-20 cannons with 100 rpg
Bombs: 2 × 100kg (220 lb)
See also
Lavochkin La-9 "Fritz"