Kingston-class coastal defence vessel

HMCS Brandon (MM 710)

Class overview
Name:
Kingston-class
Builders:
Halifax Shipyards Ltd., Halifax
Operators:
Royal Canadian Navy
Preceded by:
Anticosti-class minesweeper

In commission:

21 September 1996-present
Completed:
12
Active:
Kingston, Glace Bay, Nanaimo, Edmonton, Shawinigan, Whitehorse, Yellowknife, Goose Bay, Moncton, Saskatoon, Brandon, Summerside
General characteristics
Type:
Coastal defence vessel
Displacement:
970 t (970.0 t)
Length:
55.3 m (181.43 ft)
Beam:
11.3 m (37.07 ft)
Draught:
3.4 m (11.15 ft)
Propulsion:
2 x Jeumont DC electric motors
4 x 600VAC Wärtsilä SACM V12 diesel alternators
2 x

Z drive

azimuth thrusters
Speed:
15 kn (27.78 km/h)
Range:
5,000 nmi (9,260.00 km)
Complement:
31 to 47
Sensors and
processing systems:

Kelvin Hughes

navigation radar (I-band)
Kelvin Hughes 6000 surface search radar (E-F band)
Global Positioning System
Towed high-frequency sidescan sonar
Remote-control Mine Hunting System (RMHS)
Magnetic degaussing system
Armament:
1 x Bofors 40 mm 60 Mk 5C cannon
2 x M2 Machine Guns
The Kingston-class consists of 12 coastal defence vessels operated by the Royal Canadian Navy.
The class is the name for the Maritime Coastal Defence Vessel Project (MCDV). These multi-role vessels were built and launched from the mid- to late-1990s and are crewed entirely by members of the Naval Reserve, with the exception of two regular-force technicians per crew.[1]
Their main missions are coastal surveillance, sovereignty patrol, route survey, and training. They were designed with a minesweeping role in mind and are consequently classified as Mechanical Minesweepers (MM); however, this role has diminished as a result of the evolving nature of mine warfare. The possibility of acquiring the gear necessary to undertake a more appropriate mine-hunting role continues to be examined.
Design
The Kingston-class patrol vessels have many admirable qualities, including crew comfort and ship manoeuvrability, but they represent some design compromises.[1] The program was conceived to advance the use of commercial, off-the-shelf (COTS) equipment and construction techniques in a ship designed to military specifications.
While the Z-drive thrusters make the Kingston-class vessels extremely manoeuvrable (able to turn within their own shiplength) and the engines are quite powerful and fuel-efficient, the hull shape, with a blunt stern and "hard" chine designed for minesweeping, prevents the ship from achieving a "sprint" speed and the patrol vessels of other nations are considerably faster. However, the Kingstons' top speed is faster than that of most mine warfare vessels and is comparable to most large non-naval seagoing vessels.
The hull is a longitudinally framed structure and has been designed to minimize steel weight. The construction involved initial production of partially outfitted steel modules which were made into sub-assemblies and then integrated into the ship. The decks were assembled upside down with pre-outfitting of the underside of the deck prior to installation on the ship. In contrast to many modern mine warfare vessels, which often have hulls made of non-magnetic glass-reinforced plastic or similar material, the Kingston class have conventional steel hulls. The vessels are, however, equipped with a magnetic degaussing system that allows the ship's magnetic signature to be manipulated in three dimensions to minimize vulnerability to magnetic mines.
Modular payload
Kingston class vessels are designed to carry up to three 20-foot (6.1 m) ISO containers with power hookups on the open deck aft in order to embark mission-specific payloads.[2] As of 2009, the available modules included:[2]
2 x Indal Technologies AN/SLQ 38 deep mechanical minesweeping systems
4 x MDA Ltd. AN/SQS 511 heavy-weight high-definition route survey systems
1 x ISE Ltd. Trailblazer 25 bottom object inspection vehicle
1 x ISE Ltd. HYSUB 50 deep seabed intervention system
2 x Fullerton and Sherwood Ltd. 6-man, 2-compartment containerized diving systems
6 x naval engineered 6-person accommodation modules
1 x MDA Ltd. Interim Remote Minehunting and Disposal System
Weapons
The ships are equipped with a Bofors 40 mm Model 60 Mk 5C rapid fire gun, and two 12.7 mm (50 cal) machine guns.[1][3] The Bofors gun is mounted on the forecastle deck and the arc of fire extends forwards by ±120°. The machine guns are mounted on either side at the front of the bridge deck. In a depressed position each machine gun fires in an 118° arc.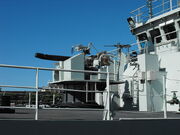 The main armament is a World War II Bofors design that is manually loaded and lacks modern targeting capability.[4]
In October 2006, Maritime Command experimented with mounting a remote controlled heavy machine gun station, the OTO Melara 12.7 mm RCHMG, in place of the 40 mm Bofors cannon aboard HMCS Summerside.[5][6][7]
Sensors
The navigation equipment includes a Sperry Marine Bridge Master E I-band navigation radar and a Global Positioning System. The surface search radar is the E to F-band Sperry Marine Bridge Master E. A towed high-frequency sidescan sonar can be fitted for bottom mapping and route surveys.
Propulsion
The ship is equipped with four main Wärtsilä UD 23V12 diesel engines which are coupled to four alternators (600 V AC). Two Jeumont electric motors (±740 V DC) provide power to the two LIPS Z-drive azimuth thrusters which are fitted with fixed-pitch reversing propellers. The propulsion system provides 15 knots (28 km/h) maximum continuous speed. The range at the economical cruising speed of 9 knots (17 km/h) using two engines is 5,000 nautical miles (9,000 km) with a 20% margin in tank capacity. Mechanical minesweeping is carried out at 8 knots (15 km/h). The crash stop length is five ship lengths from a speed of 15 knots (28 km/h).
Deployment and operations
The ships are evenly distributed between the east and west coasts.[2]
One vessel on each coast is maintained for rapid deployment: this responsibility is rotated amongst the ships.[2]
Future of the class
The Royal Canadian Navy is discarding a $100-million mid-life refit plan for the twelve vessels in this class.[8] Instead, MCDVs will be replaced by new vessels to enter service in 2020. It had been intended to retain the "mid-lifed" vessels through 2045–2055; however, the RCN has concluded that the money would be better spent in acquiring a new platform. The RCN review listed low speed and small size as reasons for the MCDV being inadequate for patrol duties (both are factors of the original specification). Notwithstanding the success of the ships in their deployment, critics suggest that patrol and training were tacked onto the mine-countermeasures role and that the platform lacks serious armament for a sovereignty enforcement role.[8]
On May 13, 2010, it was announced that six of the twelve MCDVs would be placed in extended readiness due to lack of funds and the inability of the naval reserve to provide sufficient personnel to man the ships.[9] On May 14 however that order was rescinded.[10]
Ships in class
There are twelve Kingston-class ships in Canadian service:
Builders: Halifax Shipyards Ltd., Halifax
Laid down: 12 December 1994
Launched: 12 August 1995
Operator: Royal Canadian Navy
Commissioned: 21 September 1996
Status: In active service
Modifications:
Operations:
Builders: Halifax Shipyards Ltd., Halifax
Laid down: 28 April 1995
Launched: 22 January 1996
Operator: Royal Canadian Navy
Commissioned: 26 October 1996
Status: In active service
Modifications:Oto Melara 12.7mm RWS
Operations:
Builders: Halifax Shipyards Ltd., Halifax
Laid down: 11 August 1995
Launched: 17 May 1996
Operator: Royal Canadian Navy
Commissioned: 10 May 1997
Status: In active service
Modifications:
Operations:
Builders: Halifax Shipyards Ltd., Halifax
Laid down: 8 December 1995
Launched: 31 October 1996
Operator: Royal Canadian Navy
Commissioned: 21 June 1997
Status: In active service
Modifications:
Operations:
Builders: Halifax Shipyards Ltd., Halifax
Laid down: 26 April 1996
Launched: 15 November 1996
Operator: Royal Canadian Navy
Commissioned: 14 June 1997
Status: In active service
Modifications:
Operations:
Builders: Halifax Shipyards Ltd., Halifax
Laid down: 26 July 1996
Launched: 24 February 1997
Operator: Royal Canadian Navy
Commissioned: 17 April 1998
Status: In active service
Modifications:
Operations:
Builders: Halifax Shipyards Ltd., Halifax
Laid down: 7 November 1996
Launched: 5 June 1997
Operator: Royal Canadian Navy
Commissioned: 18 April 1998
Status: In active service
Modifications:
Operations:
Builders: Halifax Shipyards Ltd., Halifax
Laid down: 22 February 1997
Launched: 4 September 1997
Operator: Royal Canadian Navy
Commissioned: 26 July 1998
Status: In active service
Modifications:
Operations:
Builders: Halifax Shipyards Ltd., Halifax
Laid down: 31 May 1997
Launched: 5 December 1997
Operator: Royal Canadian Navy
Commissioned: 12 July 1998
Status: In active service
Modifications:
Operations:
Builders: Halifax Shipyards Ltd., Halifax
Laid down: 5 September 1997
Launched: 30 March 1998
Operator: Royal Canadian Navy
Commissioned: 5 December 1998
Status: In active service
Modifications:
Operations:
Builders: Halifax Shipyards Ltd., Halifax
Laid down:
Launched:
Operator: Royal Canadian Navy
Commissioned: 5 June 1999
Status: In active service
Modifications:
Operations:
Builders: Halifax Shipyards Ltd., Halifax
Laid down:
Launched: 26 Sept. 1998
Operator: Royal Canadian Navy
Commissioned: 18 July 1999
Status: In active service
Modifications:
Operations:
See also
Other similar class coastal defence vessels:
Other Canadian Forces Naval Vessels:
References
External links