The Galil MAR (also known as Micro Galil) is a modification of the IMI Galil, made to battle at Close Quarters where the conventional Galil or the M-16 can't be used.
Description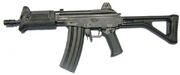 Israel Military Industry has by no means decided that their Galil is beyond modification or improvement. For example, they came to realize that, by nature of its length, the Galil was not well-suited for close quarters engagements. Of course, the 9mm Uzi functions well in this arena, but there is quite a disparity between the Uzi's inherent firepower and that of the .223 Galil. One solution that IMI has advanced to reduce size without losing firepower is an ultra-compact version of the Galil.
Known as the Micro Galil, this sub-gun and the Uzi are both roughly equivalent in size whether their stocks are folded or extended. IMI has shortened its barrel to 7.6 inches in length, and it consequently requires a shorter gas tube. A special set of handguards were designed with lips at the front and rear to prevent the user's hand from slipping either way. The sights are arranged like those on the Uzi: front post adjustable for elevation, rear flip-type adjustable for windage and protective ears surrounding both. From a logistics standpoint, the Micro Galil has obvious advantages over the Uzi in that its bolt, fire control components and magazines are interchangeable with those of the larger .223 Galil.
Specifications
Operation: Gas operated, rotating bolt
Caliber: .223 Remington (5.56mm NATO)
Front sight: Post type, adjustable elevation
Rear sight: "L" flip type, adjustable for windage and elevation
Stocks:

Rear: folding metal
Front: reinforced polymer

Finish: Matte black
Barrel length: 7.60in
Overall Length:

Stock extended: 27.7 in
Stock folded: 17.9 in
See also