IMBEL MD97
300px

Type
Assault rifle
Place of origin
 Brazil
Service history
In service
1997-Present
Used by
Brazil

National Public Security Force

Production history
Manufacturer
IMBEL
Variants
MD97L, MD97LC
Specifications
Weight
3.7 kg (MD97L), 3.3 kg (MD97LC)
Length
1010 mm (MD97L), 850 mm (MD97LC)
Barrel length
437 mm

---

Cartridge
5.56x45mm NATO
Rate of fire
950 rounds per minute
Muzzle velocity
950 m/s
Effective range
600 m
Maximum range
3800 m
Feed system
30 round STANAG magazines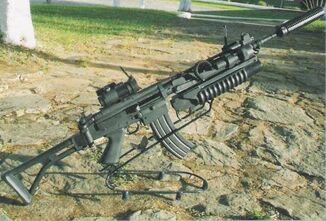 The IMBEL MD-97 family of rifles was developed on the basis of earlier IMBEL MD-2 rifles, with certain improvements in parts and overall size. The family consists of two basic models, the selectively-fired MD-97L rifle, which is intended for Brazilian Army's Special Forces, and semi-automatic only MD-97LC carbine, which is intended for police use.
IMBEL MD-97 rifles feature gas operated action with short-stroke piston and rotary bolt locking. The trigger unit and folding or fixed buttstock are same as on earlier 7,62mm Fz MD963 rifles (Brazilian-made copies of Belgian FN FAL rifle). Both rifle and police carbine variants are available with either fixed or folding buttstocks; the military MD-97L also can be fitted with domestically-made 40mm underbarrel grenade launcher or bayonet. MD-97 rifles use M16-compatible magazines.
Description
The new assault rifle Imbel MD97, is the result of a need demonstrated by the Brazilian army in providing their infant with a new and modern weapon in caliber 223 or 5.56 x 45mm. In the early adoption of such studies for a smaller caliber, Imbel made some adjustments to his already established, the FAL rifle could shoot 5.56 mm ammunition. However, the changes were extremely basic, involving the replacement of the barrel chamber and recalibration and adjustment of the springs. What we had was a gun that worked on the same system of operation of the SCA, tilting bolt. This new weapon is called MD-2, which had folding butt (For
Fal), and MD-3 for the version with fixed butt. These weapons, although reliable, failed to meet an important requirement for the army, which was the need for them to be lighter than the heavy FAL, which has always represented a sacrifice for the soldiers on long marches.
To solve this, Imbel realized it would need to build a new weapon system with different and lighter than MD2. After researching and analyzing costs, reached a conclusion to take advantage of those parts of the PA that would not add more weight to the new project and still maintain production at a low cost enabling a competitive market value, between similar weapons. Some design prototypes with more "exotic" were tested, but the end result was a weapon that looked like a FAL slightly shorter and more "skinny".
The new weapons had made a new system of rotating bolt, bolt instead of tilting the FAL, and it allowed him to retain only those parts directly related to the process of shooting, such as pipe and steel bolt, which is heavier. Thus, the frame of the rifle could be made of a material lighter than steel FAL necessary for the locking bolt tumbler, which took place in the structure of the weapon. The new material was a special aluminum alloy (ASTM 7075) to meet the weight requirement. Otherwise, the new weapon, has also another feature that was requested by the Brazilian Army, the ability to short bursts or burst, which are short bursts of three shots (there are other weapons in bursts of two shots). This ability is very useful to avoid wasting ammunition when the soldier is in the midst of a battle where the tension could cause it to shoot more than necessary shots and running out of ammo, which is the last thing you'll want to spend an infant, during a fight.
These new rifles were sent to field test Marambaia, which passed a comprehensive test for fire resistance and were approved. The newly formed "National Security Force" was the first government unit to be equipped with a carbine version of this rifle which is the short version. Many police institutions in Brazil, too, are being equipped with this new weapon. Now just wait for the release of more funds for the army be able to acquire this modern weapon for their infants and thus modernize its troops with a domestic product and with the already known high quality of products Imbel.
Variants
MD-97L: The current assault rifle of the Brazilian army, will have short duration by the production of the model MD-97 A2 that is being created and the possible uses of the

Tavor TAR-21

by the Brazilian company Taurus that assisted the production of the same
MD-97LC: A variant of the MD-97L for policial use
MD-97A2: As The MD-97 has had a chronic problem of broken precursor, and its ergonomics are not very good compared to most modern rifles the IMBEL stated to make an new MD-97, with an titanium pecursor, as the rifle isn't completed no one have many informations about this rifle, and some say that IMBEL is producing not a variant, but a new family of rifles that is of the same generation of the FN SCAR or the Magpul Masada ACR.
Specifications
Manufacturer: Imbel ; Brazil
Type: Assault Rifle
Operating system: Utilization of gaseous and rotating bolt .
Caliber:

233 Remington

(5.56 x 45 mm).
Weight: 3600 g (loaded).
Barrel length: 435 mm (330 mm model MD97 LC).
Capacity: 30 shots charger STANAG (M16/

AR15

).
Finish: Painting in black epoxy cured in an oven.
Projectile velocity at the muzzle: 950m / sec
Rate of fire: 900 shots / min
Scope of usage: 600 m ( 1997 L / F ) and 450 m ( and 97LC LM)
See also
References
This article contains more content and information than its corresponding article on Wikipedia (view authors).