We're Getting Mutants in the MCU - The Loop
Play Sound
The Heckler & Koch USP is the current pistol of the german army, and one of the most efficient handguns of the world.
The Heckler & Koch USP pistols are favored by specialized tactical units engaged in world theaters around the world. The HK USP pistol is well known for the high accuracy and recoil absorbing systems integrated in the design of each USP pistol
Description
The Heckler & Koch USP .45 ("Universale Selbstladepistole" or "Universal Self-Loading Pistol") is the .45 ACP version of the USP. The USP .45 is based on the Mark 23 handgun in service with some USSOCOM personnel.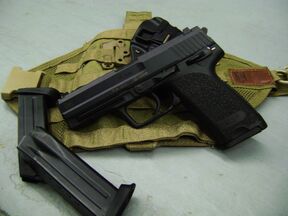 Design work on a new family of pistols commenced in September 1989 focused primarily on the U.S. commercial and law enforcement markets. In 1991, USP prototypes participated in rigorous testing alongside H&K's entry in the OHWS (Offensive Handgun Weapon System) program requested by the U.S. Special Operations Command (USSOCOM) and which would later result in the Mk 23 Mod 0. The USP prototypes were then refined in 1992, based on input from the OHWS trials and the design was finalized in December of the same year. The USP was formally introduced in January 1993with the USP40 model (the base version) chambered for the increasingly popular .40 S&W cartridge, followed soon by the USP9 (using the 9x19mm Parabellum cartridge), and in May 1995—the USP45 (caliber .45 ACP).
The USP marked the first time H&K chose to incorporate many traditional handgun design elements, such as those of John Browning's M1911, in one pistol. Two principles guided its development—the first being the use of a molded polymer frame, and the second being the creation of a "pistol paradigm". Heckler & Koch observed the strong points of its previous successful pistols for insight in developing the USP. Previous H&K pistol innovations include the unique squeeze-cocking mechanism of the P7, the precise roller-delayed blowback operation of the P9S, and the plastic frame and double action only trigger system used in the VP70Z. In contrast to these ambitious designs, the USP uses a Browning-style cam-locked action, similar to that developed by John Browning for use in the Hi-Power pistol.
Specifications
Type: Double Action or Double Action Only
Calibers: 9x19mm Luger, .40 S&W,

.45 Auto

,

.357SIG

(USP Compact only)
Dimensions (9 x 19 version)
Length: 194 mm
Height: 136 mm
Width: 32 mm
Weight: 720 g
Capacity: USP, USP Match - 15 rds (9mm), 13 rds (.40), 12 rds (.45); USP Compact - 13 rds (9mm), 12 rds (.357 and .40), 8 rds (.45)