Harold Gregory "Hal" Moore, Jr. (February 13, 1922 – February 10, 2017) was a retired lieutenant general in the United States Army and author. Moore is a recipient of the Distinguished Service Cross, which is the second highest military decoration of the United States Army, and was the first of his West Point class (1945) to be promoted to brigadier general, major general, and lieutenant general.
He is best known as the Lieutenant Colonel in command of the 1st Battalion, 7th Cavalry Regiment, at the Battle of Ia Drang, in 1965 during the Vietnam War; Moore was the "honorary colonel" of the Regiment.
Biography
Moore was born on February 13, 1922, in Bardstown, Kentucky. He had wanted to attend the United States Military Academy in West Point, New York, however he found it difficult to be appointed to West Point due to the rural area of his hometown. Moore therefore moved to Washington, D.C., where he graduated high school and attended [George Washington University] for two years. After that, he was appointed to West Point by a Georgia congressman in 1942. He graduated from West Point in early 1945 and, later in life, attended graduate studies at George Washington University and Harvard University, and achieved a master's degree in international relations from the former.
Moore was commissioned as a second lieutenant in the infantry branch in early 1945. He served with the 187th Airborne Infantry Regiment in Japan from 1945 until 1948. In 1948 he was reassigned to Fort Bragg. While with the 82nd Airborne Division, he volunteered to join the Airborne Test Section, a special unit testing experimental parachutes, and he made some 150 jumps with the section over the next two years. Over the course of his career, he became a master parachutist with over 300 jumps.[1] In 1952 Moore was assigned to the 17th Infantry Regiment of the 7th Infantry Division as a captain in the Korean War. While in Korea, he commanded both a rifle company for 16 days and a heavy mortar company for 12 days in combat. He for the next 13 months, served as Regimental S-3 and then Divisional G-3 Assistant Chief-of-Staff, Operations and Plans. While serviing as the S-3, Moore was awarded a Bronze Star for Valor for his participation in a counterattack to recover a strategic outpost near Sanggasan, Korea. He earned his second Bronze Star for Valor for evacuating wounded in front of the Main Line of Resistance near Puhung-ni, Korea when he was the Assistant G3.
In 1954, Moore returned to West Point, this time as a major, and served for three years as an instructor in infantry tactics. While serving as an instructor at West Point, Moore taught then-cadet Norman Schwarzkopf, who called Moore one of his "heroes," and cites Moore as the reason he chose the infantry branch upon graduation. Schwarzkopf later became a General in the U.S. Army and led the UN Coalition forces in the 1991 Gulf War against the Ba'athist Iraq.[2]
Moore next attended the Command and General Staff College, followed by a three-year tour in the Office, Chief of Research and Development where his initiative and insights were key to the development of new airborne equipment and airborne/air assault tactics. Following graduation from the Armed Forces Staff College in 1960 Moore served a three-year tour with Headquarters, Allied Forces Northern Europe in Oslo, Norway. In 1964, Lieutenant Colonel Moore completed the course of study at the National War College, while earning a master's degree in International Relations from George Washington University. In 1964,Moore was transferred to Fort Benning and commanded a battalion in the 2nd Infantry Division, which was ATTACHED, to the 11th Air Assault Division,( From Hal G. Moore's records) the 11 Air Assault started in 1963.undergoing air assault and air mobility training and tests until July 1965, when the Division was redesignated the 1st Cavalry Division.
Lieutenant Colonel Moore as CO of the 1st Battalion, 7th Cavalry (then in the 3rd (Garry Owen) Brigade, 1st Cavalry Division took his unit to South Vietnam, and led it in the famous Battle of Ia Drang. Encircled by enemy soldiers with no clear landing zone (LZ) that would allow them to leave, Moore managed to persevere despite overwhelming odds that led to a sister battalion only two-and-a-half miles away being massacred the next day. Moore's dictum that "there is always one more thing you can do to increase your odds of success" and the courage of his entire command are credited with this astounding outcome. Importantly, despite the fact that Moore's spirited defense led to more than a 4-to-1 ratio between North Vietnamese casualties and U.S. casualties in their first major engagement of the war, Moore considers the battle a draw because the U.S. forces left the area, allowing the North Vietnamese to reassert control. Many consider this early battle a microcosm of the later war. Moore was known as "Yellow Hair" to his troops at the battle at Ia Drang, for his blond hair, and as a tongue-in-cheek homage referencing George Armstrong Custer, commander of the same unit (7th Cavalry) at the Battle of the Little Bighorn just under a century before.[3] Moore was awarded the Distinguished Service Cross for his actions at Ia Drang.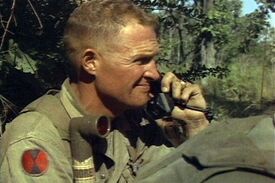 After the Battle of the Ia Drang Valley, Moore was promoted to colonel and took over the command of the Garry Owen Brigade. He was awarded his third Bronze Star for Valor for moving "forward through the enemy's withering small arms and automatic weapons fire out into the open field to one seriously wounded soldier, and carried him over fifty meters to safety. Despite the intense enemy fire, he continued to expose himself as an example to others to move forward to help rescure the wounded." After service in Vietnam, Moore served as Assistant Chief-of-Staff, Operations and Plans of the Eighth Army in South Korea, and Commanding General of the 7th Infantry Division, before rotating back to the US. As Commanding General of the Army Training Center at Fort Ord, California in 1971–1973, he oversaw extensive experimentation in adapting basic and advanced individual training under Project VOLAR in preparation for the end of conscription and the institution of the Modern Volunteer Army.[4] His final assignments took him to the East Coast, as Commanding General of the Military Personnel Records Center, and finally, Deputy Chief of Staff for Personnel, Department of the Army.
After his retirement in 1977, Moore served as the Executive President of the Crested Butte Ski Area, Colorado. In June 2009, the 87-year-old Moore attended the formal opening of the National Infantry Museum in Columbus, Georgia. One of the featured exhibits of the museum is a life-size diorama of LZ X-Ray from the Battle of Ia Drang.[5]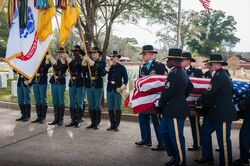 Death
Colonel Moore passed away on February 10, 2017, his late wife's birthday and three days before his 95th birthday. He was laid to rest on February 17, 2017, with full military honors in the Fort Benning Post Cemetery; next to his late wife who passed away in 2004.[6]
Family
Moore and his late wife, Julia Compton Moore,[7] had five children and twelve grandchildren.[1] Two of their sons are career Army officers: one a retired lieutenant colonel and another a retired colonel.
Books
In 1975, the United States Army Center of Military History published Building a Volunteer Army: The Fort Ord Contribution, by Moore and Lieutenant Colonel Jeff M. Tuten. The 139-page paperback is a monograph concerning the Project VOLAR experiments during Moore's tenure in command of Fort Ord in 1971–1973 in preparation for the end of the draft and the implementation of the Modern Volunteer Army.
In 1992 Moore wrote We Were Soldiers Once… And Young with co-author Joseph L. Galloway. The book was adapted into the 2002 film We Were Soldiers, which was filmed at Forts Benning and Hunter Liggett, depicting Moore's command of 1st Battalion, 7th Cavalry, at Fort Benning and in the Battle of Ia Drang. In the film, Moore was played by Mel Gibson, while Galloway was portrayed by Barry Pepper.
Moore and Joseph L. Galloway have co-authored another book together, a follow-up to their highly successful first collaboration. We Are Soldiers Still; A Journey Back to the Battlefields of Vietnam was highly anticipated and published in 2008.[8] Moore and Galloway reunited to give an interview on the book at the Pritzker Military Library on September 17, 2008.[9]
In 2007 Moore's volunteer driver authored a book on Moore's personal religious journey titled A General's Spiritual Journey. [10] According to the publisher on Amazon.com in the book "Hal Moore opens his heart and soul about the role of faith through his many life experiences. The book is an evocative collection of his memories, as observed and recorded by his friend and driver."
In November 2013, Casemate Publishers will release Hal Moore: A Soldier Once...and Always, by Mike Guardia, a fully illustrated biography on Moore's life and career.[11]
Major awards, decorations and badges
++Has no Orders for the ORIGINAL AIR ASSAULT BADGE.
Distinguished Graduate Award from the West Point Association of Graduates[2]
Joe Ronnie Hooper Award, 2007.
References
↑ http://army.togetherweserved.com/army/servlet/tws.webapp.WebApp?cmd=ShadowBoxProfile&type=Person&ID=220933
↑ Building a Volunteer Army: The Fort Ord Contribution, Lieutenant General Harold G. Moore and Lieutenant Colonel Jeff M. Tuten, Washington: The Center of Military History (1975).
↑ Williams, Chuck, "Infantry Museum's '100 Yards' Exhibit Touches Veterans",

Columbus Ledger-Enquirer

, June 19, 2009.
↑ Galloway, Joseph L. (1990-10-29). "Vietnam story: The word was the Ia Drang would be a walk. The word was wrong". U.S. News & World Report. http://www.usnews.com/usnews/news/articles/soldiers/vietnam_901029.htm

. Retrieved 2007-04-29

.

 

↑ Moore, Harold; Joseph L. Galloway (2008). We Are Soldiers Still: A Journey Back to the Battlefields of Vietnam. Harper. ISBN 0-06-114776-1. http://www.amazon.com/dp/0061147761

. Retrieved 29 September 2009

.

 

↑ Webcast Interview at the Pritzker Military Library on September 17, 2008
↑ Kochak, Jacque (May 16, 2008). "A General's Spiritual Journey". The Auburn Villager. http://www.auburnvillager.com/story_1210968471015889_20080516-%27A-General%27s-Spiritual-Journey%27.html

. Retrieved September 15, 2011

.

 

↑ http://www.amazon.com/Hal-Moore-Soldier-Once-Always/dp/1612002072/ref=sr_1_7?s=books&ie=UTF8&qid=1370751480&sr=1-7&keywords=hal+moore