The Sandman Will Keep You Awake - The Loop
Play Sound
Pride of the British fleet during the interwar period, HMS Hood still holds the record for longest vessel to be commissioned in the Royal Navy. He was in the bombing of the French fleet at Mers-el-Kebir in 1940. The following year she participated in the hunt for the Bismark, exploding after being hit. Only three sailors were rescued.
History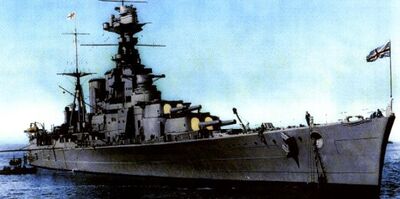 HMS Hood belongs to a class of four ships of which only the Hood has been completed.
It was a big battlecruiser, a concept accepted prior to the World War I, but that resulted very few efficient in practice.
However in 1920 was one of the latest and most modern ships of the Royal Navy, and it was decided to keep her.
Underwent to upgrades to increase their skill and increasing their armor, which reduced his speed from 32 to 30 knots, but even so the added armor did not solve the main problem of the protection against vertical projectiles. But even so it was during the interwar period, the most powerful and emblematic ship of the British Navy.
In 1939 there were plans to increase its protection against projectiles, but the WWII prevented the modernization because the ship was needed for the British war effort. After several operations during the initial phase of the conflict, the Hood was sunk in1941 by the German battleship Bismarck, in a confrontation in the strait of Denmark.
The Hood was hit by projectiles fired at a great distance, piercing the protection of vertical cover, and hit the ammo storage of the ship.
The Hood was destroyed victim of the explosion on her chain lockers, because of the disability known as characteristic of the Battlecruiser's armor. Its crew of 1,421 men, only three survived.
Specifications
Length: 262.3 m (total) and 259.2 m (waterline)
Beam (width): 28.9 m (waterline) and 31.7 m ( bosses anti-torpedo)
Silent: 10.2 m
Displacement: 43 360 ton. (Standard) and 48 360 ton. (full load)
Propulsion: geared turbines, 4 shafts (144,000 shp)
Maximum speed: 30 knots
Shield: 102–305 mm (lateral), 19-25 + 38-76 + 25–51 mm ( decks ) and 280–381 mm ( towers)
Main Armament: 8 guns

Mk I

of 381 mm/42 cal. (4 twin turrets )
Secondary armament: 14 guns

QF HA Mk XVI

102 mm/45 cal. (7 twin turrets )
Antiaircraft Weapons: 3 mounts Mk VIII eightfold from 40.5 mm/40 cal. and 4 quad 12.7 mm/62 cal.
Airplanes: No
Crew: 1421
See also