We're Getting Mutants in the MCU - The Loop
Play Sound
.
HMS Charybdis (F75)

HMS Charybdis
Career (UK)
Name:
HMS Charybdis (F75)
Operator:
Royal Navy
Builder:
Harland and Wolff
Laid down:
27 January 1967
Launched:
28 February 1968
Commissioned:
2 June 1969
Decommissioned:
30 September 1991
Fate:
Sunk as target 11 June 1993
General characteristics
Class & type:
Leander class frigate
HMS Charybdis (F75) was a Leander-class frigate of the Royal Navy (RN). She was built by the Harland & Wolff company of Belfast, and was the last ship to be built there for British naval forces until RFA Fort Victoria of the Royal Fleet Auxiliary, was launched in 1990. Charybdis was launched on 28 February 1968 and commissioned on 2 June 1969. Her nickname was "Foxtrot 75" or by her crew - "The Cherry B".
Operational Service
In 1969, Charybdis became guard ship of Gibraltar. The following year, Charybdis deployed to the Far East and Pacific at a time when there was a large RN presence in those regions. During her time there, Charybdis took part in a number of exercises with Commonwealth countries, including Exercise Longex with New Zealand. Charybdis visited many countries on 'fly the flag' duties, which remains a prominent role for a Royal Navy warship.
In 1973 Charybdis spent time in the Second Cod War when Iceland wanted to extend their control of the fishing waters from 12 miles to 50 miles. At that time there was normally three frigates and three ocean-going tugs deployed to protect the groups of British trawlers.
In 1976, Charybdis was deployed to the Mediterranean. The following year, Charybdis joined the Fishery Protection Squadron, just a year after the Third Cod War ended. Charybdis took part in the Fleet Review to celebrate the Silver Jubilee of Queen Elizabeth II. At this time she was part of the 6th Frigate Squadron.[1] In early 1979, Charybdis underwent yet another Mediterranean patrol.
From 1979 to 1982, Charybdis underwent modernisation that included the fitting of Exocet and Sea Wolf missiles, and the removal of her twin 4.5-in guns. In late 1982, in the aftermath of the Falklands War, Charybdis deployed on a Falkland Islands patrol, which at the time was still a tense region. Through the rest of the 1980s, Charybdis undertook duties in the West Indies and Mediterranean, and in the Persian Gulf in 1985 as part of the Armilla Patrol protecting ships transitting the Straights of Hormuz, and also in 1988. In 1990, Charybdis was on Persian Gulf patrol, with several flying the flag visits in the far east. She was due to visit America and the Falklands in 1991, but was retasked to return to the eastern Mediterranean to act as Sea Wolf protection for the flagship Ark Royal during the first Gulf War.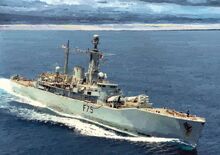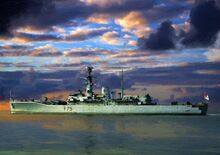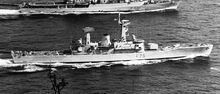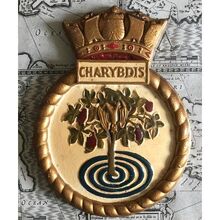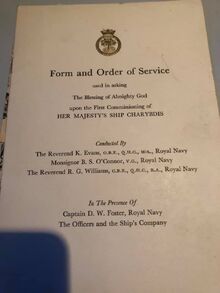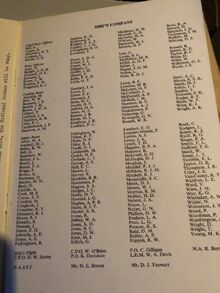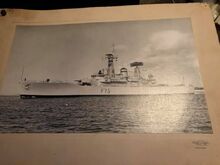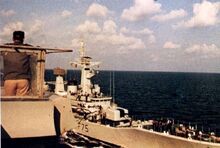 Fate
In September 1991, Charybdis was decommissioned. She did not end her career quietly like some other vessels, instead she was sunk as a target on 11 June 1993.
Commanding officers
}
References
↑ Official Souvenir Programme, 1977. Silver Jubilee Fleet Review, HMSO
Publications
From
To
Captain
1968
1968
D. W. Foster
1977
1977
Commander P J King RN
1977
1979
Commander A N Wigley RN
1981
1989
1990
Commander Scott Leadbetter RN
 Royal Navy

 Royal Australian Navy

 Chilean Navy

 Indian Navy

 Royal Netherlands Navy

Van Galen
Tjerk Hiddes
Van Nes
Isaac Sweers
Evertsen

 Royal New Zealand Navy

Other operators

 Ecuadorian Navy

 Indonesian Navy

Ahmad Yani (ex-Tjerk Hiddes)
Slamet Riyadi (ex-Van Speijk)
Yos Sudarso (ex-Van Galen)
Oswald Siahaan (ex-Van Nes)
Abdul Halim Perdanakusuma (ex-Evertsen)
Karel Satsuitubun (ex-Isaac Sweers)

 Pakistan Navy
|}