The Grumman S-2 Tracker ( tracer) was the first aircraft ASW (antisubmarine warfare) in combination detection sensors such as weapons in a single plane. It was designed specifically for United States Navy who named S2F (in 1962 it redesignated S-2).
History
in the 19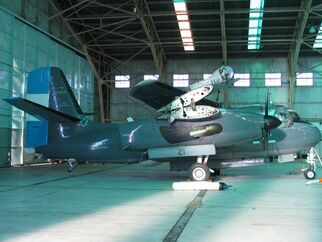 40's the U.S. Navy had delegated the task of patrolling the area to air defense of its naval units to Grumman AF Guardian, A large single engine derived from the previous TBF Avenger that the limit had to be forced to operate in pairs, an aircraft equipped with radar equipment with the task of identifying the submarine enemies and a second equipped with a torpedo to be able to hit.
With the development of weapons technology and the beginning of Cold War that forced the U.S. to a greater care in monitoring their territories in the U.S. Navy found that such a solution had become obsolete and that it was necessary to quickly remedy the situation. To do so, issued a specification for the provision of a new aircraft that could operate from aircraft carriers or land bases that can be combined in a single model the tasks hitherto performed by the heat Guardian.
Development
Grumman proposed the project '''G-89'''. A twin-engine model characterized by its compact size and by 'starboard wing by the significant elongation. The beginning of Korean War made urgent the need by the U.S. Navy to have the model quickly, so the June 30, 1950 was issued a supply contract for two prototypes XS2F-1 more than 15 other specimens of series S2F-1. The development program managed to achieve the first unit at the end of 1952 which was flown for the first time December 4 the same year. The flight tests confirmed the goodness of the project by awarding the final Grumman future supply contracts.
were subsequently introduced two subversions, initially designated WF Tracer (AEW) And TF Trader (Transport ) and which were changed E-1 Tracer and C-1 Trader the standardization of naming conventions introduced in the U.S. armed forces in 1962.
The D-2 was jokingly nicknamed " Stoof " (from S-Two-F) by the crew while the military-derived E-1 Tracer, with its large radome above, was renamed the pun "stoof with a roof. "(stoof with roof).
Grumman produced a total of 1,185 Tracker while another 99 specimens, who took the description CS2F, Were built under license in Canada by de Havilland Canada. U.S. production models were sold to many nations including Australia, Japan, Italy and Taiwan.
Operational use
The department received the first new model was VS-26 in February 1954 and operated them until 1976.
Operators
Argentina
Australia
Brazil
Canada
Italy
Japan
Japan Maritime Self-Defense Force received 50 S2F-1 in 1957 from US, and operated until 1984. After received,6 S2F-1 are remodeled 4 S2F-U and 2 S2F-C. S2F-1 is nicknamed Aotaka(あおたか, Blue Hawk). A S2F-1 is displayed in Kanoya Air Base, Kanoya, Kagoshima.
South Korea
Netherlands
Peru
Peruvian Navy operated with S-2E and S-2G from 1975 until 1989, they were assigned to Naval Aviation Squadron N°12 (Escuadron Aeronaval N°12). A total of 12 S-2Es were bought from the US Navy in 1975 and 4 S-2G in 1983.
Republic of China (Taiwan)
Republic of China Navy Taiwan currently operates 26 S-2T, not all operational (upgrade from S-2E and S-2G, will be replaced by 12 rebuilt P-3C Orions from US Navy).
Thailand
The

Air Division of the Royal Thai Navy

also operated Tackers
Turkey
United States
Uruguay
Uruguayan Navy received the first three S-2A Trackers on 10 April 1965 to the Capitan Curbelo Navy Base. On 15 September 1982, one S-2G arrived. On 2 February 1983, another two S-2Gs arrived. By September 2004 the remaining Uruguayan Trackers were not in flight condition.
Venezuela
See also