We're Getting Mutants in the MCU - The Loop
Play Sound
The Garud Commando Force is the special forces unit of the Indian Air Force. It was formed in 2003 and has a strength of 1000-1500 personnel.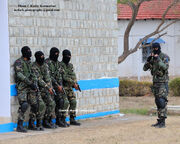 Indian Air force has started its elite force for the protection of its vital squadrons and aircraft all over the world, presently the GARUDs are deployed in Congo peace keeping operations. As the training centre is near Delhi, optees are trained with paratroopers of Indian army.
The unit derives it's name from that of Garuda, a divine bird-like creature of Hindu Mythology. The Air Force had felt a need to have a Special Forces unit for actions such as Combat Search and Rescue (CSAR), Counter Insurgency Operations, and Emergency Response to terrorist activities involving airfields. In September 2003, the Government of India authorized a force of 1080 Special Operations Airmen. The training was designed to be difficult, and most who tried would not pass the rigors training regimen. The Garuds were unveiled as the Indian Air Force's new Commando force on February 6, 2000.
History
After attempts by terrorists to attack two major air bases in Jammu and Kashmir in 2001, Indian Air Force commanders felt the need for a specialized force to protect these critical elements and to have a dedicated Commando Force trained in Special Forces techniques, Combat Search and Rescue, Counter Insurgency (COIN) Operations and Emergency response to terror-threats to airfields.
While the Army might have provided some Special forces units to the Air Force, its units were always subject to being posted out on rotation to other areas as per the Army's requirements. It was felt that the specialized training the air force would have provided such units would have to be repeated again and again for the replacement units.
The initial plans mooted in October 2002 called for a specialized force with 2000 commandos. The group was originally called "Tiger Force", but was later renamed as "Garud Force".
In order to address the need for a dedicated force, in September 2003, the Government of India authorized a 1080 strong force to be raised and trained on the lines of the Para commandos of the army and MARCOS of the Indian Navy, with the mandate of performing niche, Air Force specific operational tasks.
Soon after, the first batch of 100 volunteers from the IAF No.1 Airmen Training Center at Belgaum, Karnataka were earmarked to undergo Garud Training at Gurgaon. The Garuds were first unveiled on 6 February 2004, when the first batch of 62 "Air Commandos" passed out of training in New Delhi. The Garuds were first seen publicly during the Air Force Day celebrations at New Delhi on 8 October 2004