The planning for the future of the Royal Air Force involves supporting ongoing British military operations,[1] the introduction of new aircraft types,[2] greater focus on network enabled capability and increasing harmonisation with the United States Armed Forces and those of Europe.[1] In October 2010, a Strategic Defence and Security Review was published, in which the cancellation of the Nimrod MRA4 maritime patrol aircraft and the early retirement of the Harrier GR9 was announced.[3]
F-35 Lightning II
The Lockheed Martin F-35 Lightning II is a family of single-seat, single-engine, fifth generation multirole fighters under development to perform ground attack, reconnaissance, and air defence missions with stealth capability. It was selected for the UK's Joint Combat Aircraft requirement in 2001 and is expected to enter service with the RAF and the Royal Navy around 2020, replacing the existing Tornado GR4 and Harrier GR9 fleets (the latter already having been retired in late 2010), and operating from the Queen Elizabeth class aircraft carriers.[3] It will be the main component of the RAF's manned strike capability. The F-35 has been designed to have a low radar cross section primarily due to stealthy materials used in construction, including fibre mat.
The version initially selected was Short Take Off Vertical Landing (STOVL) variant of the F-35, known as the F-35B. However, on 19 October 2010, David Cameron announced that the UK would change their order to the F-35C CATOBAR carrier variant for both the RAF and Navy. The F-35C variant features larger wings with foldable wingtip sections, larger wing and tail control surfaces for improved low-speed control. This gives it a greater range and the ability to carry a larger and more diverse payload than the F-35B.[4]
In May 2012, it was announced that the UK coalition government had reverted to the previous government's plan to operate the Short Take Off Vertical Landing F-35B, due to rising estimated shipbuilding costs associated with the CATOBAR variant F-35C, and an earlier estimated in-service date for the F-35B.[5]
The delivery of the UK's first F-35B was made on the 19 July 2012 at Fort Worth, Texas, for flight trials by the RAF and Royal Navy.[6]
Unmanned Aerial Vehicles
MQ-9 Reaper
The RAF acquired its first MQ-9 Reaper unmanned aerial vehicles in 2006 under an Urgent Operational Requirement for Afghanistan. No. 39 Squadron operates the MQ-9 Reaper from Creech AFB in the US, and uses US communications infrastructure. In October 2012 No. 13 Squadron reformed operating and additional 5 MQ-9 Reapers from RAF Waddington. In 2013 the Reapers based at Creech AFB will be moved to the UK to operate alongside the other Reapers at RAF Waddington.[7]
Mantis
The BAE Mantis is an Unmanned Autonomous System Advanced Concept Technology Demonstrator British demonstrator programme for Unmanned Combat Air Vehicle (UCAV) technology. It is the world's first unmanned autonomous aircraft. The Mantis is a twin-engine, turboprop-powered UCAV with a wingspan of approximately 22 m, broadly comparable to the MQ-9. The large dome on the front, reminiscent of a pilot's canopy, actually contains an upward facing satellite communications system. The prototype first flew on 21 October 2009 at Woomera Test Range in South Australia.
Scavenger/Telemos
The Scavenger programme will supply a next-generation medium-altitude, long-endurance (MALE) UAV[8] under British sovereign control. The General Atomics Avenger (Predator C), EADS Talarion and a development of the BAE Systems Mantis were all mooted as contenders for Scavenger.
In June 2011 it was announced that BAE and Dassault would collaborate on an aircraft called Telemos as the air component of Scavenger.[9] It has been suggested that BAE will supply an airframe and guidance based on the Mantis, with a payload from Thales and integration by Dassault.[10] Requirements and basic specifications like the type of engine, have yet to be settled,[9] but Telemos is scheduled to enter service in 2020.
Unmanned Combat Aerial Vehicle
The Strategic Unmanned Air Vehicles (Experiment) Integrated Project Team, or SUAV(E) IPT is responsible for directing the work required to establish the potential of Unmanned Air Vehicles.[11] The demonstrator will have two internal weapons bays.[12] The current plan seems to be a collaboration with France to enter service in 2030.
The autonomous BAE Taranis is a technology demonstrator programme, possibly leading to a future Strategic Unmanned Combat Aerial Vehicle (UCAV) for both ground attack and reconnaissance roles. It is an unmanned warplane which is designed to fly between continents. With the inclusion of "full autonomy" the intention is thus for this platform to be able to "think for itself" for a large part of the mission.[13] It will carry a variety of weapons which will enable it to attack planes and also targets on the ground. It will utilise stealth technology making it difficult to detect and it can be controlled from anywhere in the world via satellite communications.[14][15]
Novel Air Concept
Main article:
Novel Air Concept
The Novel Air Concept is a "Capability Vision", an initiative of the Ministry of Defence to stimulate innovative solutions to long-term defence challenges that may lead to a future capability.[16] The NAC concept, announced in 2009, envisages a UAV with folding rotor blades that would allow it to take off as helicopter and allow operation in an urban environment.[16]
Transport and air-to-air refuelling
Atlas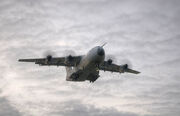 Future transport capability will rely on the Airbus A400M Atlas, of which 22 are to be used to replace the remaining Hercules C1/C3 (C-130K) aircraft.[3] The ageing aerial refuelling fleet of VC10s and Tristars will be replaced from 2012 onwards with 14 Airbus A330 MRTT tanker-transports, named Voyagers in RAF service, under the Future Strategic Tanker Aircraft programme.[17]
The Airbus A400M will increase the airlift capacity and range compared with the aircraft it was originally set to replace, the older versions of the Hercules and Transall. Cargo capacity is expected to double over existing aircraft, both in payload and volume, and range is increased substantially as well. The cargo box is 17.71 m long excluding ramp, 4.00 m wide, and 3.85 m high. The height is 4.00 m aft of the wing and the ramp is 5.40 m long. The Airbus A400M will operate in many configurations including cargo transport, troop transport, Medical evacuation, aerial refuelling, and electronic surveillance. The aircraft is intended for use on short, soft landing strips and for long-range, cargo transport flights.[18]
Voyager
The Airbus A330MRTT Voyager is an aerial refuelling tanker aircraft based on the civilian Airbus A330-200. It is designed as a dual-role air-to-air refuelling and transport aircraft. The Voyager's cabin can be modified to carry up to 380 passengers in a single class configuration, allowing a complete range of configurations from maximised troop transport to complex customisation suitable for VIP and guest missions. It can also be configured to perform Medical Evacuation (Medevac) missions; up to 130 standard stretchers can be carried. The main deck cargo configuration allows carriage of standard commercial containers and pallets. military, ISO and NATO pallets (including seats) and containers, and military equipment and other large items which are loaded through a cargo door.
A variant of the A330 MRTT was selected to provide tanking service for the RAF for the next 30 years under the Future Strategic Tanker Aircraft (FSTA) programme, replacing the RAF's existing L-1011 and VC10 tankers. On 27 March 2008 the UK Ministry of Defence signed a deal to lease 14 aircraft under a private finance initiative arrangement from EADS-led consortium AirTanker, with the first aircraft to enter service in 2011.[19] There are two versions, designated Voyager KC2 and Voyager KC3;[20][21] one will be fitted with two Cobham 905E under-wing refuelling pods, the other with a Cobham 805E Fuselage Refuelling Unit (FRU) in addition to the under-wing pods. The aircraft will be powered by two UK-manufactured Rolls-Royce Trent 700 engines.
Signals Intelligence
Air Seeker
Three Boeing RC-135 Rivet Joint signals intelligence aircraft have been ordered to replace the Nimrod R1, which was retired in 2011.[22] These will be known as the Air Seeker when they enter RAF service in 2014.[23] The aircraft is an extensively modified C-135 with onboard sensors which enable the crew to detect, identify and geolocate signals throughout the electromagnetic spectrum. The crew can then forward information in a variety of formats to a wide range of consumers via the onboard secure communications suite.
SOLOMON
In 2004 the RAF initiated Project DABINETT, an integrated architecture to collect, process and disseminate intelligence from manned and unmanned aircraft such as Sentinel and Watchkeeper. Initial Gate was approved in January 2008; when assessment phase contracts were awarded to BAe INSYTE and Lockheed Martin UK in February 2010 it had been renamed Project SOLOMON. Phase I concentrates on disseminating information over the UK Defence Information Infrastructure networks, with Initial Operating Capability in March 2012 and Full Operating Capability in March 2015.[24]
Helicopters
Chinook
On 16 December 2009, the MoD announced that 22 Chinook helicopters would be added to the fleet bringing the total number in service to 70 by 2013. In the 2010 SDSR, this number was reduced to 14.[3] The deal has been made and the Chinooks will enter service from late 2014 onwards. In 2006, the retirement dates for the HC2 and HC2A fleets were scheduled for 2015 and 2025 respectively,[25] however if planned upgrades were made both types could expect to be flying until 2040.[26]
Puma
A total of 24 Puma HC1's will be upgraded to HC2 standard to prolong their life until 2025.
Bases and deployments
The 2010 SDSR resulted in the closure or planned closure of a small number of UK RAF stations. Many stations will be upgraded or realigned over the coming decade to accommodate new aircraft and modes of operation.
Missiles
The RAF has signed a contract to receive the Meteor BVRAAM missile for its Eurofighter Typhoons, expected to replace the AMRAAMs in service.[27][28]
See also
References
↑ 1.0 1.1 "Strategy". Royal Air Force. 2011. http://www.raf.mod.uk/role/strategic.cfm

. Retrieved 20 April 2011

.

 

↑ "Future Capability". Royal Air Force. 2011. http://www.raf.mod.uk/equipment/futurecapability.cfm

. Retrieved 20 April 2011

.

 

↑ 3.0 3.1 3.2 3.3 Wall, Robert."U.K. Cuts Aircraft Fleets in Strategic Review". Aviation Week, 19 October 2010.
↑ Wilson, Amy (10 November 2010). "Babcock says Aircraft carrier changes will add up to £800m to taxpayer bill". The Daily Telegraph. London. http://www.telegraph.co.uk/finance/newsbysector/industry/8121214/Babcock-says-Aircraft-carrier-changes-will-add-up-to-800m-to-taxpayer-bill.html.

 

↑ "U.K. Makes F-35 U-Turn to Cut Costs, Narrow Carrier-Defense Gap." Bloomberg News, 10 May 2012.
↑ "UK TAKES DELIVERY OF FIRST F-35 LIGHTNING II JET". BAE Systems Newsroom. 19 July 2012. http://www.baesystems.com/article/BAES_060845/uk-takes-delivery-of-first-f-35-lightning-ii-jet.

 

↑ Putrich, Gayle (22 July 2010). "FARNBOROUGH: General Atomics says Avenger ready for RAF". Farnborough. http://www.flightglobal.com/news/articles/farnborough-general-atomics-says-avenger-ready-for-345145/.

 

↑ 9.0 9.1 Wall, Robert (8 June 2011). "BAE Systems, Dassault Name Joint UAV Effort". Aviation Week. http://www.aviationweek.com/aw/blogs/defense/index.jsp?plckController=Blog&plckScript=blogScript&plckElementId=blogDest&plckBlogPage=BlogViewPost&plckPostId=Blog%3A27ec4a53-dcc8-42d0-bd3a-01329aef79a7Post%3Acbf8130b-3621-47cc-a397-c337b6bc13e8.

 

↑ Vandewalle, Yves; VIOLLET, Jean-Claude. "Rapport d'information déposé en application de l'article 145 du Règlement par la Commission de la Défense Nationale et des Forces Armées sur les drones". Assemblée Nationale. p. 57. http://www.assemblee-nationale.fr/13/rap-info/i2127.asp.

 

↑ "Strategic Unmanned Air Vehicles (Experiment) Integrated Project Team". Ministry of Defence. 2009. http://webarchive.nationalarchives.gov.uk/tna/+/http://www.mod.uk/defenceinternet/microsite/des/ourteams/air/strategicunmannedairvehiclesexperimentintegratedprojectteam.htm

. Retrieved 2010-07-13

.

 

↑ "BAE Systems Taranis". FlugRevue. 2007. http://www.flug-revue.rotor.com/frtypen/FRTaran.htm

. Retrieved 2006-12-09

.

 

↑ Marks, Paul (2010-07-12). "Warning sounded over British dogfighting drone". Aviation Week. http://www.newscientist.com/article/dn19162-warning-sounded-over-british-dogfighting-drone.html

. Retrieved 2010-07-12

.

 

↑ Emery, Daniel (2010-07-12). "MoD lifts lid on unmanned combat plane prototype". BBC News. http://news.bbc.co.uk/1/hi/technology/10602105.stm

. Retrieved 2010-07-12

.

 

↑ "Taranis: The £143million unmanned stealth jet that will hit targets in another continent". 2010-07-12. http://www.dailymail.co.uk/sciencetech/article-1294037/Taranis-The-143million-unmanned-stealth-jet-hit-targets-continent.html

. Retrieved 2010-07-12

.

 

↑ 16.0 16.1 [1] Cite error: Invalid <ref> tag; name "N.A.C" defined multiple times with different content
↑ "RAF's largest ever aircraft arrives in the UK". Royal Air Force. 18 April 2011. http://www.raf.mod.uk/news/archive.cfm?storyid=3F079FDA-5056-A318-A85B65634A7821B5

. Retrieved 20 April 2011

.

 

↑ "A400M Capabilities". Airbus Military. http://www.a400m.com/Capabilities.aspx

. Retrieved 15 May 2010

.

 

↑ "EADS wins £13bn RAF tanker deal". BBC News. 2008-03-27. http://news.bbc.co.uk/1/hi/business/7316835.stm

. Retrieved 2010-01-01

.

 

↑ "RAF's largest ever aircraft arrives in the UK". ?. http://www.mod.uk/DefenceInternet/DefenceNews/EquipmentAndLogistics/RafsLargestEverAircraftArrivesInTheUk.htm

. Retrieved 2011-04-19

.

 

↑ "Programme Future Brize". Global Gateway (RAF Brize Norton magazine). February 2011. p. 22. http://www.raf.mod.uk/rafbrizenorton/rafcms/mediafiles/A1FD98F1_5056_A318_A854158750D5D4EE.pdf

. Retrieved 27 June 2011

.

 

↑ "Nimrod R1 retires from service". Equipment and Logistics. Ministry of Defence. 7 July 2011. http://www.mod.uk/DefenceInternet/DefenceNews/EquipmentAndLogistics/NimrodR1RetiresFromService.htm

. Retrieved 29 June 2012

.

 

↑ Hoyle, Craig (14 January 2011). "RAF personnel start Rivet Joint training". Flight International. http://www.flightglobal.com/articles/2011/01/14/351887/raf-personnel-start-rivet-joint-training.html

. Retrieved 31 January 2011

.

 

↑ "The contribution of ISTAR to operations: Government response to the Committee's Eighth Report of Session 2009–10" (pdf). UK Parliament. 27 July 2010. http://www.publications.parliament.uk/pa/cm201011/cmselect/cmdfence/346/346.pdf.

 

↑ "RAF Aircraft: Chinook HC2". armedforces.co.uk. http://www.armedforces.co.uk/raf/listings/l0032.html

. Retrieved 2010-03-29

.

 

↑ Hoyle, Craig (12 February 2006). "Boeing lifts massive UK Chinook deal". Flight International. http://www.flightglobal.com/articles/2006/02/21/204851/boeing-lifts-massive-uk-chinook-deal.html.