We're Getting Mutants in the MCU - The Loop
Play Sound
Frederick Adair Smith, Jr. (8 December 1921 in Trinity, Texas – 19 December 2011 in San Antonio, Texas) was a United States Army Brigadier General.
Early life
Frederick was born in Trinity, Texas on December 8, 1921, to Frederick A. and Alice L. M. Smith. He also had sister whose name was also Alice. He later graduated from North Dallas High School in Dallas, Texas.
Military service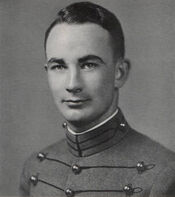 He was appointed to the United States Military Academy in July 1941. He graduated 23rd in his class in 1944 and was commissioned in the Infantry (ASN: 26494). During World War II he served with the 5th Infantry Regiment of the 71st Infantry Division. When the war ended, he remained with the 5th Infantry Regiment in occupation, first in Germany and then in Austria, serving in various po­sitions, including company commander. Later, he served as company commander in the 505th Military Police Battalion in Augsburg.
He was assigned to West Point as an assistant professor in the Department of Physics. At the end of his tour at West Point in 1952, he attended the Infantry Officer Advanced Course. In August 1953, Fred was assigned to the 5th Regimental Combat Team in Korea, where he served as a battalion executive officer.
He returned to Germany for as­signment to the 8th Infantry Division in Mannheim, where he commanded a mech­anized infantry battalion until December 1964, after which he was assigned to the Seventh Army G-3 section as Chief of Operations.
Returning from Germany, he was assigned to West Point as a professor in the Department of Mechanics. In 1969 he became head of the Mechanics Department and in 1974 was promoted to brigadier gen­eral and Dean of the Academic Board at West Point. He helped lead the Academy through a period of major changes and challenges, including the admission of women to the Corps of Cadets and major advances in computer automation. His outgoing manner and love of people were well suited to the constant social sched­ule of the Academy. The Smith quarters were packed after football games. He often would greet some forty visitors, half of whom he had never met before, and at the end of the evening assemble everyone in a circle and introduce them all. And he would remember them if they came back a year later.
On September 30, 1985, he retired as a Brigadier General.
Dates of rank
Education
He earned a Bachelor of Science degree from the United States Military Academy in 1944, a Master of Science degree in Engineering from Johns Hopkins University in 1949, a Master of Business Administration degree from George Washington University in 1963, and a doctorate in theoretical and applied me­chanics from the University of Illinois. He graduated from the Armed Forces Staff College in 1959, Industrial College of the Armed Forces in 1963, and the United States Army Command and General Staff College in 1955.
Personal life
On Dec 28, 1949, he married Katherine (Kitty) Bailey Egerton and together they had two children (Carol and Kathy). His wife died in 2008.
Death
He and Kitty established their retirement home in San Antonio, Texas where be passed away on December 19, 2011, at the age of 90. He was buried in the United States Military Academy Post Cemetery in West Point, New York.
Awards & decorations
Gallery
Sources