Fokker 70

KLM Cityhopper

Fokker 70
Role
Airliner

National origin

Netherlands
Manufacturer
Fokker
First flight
4 April 1993
Introduction
October 1994 with Ford Motor Company
Status
Out of production, in service
Primary users

KLM Cityhopper




Tyrolean Airways




Alliance Airlines

Produced
1992-1997

Number built

47 (+1 prototype)

Developed from

Fokker 100
The Fokker 70 is a narrow-body, twin-engined, medium-range, turbofan airliner produced by Fokker as a smaller version of the Fokker 100 jetliner. Both the F70 and F100 were preceded by the first jet aircraft manufactured by Fokker, the Fokker F28 Fellowship. Since its first flight in 1993, 47 aircraft, plus one prototype, have been manufactured and most are still in active service with airlines around the world, especially European airlines.
Design and development
The Fokker company of the Netherlands started to develop the airliner in November 1992 with an aim to replace its aging Fokker F28 airliner, with a more modern and fuel efficient aircraft. The Fokker 70's first flight occurred on April 4, 1993, at the company's base at Woensdrecht in southern Netherlands, and had a duration of three hours. Following its first flight, the Fokker 70 was flown to Granada and Spain, where many hours were realised in order to obtain the certification at the end of 1994. The first production aircraft first flew in July 1994. Certification was granted on October 14, 1994, while the first delivery of a Fokker 70 to a customer, Ford Motor Company (in an "Executive Jet" configuration), occurred later in the same month.[1] The launch customer of this aircraft by an airline was the now-defunct Indonesian airline, Sempati Air.[2]
The development of the Fokker 70 was based on the requirements of some airlines, for which the Fokker 50 or ATR 42 were too small and the Boeing 737 or MD-80 too large. The development consisted in cutting various sections of the fuselage of the Fokker 100, removing 4.62 metres (15.2 ft) of the plane's total length but keeping the wings and tail. With these specifications, total capacity is 80 passengers, 70 in the U.S., due more to meet "scope clause" requirements than any Federal Aviation Administration (FAA) certification.
The Fokker 70 is powered by two Rolls-Royce Tay 620 turbofans placed at the back of the fuselage, with 61.6 kN (13,849 lb) of thrust. The weight varies from 22,673 kilograms (49,985 lb) when empty to 41,730 kilograms (92,000 lb) at maximum takeoff weight (MTOW).[3] An airbrake on the 70's tail section – similar to that found on the BAe 146 – allows it to conform with the 5.5° glide slope at London City Airport. Its avionics suite is similar to the Fokker 100.
Most Fokker 70 aircraft were delivered for service in Europe, but in 1995 two aircraft were delivered to Mesa Air subsidiary Desert Sun Airlines and were operated as America West Express flights as part of an effort to try to introduce the Fokker 70 to the United States.[citation needed] Although the earlier Fokker 100 did moderately well in the United States with orders from American Airlines and USAir (now US Airways), only two aircraft were delivered for service in the United States.[citation needed] Fokker's March 1996 bankruptcy ended any hopes of further production for the U.S. market; the two America West Express aircraft became an expensive subfleet and were sent to Europe in 1997, ending the very short tenure of Fokker 70 operation in the United States.[citation needed]
The last Fokker 70 was delivered in April 1997, when the production line closed following Fokker's bankruptcy the previous year. Over the 70's short production life, 47 were built. Although official production of the Fokker 70 is completed, Rekkof ("Fokker" spelt backwards) has, since 1999, tried to negotiate the re-opening of both the Fokker 100 and Fokker 70 lines.
Current Operators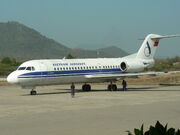 As of December 2012, all 47 aircraft are still in operational use with the following airlines:[4][5]
KLM Cityhopper

(19)

Tyrolean Airways

(9)

Alliance Airlines

(7)

Fokker Services

(1)
Kenya Air Force (1) Presidential Jet
Government of the Netherlands (1)

Insel Air

(3)
Specifications
Data from airliners.net,[3] aer.ita.br,[1] flyfokker.com,[6] flugzeuginfo.net[7]
General characteristics
Crew: two
Capacity:
85 (1-class, maximum at 76 cm (30 in) seat pitch)
79 (1-class, typical at 81 cm (32 in) seat pitch)
72 (2-class, typical at 91 cm (36 in) and 81 cm (32 in) seat pitches)
Length: 30.91 m (101 ft 5 in)
Wingspan: 28.08 m (92 ft 2 in)
Width: 3.30 m (10 ft 10 in)
Height: 8.5 m (27.89 ft 11 in)
Empty weight: 22.673 kg (49.985 lb)
Powerplant: 2 ×

Rolls-Royce Tay 620

, 61.6 kN (13.850 lbf) thrust each
Performance
Cruising speed: 845 km/h (525 mph)
Range: 3.410 km (2.119 miles)
Service ceiling: 11.000 m (36.089 ft)
Accidents and incidents
On 5 January 2004 at 08:17 local time, an Austrian Airlines Fokker 70 (registered OE-LFO) crash-landed in a snow-covered field near

Munich International Airport

. The aircraft had been operating Flight 111 from Vienna to Munich with 28 passengers and four crew on board, when its engines failed during landing descent due to

icing

. The aircraft was severely damaged, however only three passengers suffered minor injuries.[8][9][10]
See also
Fokker F28

Antonov An-148

BAe 146

Bombardier CRJ700/900

Embraer E-170/175

Fairchild Dornier 728 family

List of civil aircraft
References
External links
| | |
| --- | --- |
| | Wikimedia Commons has media related to Fokker F70. |