Fokker 100

Alliance Airlines

Fokker 100 (F-28-0100)
Role

Narrow-body Regional jet airliner

National origin

Netherlands
Manufacturer
Fokker
First flight
30 November 1986
Introduction
April 25, 1988 with Swissair
Status
In service
Primary users

Austrian Airlines




Alliance Airlines




Avianca Brazil


Iran Air
Produced
1986-1997

Number built

283

Developed from

Fokker F28 Fellowship
Variants
Fokker 70
The Fokker 100 is a medium-size twin-turbofan airliner from Fokker. Low operational costs and scant competition in the 100-seat short-range class led to strong sales when it was introduced in the late 1980s, but sales fell as competition increased. Production ended in 1997 with 283 airframes delivered. In July 2012, 156 Fokker 100 aircraft remained in airline service with 30 airlines around the world.[1] It was the largest jet airliner built by Fokker before its bankruptcy in 1997.
Design and development
The Fokker F28 Mk 0100 program was announced in 1983 as an updated replacement for Fokker's popular, but superseded F28 Fellowship design. Marketed as the Fokker 1000 the design was based on the original F28 but features modern avionics, new generation Rolls-Royce Tay turbofan engines and a redesigned wing. However the most noticeable difference was the longer fuselage, which increased seating by 65% from 65 in the original F28 series to a maximum of 107 in a three-by-two single-class arrangement. The new wing is claimed by Fokker to be 30% more efficient in cruise, while still keeping the simplicity of a fixed leading edge. The cockpit was updated with a Rockwell Collins DU-1000 EFIS. Like the Fokker Fellowship, the Fokker 100 features twin rear fuselage-mounted engines and a T-tail, similar to that of the Douglas DC-9 family. The Fokker 100 does not have eyebrow windows above the main cockpit windows as on the Fokker F28.
Two prototypes were built - the first, PH-MKH, flew for the first time on 30 November 1986, and the second, PH-MKC, followed on 25 February 1987. The type certificate was awarded in November 1987. The first deliveries of the Tay 620-15 powered versions started to Swissair in February 1988. American Airlines (75 aircraft ordered), TAM Transportes Aéreos Regionais (now TAM Airlines) (50 aircraft) and USAir (40 aircraft) were major customers of the Fokker 100 and their aircraft were powered by the more powerful Tay 650-15.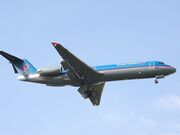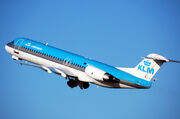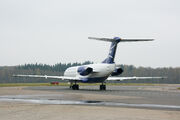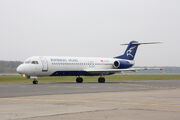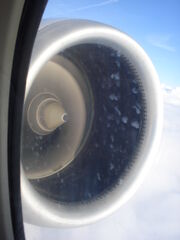 Operational history
By 1991, Fokker had produced 70 units and had orders for more than 230. An extended-range version with additional fuel tanks in the wings was introduced in 1993, and a quick-change passenger/freighter version in 1994, the 100QC. A shorter version was introduced in 1993 as a replacement for the earlier F28, known as the Fokker 70, which removed 4.70 m (15.42 ft) of the fuselage and reduced seating to 80. Studies on the 130 seat Fokker 130 and the Fokker 100QC (freighter) did not reach further stages of development. A Fokker 100EJ (Executive Jet) was introduced in 2003 as a conversion from used Fokker 100 aircraft.
Although the design was a success in the marketplace, Fokker continued to lose money due to mismanagement. Eventually their parent company, Daimler Benz Aerospace, shut them down. Fokker collapsed in 1996 and wound up production in early 1997. There had been some discussion about the company being purchased by Bombardier, but the plans fell through.
An Amsterdam-based group, Rekkof Restart (Rekkof is Fokker spelled backwards) negotiated to re-open the Fokker 70 and 100 lines in 1999, but the deal never completed. Stork B.V. acquired the maintenance business for the aircraft and operated it under the name "Fokker Aviation".[2]
Like any number of designs, the 70/100 was being increasingly squeezed from below by stretched versions of the Bombardier and Embraer regional jets, which also killed off plans for the Fairchild Dornier 528JET/728JET/928JET and an unnamed design from ATR. A proposed stretch version called the Fokker 130 was never built.[2]
From 2014 the French DGA Essais en Vol used a Fokker 100 as a flying test bed. It replaced former Dassault Mystère XX's business jet. This Fokker 100 is a former Régional's aircraft. It's called ABE-NG, for Avion Banc-d'Essais de Nouvelle Génération.[3]
Operators
As of March 2014, 160 aircraft are still in operational use with airlines.[4][5]
Air Niugini

(7)

Air Panama

(2)

Alliance Airlines

(17)

Austrian Airlines

(15)

Avianca Brasil

(13)

Bek Air

(5)

Compagnie Africaine d'Aviation

(1)

Carpatair

(2)

Caspiy

(2)

Greenland Express

(2) (Operated by

Denim Air

)

Helvetic Airways

(6)
Iran Air (12)

Iran Aseman Airlines

(16)

Kish Air

(3)

Mjet Aviation

(3)

Moldavian Airlines

(1)

Network Aviation

(12)

Montenegro Airlines

(5)

Naft Airlines

(4)

Pelita Air

(10)

PGA Portugália Airlines

(6)

Qeshm Airlines

(4)
Government of

Ivory Coast

(1)

Skippers Aviation

(Australia) (1)

Virgin Australia Regional Airlines

(11)

Trade Air

(3)

Transwisata Air

(1)
Former operators
Aero Mongolia

Air Berlin

Air Europe

Air Express

Air France

Air Gabon

Air Greece

Air Inter

Air Littoral

Air UK

KLMuk

AirQuarius Aviation

American Airlines

Avianca

Blue Line
BMI/British Midland

Brit Air

Canadian Airlines

(as

Canadian Régional

)]]

CCM Airlines

Contact Air

Cosmic Air

Croatia Airlines

EUjet

Flight West Airlines

Germania

Girjet

Intair

Inter Airlines

Iran Air Transport

Jetsgo

Kish Air

KLM Cityhopper

Korean Air

Kostar Airlines

Mandarin Airlines

Merpati Nusantara Airlines

Mexicana

Midway Airlines

Moldavian Airlines

OLT Jetair

Palair Macedonian Airlines

Régional

Royal Brunei Airlines

Royal Swazi National Airlines

SAM

Sempati Air

Slovak Airlines

Sol del Paraguay

Swissair

TABA

TAM Airlines

TAM Airlines (Paraguay)

TAT European Airlines

Uair

US Airways (formerly USAir)

Yeongnam Air
Accidents and incidents
5 March 1993

Palair Macedonian Airlines Flight 301

, a Fokker 100 (PH-KXL) crashed shortly after takeoff from

Skopje Airport

on its way to

Zurich Airport

, killing 83 of 97 passengers and crew on board.[6] –
31 October 1996a

TAM Airlines

Fokker 100 operating

flight 402

crashed next to

São Paulo-Congonhas Airport

in Brazil, killing 99 people, including everyone on board plus four people on the ground.[7] – [8]
9 July 1997a

TAM Airlines

Fokker 100 registration PT-WHK operating flight 283 en route from

São José dos Campos

to

São Paulo-Congonhas

was climbing after takeoff from São José dos Campos when a bomb exploded in the rear part of the passenger cabin. The uncontrolled decompression blew one passenger out of the aircraft. The aircraft made a successful emergency landing in São Paulo, despite the hole in the fuselage.[9] –
7 November 1999

Air Dolomiti

Flight 2708, a Fokker 100 flying from

Venice Marco Polo Airport

with 44 on board, suffered main gear failure while approaching

Barcelona International Airport

and landed safely on a foam carpet.[10] –
23 May 2001The right main landing gear of an American Airlines Fokker 100, registration number N1419D, operating as AA Flight 1107, collapsed upon landing on Runway 17C at

Dallas/Fort Worth International Airport

after a scheduled flight from

Charlotte/Douglas International Airport

. The pilot was able to maintain directional control and bring the aircraft to a stop on the runway. The incident was attributed to

metal fatigue

caused by a manufacturing flaw in the right main gear's outer cylinder; there were no serious injuries to the 88 passengers or 4 crew, but the aircraft was written off.[11][12] –
15 September 2001a

TAM Airlines

Fokker 100 registration PT-MRN operating the charter flight 9755, flying from

Recife

to

Campinas-Viracopos

, following an uncontained engine failure en route to Campinas had 3 cabin windows shattered by fragments of the engine and made an emergency landing at

Belo Horizonte-Confins

. One passenger was sucked out partly and held by another passenger until the aircraft landed. The passenger did not survive.[13][14] –
8 June 2002a

TAM Airlines

Fokker 100 en route from

São Paulo

to

Marechal Rondon International Airport

Cuiabá

made a successful emergency landing in a farm near

Birigui

due to

fuel exhaustion

caused by a leak. All 5 crew and 24 passengers survived without injuries. Unfortunately a cow was run over and killed by the airplane.[15] –
25 January 2007Air France Flight 7775 from

Pau

to

Paris

crashed shortly after take-off. All 54 passengers and crew escaped from the aircraft, although one person on the ground was killed .[16] An investigation by the

BEA

revealed that the cause of the accident was ice on the wings of the aircraft involved.[17] –
2 February 2008an

Austrian Airlines

Fokker 100 made an emergency landing at Leeds Bradford International Airport in the UK, after the right engine was reported idle. The pilots landed safely, and there were no injuries among the 103 passengers and crew on board.[18] –
12 August 2009the wheel on an

Aseman Airlines

Fokker 100 exploded and caught fire as the aircraft made a hard landing in the city of Isfahan. –
14 September 2009

Contact Air Flight 288

from

Berlin Tegel

was forced to make an emergency landing at

Stuttgart Airport

, Germany. None of the passengers, including well-known German politician

Franz Müntefering

, were seriously injured. –
18 November 2009Iran Air Fokker 100 EP-CFO suffered a landing gear malfunction on takeoff from

Isfahan International Airport

. The aircraft was on a flight to

Mehrabad Airport

, Tehran when the undercarriage failed to retract. The aircraft landed at Isfahan, but was substantially damaged when the left main gear collapsed.[19] –
3 December 2009

Merpati Nusantara Airlines

Fokker 100 PK-MJD made an emergency landing at

El Tari Airport

,

Kupang

when the left main gear failed to extend. There were no injuries among the passengers and crew.[20] –
15 January 2010Iran Air Fokker 100 EP-IDA, operating Flight 223 was substantially damaged when the nose gear collapsed after landing at

Isfahan International Airport

.[21] –
11 February 2010

Click Mexicana

Fokker 100 XA-SHJ, operating flight CBE7222 was forced to land on its belly due to a presumed mechanical failure of the landing gear; it was routed to make an emergency landing at

Aeropuerto Internacional de Monterrey

where the aircraft overran the runway. None of the passengers were seriously injured.[22] –
25 August 2010

Iran Aseman Airlines

Fokker 100, operating as Flight 773, overran the runway on landing at

Tabriz International Airport

in bad weather. The aircraft was substantially damaged.[23] –
25 December 2012

Air Bagan Flight 11

XY-AGC crash-landed through trees which removed the wings 3km from

Heho Airport

, killing one on board, one on the ground and injuring 11.[24] –
28 March 2014

Avianca Brazil

Fokker 100 MK28, operating as flight 6393 was forced to land on its belly at

Brasília International Airport

due to a presumed mechanical failure of the landing gear. 44 passengers and 5 crew members were onboard. Everyone survived the event.[25] –
10 May 2014

Iran Aseman Airlines

Fokker 100 operating as flight 8053 made an emergency landing at

Zahedan Airport

when the rear wheels of the plane failed to lower. The pilot was required to circle the field for about an hour to consume excess fuel (in case of fire), before attempting the landing. Upon touchdown, the front tire exploded, and the aircraft was transitioned onto the grassy margins of the runway, without severe injuries.[25] –
Aircraft on display
Ex-KLM Cityhopper PH-OFA Preserved at

Lelystad Airport

at the

Aviodrome

Ex-KLM Cityhopper PH-OFE Preserved at

Amsterdam Airport Schiphol

on visitor's terrace
Ex-TAM Linhas Aéreas PT-MRL Preserved at QSC in retro scheme, at TAM's Museum
Unknown Fokker 100 preserved in Breda on the roof of Stolwerk Metaal BV
Specifications
Fokker 100
Tay 620
Fokker 100
Tay 650
Cockpit crew
Two
Seating capacity
122 (1-class, maximum)
107 (1-class, typical)
97 (2-class, typical)
Seat pitch
29 in (74 cm) (1-class, maximum)
32 in (81 cm) (1-class, typical)
36 in (91 cm) & 32 in (81 cm) (2-class, typical)
Length
35.53 metres (116 ft 7 in)
Wingspan
28.08 metres (92 ft 2 in)
Wing area
93.5 square metres (1,006 sq ft)
Height
8.50 metres (27 ft 11 in)
Fuselage diameter
3.30 m (10 ft 10 in)
Cabin width
3.10 m (10 ft 2 in)
Cabin height
2.01 m (6 ft 7 in)
Typical empty weight
24,375 kilograms (53,738 lb)
24,541 kilograms (54,104 lb)
Maximum take-off weight
43,090 kilograms (95,000 lb)
45,810 kilograms (100,990 lb)
Maximum payload weight
11,242 kilograms (24,784 lb)
11,993 kilograms (26,440 lb)
Max. cruising speed
845 km/h (525 mph, 456 kn), Mach 0.77
Range fully loaded
1,323 nautical miles (2,450 km; 1,522 mi)
1,710 nautical miles (3,170 km; 1,970 mi)
Take off run at MTOW
4,988 feet (1,520 m)
5,319 feet (1,621 m)
Fuel capacity
13,365 L (2,940 imp gal; 3,531 US gal)
Service ceiling
35,000 ft (11,000 m)
Powerplants (2x)

Rolls-Royce Tay

Mk 620-15
Rolls-Royce Tay Mk 650-15
Engine thrust
13,850 lbf (61.6 k

N

)
15,100 lbf (67.2 kN)
Notes: Data are provided for reference only. Tay 620=Rolls-Royce Tay Mk 62015 and Tay 650=Rolls-Royce Tay Mk 65015
See also
Airbus A318

Antonov An-158

British Aerospace 146

Boeing 717

Bombardier CRJ1000

Embraer E-190/195

Fairchild Dornier 728 family

Sukhoi Superjet 100

Tupolev Tu-334

Yakovlev Yak-42D

List of civil aircraft
References
Notes
Bibliography
Taylor, Michael J. H. 'Brassey's World Aircraft & Systems Directory. London: Brassey's, 1996. ISBN 1-85753-198-1.
External links