Jurassic World: Dominion Dominates Fandom Wikis - The Loop
Play Sound
class="infobox " style="float: right; clear: right; width: 315px; border-spacing: 2px; text-align: left; font-size: 90%;"

! Role | Fighter |-
! Manufacturer | FFA |-
! Designer | Dr. Hans Studer |-
! First flight | 25 April 1955 |-

! Retired | Cancelled |-
! Number built | 5 |-
FFA P-16
FFA P-16 composite on display at the Flieger-Flab-Museum Dübendorf
FFA P-16
FFA P-16 composite on display at the Flieger-Flab-Museum Dübendorf
Role
Fighter
Manufacturer
FFA
Designer
Dr. Hans Studer
First flight
25 April 1955
Retired
Cancelled

Number built

5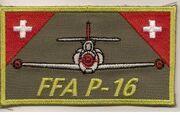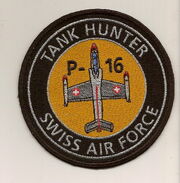 The FFA P-16 was a Swiss prototype ground attack jet fighter designed in the 1950s to replace the piston-engined types then in service with the Swiss Air Force. It was Switzerland's second attempt to develop a domestically-designed and manufactured jet fighter after the EFW N-20, but the project was terminated before it could be introduced into service.
Design and development
The P-16 was designed to be especially well-suited to the close-support role, and short-field performance was also emphasized. The resulting aircraft was a single-seat, single-engine design with intakes on the fuselage sides and a low wing. The horizontal stabilizer was mounted halfway up the fin. To ensure good performance from unprepared fields, heavy undercarriage and dual wheels and tires were fitted. The straight, low aspect ratio wing was of multi-spar construction with various high-lift devices including full-span Krueger flaps on the leading edge, large Fowler-type flaps on the inboard trailing edge, and ailerons which also operated as flaps. These devices allowed the aircraft to take off and land within 1,000 ft (330 m) at high altitude, allowing it to operate from the Alpine valleys characteristic of Switzerland.
Variants
Mk I: two prototypes powered with an

Armstrong Siddeley Sapphire

ASSa 6 engine of 7,900 lb (3983 kg) thrust.
Mk II: pre-production machine with a Sapphire ASSa 7 engine of 11,0000 lb (4,990 kg) thrust. Only one aircraft was completed out of an order for four before the project was cancelled.
Mk III: two of the unfinished Mk II aircraft were completed to MK III standard by FFA in an attempt to revive the project. These included armament of two Hispano-Suiza 825 30mm cannon and a Matra 1000 launcher for up to 44 68mm unguided rockets.
Testing and evaluation
Two prototypes were ordered in 1952, the first one flying on 25 April 1955. Although this aircraft (J-3001) was destroyed in a crash on 25 April having made 22 flights with a total flight time of 12 h 38 min, a development contract for four pre-production aircraft was awarded. On 15 August 1956, the second prototype exceeded the sound barrier for the first time. It completed another 310 flights by March 1958 after which it was scrapped.
The pre-production machines (designated Mk II) differed from the prototypes in a variety of ways, but most especially in the fitting of a more powerful Sapphire 7 engine, in place of the prototype's Sapphire 6. When test flights proved promising, a new contract was awarded in 1958 for 100 aircraft. But when the first pre-production machine (J-3003) was destroyed in a crash on 25 March 1958 after 102 flights, the government cancelled the entire order and bought Hawker Hunters from the UK instead. FFA continued the program at its own expense for a while, completing two more aircraft to MK III standard, but was unable to attract buyers. These two aircraft (X-HB-VAC/ J-3004 and X-HB-VAD/J-3005) first flew in July 1959 and March 1960 respectively. Their last flights were in April 1960 and June 1960. Also in another project of the Swiss Air Force, the FFA P-16 went into the race again. However, the P-16 could not qualify for the final selection, the comparison flying, so that the project was finally abandoned in 1969. In the case of the procurement project, the Vought A-7G and the Dassault Milan were in the final selection, but ended with canceling of the whole project and the Swiss Air Force bought later 40 secondhand Hawk Hunter.[1]
. As of 2007, only a single example, assembled from parts of two of the prototypes, remains in existence. It is on display at the Swiss Air Force Museum at the Dübendorf Air Base. Certain design concepts of the P-16, such as the multi-spar wing structure, were used by Bill Lear when developing the first of the highly successful Learjet family of business jets.The Learjet-23 based on the SAAC-23 project.[2]
Proposed variants to be built by AFU
Aktiengesellschaft für Flugzeugunternehmungen proposed several variants:
P-16-Trainer: Training version with two seats in tandem for the Swiss Air Force.[3] Without the two 30mm Guns of the Single seater version.[4]
AA-7:

SNECMA Atar

9C engine
AJ-7: General Electric J79 engine
AR-7:

Rolls-Royce RB.168

engine
FFA P-16 ECM
Proposed version of the P-16 Electronic Warfare. In doing so, the upper front fuselage would have been widened so that the pilot and the operator of the jam containers would be placed not in tandem but side by side to each one. This version would have had no rocket launcher and only a cannon. Apart from the widened cockpit, the dimensions, length, span and height would have been the same as for the FFA P-16 single-seaters.
Specifications (Mark III)
Data from Switzerland's P-16:Father of the Learjet[5]
General characteristics
Crew: one pilot
Length: 14.33 m (47 ft)
Wingspan: 11.15 m (36 ft 7 in)
Height: 4.27 m (14 ft 0 in)
Wing area: 30.0 m² (323 ft²)
Empty weight: 7,037 kg (15,500 lb)
Max. takeoff weight: 11,713 kg (25,800 lb)
Powerplant: 1 ×

Armstrong Siddeley Sapphire

ASSa.7 turbojet, 49.1 kN (11,000 lbf)
Performance
Maximum speed: 1,118 km/h (604 knots, 694 mph) at sea level, clean
Stall speed: 179 km/h (97 knots, 111 mph)
Range: 1,447 km (781 nmi, 899 mi)at 9,150 m (30,000 ft)
Service ceiling: 14,000 m (46,000 ft)
Rate of climb: 65.0 m/s (12,795 ft/min)
Armament

Guns: 2 × 30 mm Hispano-Suiza

HS.825

cannon in nose with 120 rpg
Hardpoints: 4 with a capacity of up to 2,590 kg (5,700 lb) of external stores[6]
Rockets: 44 × 68 mm Matra 68mm rockets in retractable launcher under fuselage
References
Notes
↑ Die Schweizer Militärluftfahrt Die Schweizer Filmwochenschau erzählt. Vol7/Nr VII, Schweizer Filmarchiv
↑ Georges Bridel, Verkehrshaus der Schweiz, Luzern 1975, ISBN 3 85954 902 2.
↑ Georges Bridel: Schweizerische Strahlflugzeuge und Strahltriebwerke, Verkehrshaus der Schweiz, Luzern 1975 Seite 61, ISBN 3 85954 902 2.
↑

John Fricker: AIR International März 1991, S. 145: Another development considered was a two-seat Training and operational derivative which could be easily achieved after removal of the fuselage guns, the cabin conditioning capacity being already there.

↑

Fricker 1991, p. 146.

↑

Fricker 1991, p. 144.
Bibliography
Frickler, John. "Switzerland's P-16: Father of the Learjet." Air International, March 1991, Vol. 40, No. 3, pp. 139–146.
Green, William and Gerald Pollinger.Die Flugzeuge der Welt (in German). Zürich, Switzerland: Werner Classen Verlag, 1960.
Green, W. and Swanborough, G.; The complete book of fighters, Salamander (1994), ISBN 0-86101-643-2.
Johnson, Robert Craig. "Swiss Guards: the Federal Aircraft Factory N-20 and the FFA P-16." Chandelle 2 (2), 1997.
Schürmann, Roman. Helvetische Jäger. Dramen und Skandale am Militärhimmel(in German). Zürich: Rotpunktverlag, 2009. ISBN 978-3-85869-406-5.
Strehler, Hanspeter. Das schweizer Düsenflugzeug P-16 (in German). Erschienen, Switzerland: 2004. ISBN 3-033-00051-7.
Taylor, Michael J.H. Jane's Encyclopedia of Aviation. London: Studio Editions, 1989, pp. 39, 383. ISBN 0-517-10316-8.
External links
| | |
| --- | --- |
| | Wikimedia Commons has media related to P-16. |