Jurassic World: Dominion Dominates Fandom Wikis - The Loop
Play Sound
"r99" redirects here. For the
Universal Mobile Telecommunications System
release, see
UMTS#Release '99
.
R-99A/B
P-99
Brazilian Air Force R-99A
Role
Airborne Early Warning and Control (AEW&C) (R-99A)


Remote sensing

(R-99B)
Maritime patrol (P-99)

National origin

Brazil
Manufacturer
Embraer
First flight
1999
Introduction
1999
Status
Active
Primary users
Brazilian Air Force (R-99A/B)
Hellenic Air Force (R-99A)
Mexican Air Force (R-99A/P-99)
Produced
1999–

Number built

11 (2 on order / 7 options) (R-99A)
3 (R-99B)
2 (P-99)

Unit cost

~US$80 million


$2,000/hour (Operational Cost)

[1]

Developed from

Embraer ERJ-145
The Embraer R-99 and P-99 are military versions of the ERJ 145 civil regional jet. The R-99 series are equipped with Rolls-Royce AE 3007 turbofan engines. The military versions provide 20% more thrust than the civil version. The first flight was in 1999.
Variants
The R-99A/E-99/EMB 145 AEW&C is an Airborne Early Warning & Control aircraft, equipped with the Erieye airborne radar from Saab Microwave Systems (formerly Ericsson Microwave Systems) of Sweden. The FAB claims that it has 95% of the capability of the larger AWACS aircraft which are in service in the air forces of other nations. In 2008 the FAB redesignated the R-99A as the E-99.
The R-99B/R-99/EMB 145 MULTI INTEL is a remote sensing aircraft. It employs a synthetic aperture radar, combination electro-optical and FLIR systems as well as a multi-spectral scanner. The aircraft also possesses signal intelligence and C3I capabilities. In 2008 the FAB redesignated the R-99B as the R-99.
The P-99/EMB 145 MP is the maritime patrol version of the R-99. It shares much of the same sensor suite as the R-99B, but most visibly, lacks the multi-spectral scanner and the side-looking radar. It retains many of the C3I and ELINT capabilities of the R-99B. The P-99 also carries four underwing hardpoints, which can be mounted with a variety of torpedoes and/or anti-ship missiles. Mexico was the launch customer for this variant.
In Brazilian service, the E-99 and R-99 are based in Anapolis AFB. Five E-99s and three R-99s are operated by the Air Force as part of the SIVAM program.
Operational History
A Greek R-99 was deployed to perform AEW missions in the framework of the enforcement of no-fly zone over Libyan civil war (2011).[2]
Operators
Indian Air Force – 3 EMB-145SA to be fitted w/LRDE developed AESA radar array, datalinks, IFF, RWR, MWR. First aircraft delivered on 16 August 2012.[4] The Air Force has option to buy another seven aircraft.[5]
Specifications (ERJ 140)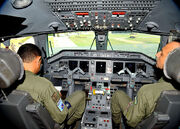 Data from Suppositions according to EMB 145 family specifications.[citation needed]
General characteristics
Crew: 3; pilot, co-pilot, flight attendant
Capacity: 44 passengers
Length: 28.45 m (93 ft 4 in)
Wingspan: 20.04 m (65 ft 9 in)
Height: 6.76 m (22 ft 2 in)
Wing area: 51.2 m² (551 ft²)
Empty weight: 11,740 kg (25,900 lb)
Loaded weight: 17,100 kg (37,700 lb)
Max. takeoff weight: 21,100 kg (46,500 lb)
Powerplant: 2 ×

Rolls-Royce AE 3007

A turbofan, 33.0 kN (7,420 lbf) each
Performance
Maximum speed: 834+ km/h (518+ mph, Mach 0.78+)
Range: 3,019 km + internal tanks (1,876 miles + internal tanks)
Service ceiling: 11,278+ m (37,000+ ft)
Rate of climb: 780+ m/min (2,560+ ft/min)
Wing loading: 334+ kg/m² (68+ lb/ft²)
Gallery
See also
References
External links