The EMB-314 or AT-29 Super Tucano is a Brazilian attack aircraft used also by Colombia, Great Britain, Egypt and even the United States.
Description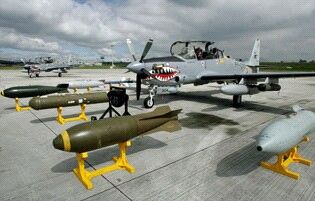 The Embraer 314, first appeared in the light as the Emb-312H in the early '90s, it was essentially a larger version of the coach Embraer 312 (Tucano). Although it looks very much like the trainer aircraft that preceded it, the 314 is a very different plane, which stands out for its size. The Super Tucano is longer and taller than its predecessor, due to the need to accommodate a more powerful engine, which allows for more power and greater speeds. And thus making it more appropriate to the tasks for which it was designed.
The ALX is a militarized version of the EMB-314 that corresponds to a specification of the Brazilian Air Force for a light attack aircraft that could be integrated and used in conjunction with radars Sivam (Amazon Surveillance System). The logical choice was the Tucano trainer aircraft, which was increased by about 37 cm in front and about a meter behind the cabin. Its structure has been greatly enhanced and the place of the pilot was protected with Kevlar fiber.
The ALX was proposed for the JPATS program of the U.S. Air Force, but lost to the T-6 Texan-2 (based on the Pilatus PC-9), and has the same engine but is however, less powerful than the ALX . The fact that the program ALX is relatively late and the final price of the aircraft, have been among the reasons for the choice of Pilatus. Finally, first ALX series saw the light of day on May 28, 1999.
The EMB-314, will operate for many years in the Amazon and its characteristics make it an interesting possibility for the air forces of South America, where there are problems of narco-trafficking and terrorism, as in Colombia with the FARC. How advanced trainer, their characteristics, capabilities, and electronics, EMB-314/ALX is one of the best aircraft currently on the market.
Operators
Brazil
Brazilian Air Force - 99 ordered, 83 delivered

First Squadron of the Third Aviation Group (

1º/3º GAv

) "Esquadrão Escorpião"
Second Squadron of the Third Aviation Group (2º/3º GAv) "Esquadrão Grifo"
Third Squadron of the Third Aviation Group (

3º/3º GAv

) "Esquadrão Flecha"
Second Squadron of the Fifth Aviation Group (

2º/5º GAv

) "Esquadrão Joker"
Chile
Colombia
Dominican Republic
Ecuador
Ecuadorian Air Force - 24 ordered; 6 delivered by April 2010 (all 24 should be delivered by December 2010).
Guatemala
Indonesia
Lebanon
Lebanese Army - 10 (ordered in February 2010, deliveries beginning in 2013.
United States
US Navy - 1 aircraft with the designation A-29 under lease for testing. as part of the Imminent Fury program.
Specifications
General characteristics
Crew: One pilot on single seat version, one pilot plus one navigator/student on double seat version
Length: 11.42 m (37 ft 6 in)
Wingspan: 11.14 m (36 ft 7 in)
Height: 3.9 m (12 ft 9.5 in)
Wing area: 19.4 m² (209 sq ft)
Empty weight: 2,420 kg (5,335 lb)
Loaded weight: 3,600 kg (7,937 lb)
Powerplant: 1× Pratt & Whitney Canada PT6A-68C turboprop, 1,600 hp (1,193 kW)
Performance
Maximum speed: 558 km/h (301 knots, 346 mph)
Range: 1,568 km (849 naut mi, 974 mi)
Service ceiling: 10,668 m (35,000 ft)
Rate of climb: 14.9 m/s (2,936 ft/min)
Armament
Guns: 4× 12.7 mm

FN Herstal M3P

machine guns in wings and cannon pods
Hardpoints: 5 (two under each wing and one under fuselage centreline) with a capacity of 1,500 kg (3,300 lb)
Rockets: rocket pods
Missiles: 2x MAA-1 Piranha, AIM-9 Sidewinder or

Rafalel Python III

or

IV
Avionics
Capacity to carry FLIR pod on centreline pylon
See also