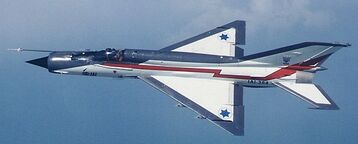 The Elbit MiG-21 Lancer is an Israeli upgrade variant of the soviet Mikoyan MiG-21 Fishbed made to upgrade the fleet of fighters from the ex-Iron Curtain countries.
Description
[
]
The MiG-21 "Lancer" is not a new plane, but the name given to one of the modifications to the MiG-21 has modernized after the collapse of industries in the former Soviet Union. Once the USSR was over, many users of these planes were practically without assistance, or with limited assistance for only part of the aircraft. The MiG-21 "Lancer", the company modernized ELBIT of Israel, in cooperation with the Romanian industry is one of those versions. The company put its services to modernize the air forces of former users of the aircraft and is able to perform various types of modernizing the MiG-21. The plane, which received a modernized cockpit was also adapted to fire a series of new weapons systems, in connection with the Elta radar. The MiG-21 Lancer besides they could fire missiles air-air R-60, R-73 and also have the ability to use Python 3 missiles from Rafael.
Operators
[
]
Romania: The Romanian Air Force, decided to convert a number of aircraft considerably older MiG-21 to a western standard, and has therefore collaborated with the Elbit in the development of the MiG-21 "Lancer".
Specifications
[
]
General Characteristics
[
]
Performance
[
]
Engine: 1x R-Engines Tumansky 25-300
Total power: 7000 Kgf
Maximum Speed: 2175 km/h
Cruise: 1150 km/h
Maximum Range: 1000 km
Maximum altitude: 17,500 meters
Armament
[
]
Avionics
[
]
Related Development
[
]
Similar Aircraft
[
]