Jurassic World: Dominion Dominates Fandom Wikis - The Loop
Play Sound
Given an order from U.S. Navy in 1933, PBY Catalina was to become one of the most important seaplane of World War II, being used by the United States and its allies in missions of maritime patrol, anti-submarine and even as torpedo bomber.  Although sub powered, requiring much the pilot, it was robust and reliable, having accomplished important milestones, such as the location of the Bismarck, which culminated in its sunking.
Features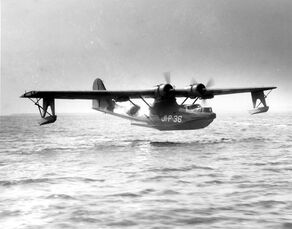 PBY was a versatile and great flying boat, for example, it was discovered German Battleship Bismarck, Followed it and prevented its escape, the German occupied by ports France and found Japanese aviation support ships in the Battle of Midway.
Machine type was also used to Allies The German ships' security submarines against Atlantic. This was the first trial at a later date submarine in the fight against the black sky Name-called "defense tactics, where possible with plenty of air gun designed to prevent the presence of submarines in the other party activities.
PBY was able to fly continuously for 18 hours or additional fuel tanks up to 24 hours, so it is particularly well suited for such work.
Specifications
General Characteristics
Crew: 8 — pilot, co-pilot, bow turret gunner, flight mechanic, radioman, navigator and two waist gunners
Length: 63 ft 10 7/16 in (19.46 m)
Wingspan: 104 ft 0 in (31.70 m)
Height: 21 ft 1 in (6.15 m)
Wing area: 1,400 ft² (130 m²)
Empty weight: 20,910 lb (9,485 kg)
Max takeoff weight: 35,420 lb (16,066 kg)
Powerplant: 2× Pratt & Whitney R-1830-92 Twin Wasp radial engines, 1,200 hp (895 kW each) each
Zero-lift drag coefficient: 0.0309
Drag area: 43.26 ft² (4.02 m²)
Aspect ratio: 7.73
Performance
Maximum speed: 196 mph (314 km/h)
Cruise speed: 125 mph (201 km/h)
Range: 2,520 mi (4,030 km)
Service ceiling: 15,800 ft (4,000 m)
Rate of climb: 1,000 ft/min (5.1 m/s)
Wing loading: 25.3 lb/ft² (123.6 kg/m²)
Power/mass: 0.034 hp/lb (0.056 kW/kg)
Lift-to-drag ratio: 11.9
Armament
3× .30 cal (7.62 mm) machine guns (two in nose turret, one in ventral hatch at tail)
2× .50 cal (12.7 mm) machine guns (one in each waist blister)
4,000 lb (1,814 kg) of bombs or depth charges, torpedo racks were also available
See also
Related development
Comparable aircraft
Dornier Do-24

Grumman Albatross

Harbin PS-5