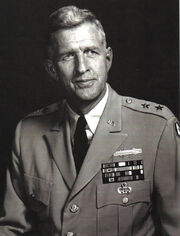 Charles W. Billingslea (16 May 1914 – 14 March 1989) was an American Major General who served in the United States Army during World War II. He received two Distinguished Service Crosses which was awarded for having distinguished himself by extraordinary heroism against an armed enemy in circumstances which do not justify the award of the Medal of Honor.
Biography
Billingslea was born 16 May 1914 in Chicago, Illinois.[1]
He attended the United States Military Academy at West Point and graduated in the class of 1936.[2]
He retired as a Major General in 1966 because of a disability.[2] He died 14 March 1989 in Washington, DC.[1]
Unit
Awards
First Distinguished Service Cross citation
| | | |
| --- | --- | --- |
| " | The President of the United States of America, authorized by Act of Congress, July 9, 1918, takes pleasure in presenting the Distinguished Service Cross to Colonel (Infantry), [then Lieutenant Colonel] Charles Billingslea (ASN: 0-20367), United States Army, for extraordinary heroism in connection with military operations against an armed enemy while serving as Commanding Officer, 325th Glider Infantry Regiment, 82d Airborne Division, in action against enemy forces on 2–3 October 1944, in the vicinity of Katerbosch, Holland. Through fearless and skillful leadership, Colonel Billingslea inspired victory for his regiment in a battle for objectives two miles beyond the forward lines near Mook. Leading troops who were tired after five days of incessant attack, he pushed the enemy back in a twenty-four hour assault. He launched the attack before dawn and under cover of fog which lifted without warning in mid-morning and exposed his forces to intense artillery fire. Key officers and men became casualties, but Colonel Billingslea moved among the disorganized company, restored command and assumed the initiative in the face if determined resistance from numerous German strongpoints in Katerbosch. He personally directed the house-to-house reduction of the enemy. His presence in this critical zone inspired officers and men to emulate his conduct in a fight for the town which lasted all day and through the night. In this valiant and successful assault on Katerbosch, Colonel Billingslea defeated powerful German efforts to break through Mook and sever the Allied corridor in the Motherland. His inspiring leadership, personal bravery and zealous devotion to duty exemplify the highest traditions of the military forces of the United States and reflect great credit upon himself, the 82d Airborne Division, and the United States Army.[2] | " |
Second Distinguished Service Cross citation
| | | |
| --- | --- | --- |
| " | The President of the United States of America, authorized by Act of Congress, July 9, 1918, takes pleasure in presenting a Bronze Oak Leaf Cluster in lieu of a Second Award of the Distinguished Service Cross to Colonel (Infantry) Charles Billingslea (ASN: 0-20367), United States Army, for extraordinary heroism in connection with military operations against an armed enemy while serving as Commanding Officer, 325th Glider Infantry Regiment, 82d Airborne Division, in action against enemy forces on 2 February 1945, in Germany. Colonel Billingslea fearlessly exposed himself to intense enemy small arms, mortar, and artillery fire to direct his command's assault against Siegfried Line fortifications. When elements of his regiment were pinned to the ground by fierce crossfire, he advanced to the area and personally directed his command in thwarting the hostile thrust. During a second vicious counterattack, he proceeded to his reserve battalion, directed the commitment of his reserves and repulsed the counter-attack. By his display of conspicuous courage and selfless devotion to duty, Colonel Billingslea was instrumental in saving a vital position and insuring the continued success of his regiment. His intrepid actions, personal bravery and zealous devotion to duty exemplify the highest traditions of the military forces of the United States and reflect great credit upon himself, the 82d Airborne Division, and the United States Army.[2] | " |
References