We're Getting Mutants in the MCU - The Loop
Play Sound
See "

Captain (disambiguation)

" for other versions of this rank.
In the uniformed services of the United States, captain is a federal commissioned officer rank.
U.S. Army, U.S. Air Force, and U.S. Marine Corps

In the United States Army, the United States Marine Corps, and the United States Air Force, captain is a company grade officer rank, with the pay grade of O-3. It ranks above first lieutenant and below major. It is equivalent to the rank of lieutenant in the other uniformed services. The insignia for the rank consists of two silver bars, with slight stylized differences between the Army/Air Force version and the Marine Corps version.
An Army or Marine captain generally commands company-sized units. When given such a command, they bear the title Company Commander. Captains also instruct at service schools and combat training centers and are often staff officers at the battalion level. Marine captains also serve as Officer Selection Officers, commanding recruiting stations for commissioned officers.
An Air Force captain's authority varies by group assignment. In an operations group, senior captains may be flight commanders while more junior captains may be heads of departments. In the maintenance or logistics and mission support groups they are almost always flight commanders. In the medical group, captains usually have limited administrative and command responsibility as captain is frequently the entry level rank for most medical officers and dental officers.[1]
In Army and Air Force medical units, captain is the entry-level rank for those possessing a doctorate in a healthcare related profession. In Army and Air Force Judge Advocate General units, captain or first lieutenant is the entry-level rank for lawyers who already have their Juris Doctor degree and have been admitted to the bar of at least one U.S. state or territory.
MARSOCs fourteen man Marine Special Operations Teams (MSOT) are commanded by a captain.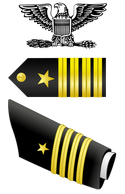 In the United States Navy, the United States Coast Guard, the United States Public Health Service Commissioned Corps, and the National Oceanic and Atmospheric Administration Commissioned Corps, captain (CAPT) is a senior officer rank, with the pay grade of O-6. It ranks above commander and below rear admiral (lower half). It is equivalent to the rank of colonel in the other uniformed services.
Navy captains with sea commands in the Surface Warfare community generally command ships of cruiser size or larger. The more senior the officer, the larger the ship. In the submarine community, a captain will typically command a ballistic-missile submarine (SSBN), or a squadron of attack submarines (SSN). In Naval Aviation, captains with sea commands generally command aircraft carriers, air-capable amphibious assault ships, carrier air wings, functional air wings or special mission air wings or air groups. Commanders of aircraft carrier strike groups and expeditionary strike groups are normally rear admirals, while subordinate destroyer squadron commodores, amphibious squadron commodores, carrier air wing commanders and the individual ship commanding officers within the strike group are of captain rank or lower. In rare instances, the carrier air wing commander may be a Marine Corps colonel who is a Naval Aviator or Naval Flight Officer, while in the expeditionary strike group, the Marine Expeditionary Unit commanding officer will be a Marine Corps colonel.
Navy captains who are line officers may also fill important senior staff positions or have shore based command assignments, such as commanding officer of naval stations, naval air stations, naval air facilities, naval support activities, logistics groups, specialized centers or schools, or commanders of test wings or training air wings. Staff corps captains will command facilities and organizations appropriate to their designators, such as naval hospitals commanded by medical corps, dental corps, medical service corps or nurse corps officers; supply centers by supply corps officers; or trial service offices commanded by judge advocate general corps officers.
Coast Guard captains follow career paths very similar to their Navy counterparts, with seagoing officers typically commanding large maritime security cutters or high endurance cutters and aviators commanding coast guard air stations. Coast Guard captains will also command all types of major Coast Guard shore installations and activities, as well as serve as chiefs of staff for Coast Guard flag officers. The Coast Guard has no staff corps officers.
PHS and NOAA captains are senior non-combatant officers that serve as directors or ranking supervisors in their respective Uniformed Service Corps. Seagoing NOAA captains will also command certain NOAA ships, while NOAA aviators will command NOAA flight operations activities.
United States Maritime Service
Although it exists largely as a maritime training organization, the U.S. Maritime Service does use the rank of captain. Even though the Martime Service is an auxiliary service, the grade is appointed by the President via the Secretary of Transportation, making it a federally recognized rank with corresponding paygrade of O-6.
Rank equivalency between services
Due to the ambiguity created by the common use of "captain" for officers of different grades between the Army, Navy, Air Force, Marine Corps, and Coast Guard, equivalency is conferred between officers by use of identical pay grade rather than title of rank. The higher the grade, the higher the rank of the officer. For example, an Army, Air Force, or Marine captain is equivalent in rank, responsibilities, and grade to a Navy or Coast Guard lieutenant, all of which are of the third officer grade, or O-3. Similarly, a Navy or Coast Guard captain is equivalent in rank, responsibilities, and grade to an Army, Air Force, or Marine colonel, all of which are of the sixth officer grade, or O-6. Thus, Army, Air Force, and Marine colonels together with Navy and Coast Guard captains wear the silver eagle insignia of the grade of O-6, while Army, Air Force, and Marine captains together with Navy and Coast Guard lieutenants wear the double silver bars of the rank insignia of the grade of O-3. Additionally, the O-6 rank of Navy and Coast Guard captain is abbreviated as uppercase "CAPT", while the O-3 rank of captain is abbreviated as "CPT" for the Army and lowercase "Capt" for the Air Force and Marine Corps.
Early history
In the United States, the rank of captain first appeared in the Continental Army during the Revolutionary War. A captain was the officer placed in charge of a company of soldiers and was granted a commission from the regimental Colonel. A captain was afforded one to several Lieutenants, depending on the size of the company, and the captain's commission could be revoked or expired at the end of a particular military campaign.
The Continental Navy used the rank of captain as the commander of a sailing vessel at war, with the captain having several lieutenants on board, as well as a Sailing Master to assist in their duties. This use of the rank carried over into the U.S. Navy. With the addition of the ranks of commander and lieutenant commander between lieutenant and captain, a Navy captain became equivalent in rank to an Army colonel.
References
United States commissioned officer and officer candidate ranks
Pay grade / Branch of service
Officer
candidate

O-1

O-2

O-3

O-4

O-5

O-6

O-7
O-8
O-9
O-10
O-11
(Obs.)
Special
grade
Approximate insignia[1][2]
[2]
Air Force
Cadet / OT / OC
2d Lt
1st Lt
Capt
Maj
Lt Col
Col
Brig Gen
Maj Gen
Lt Gen
Gen
GAF[3]
[5]
Army
CDT / OC
2LT
1LT
CPT
MAJ
LTC
COL
BG
MG
LTG
GEN
GA[3]
GAS[3]
Marine Corps
Midn / Cand
2ndLt
1stLt
Capt
Maj
LtCol
Col
BGen
MajGen
LtGen
Gen
[5]
[5]
Navy
MIDN / OC
ENS
LTJG
LT
LCDR
CDR
CAPT
RDML
RADM
VADM
ADM
FADM[3]
AN[3]
Coast Guard
CDT / OC
ENS
LTJG
LT
LCDR
CDR
CAPT
RDML
RADM
VADM
ADM
[5]
[5]
Public Health Service
[OC]
ENS
LTJG
LT
LCDR
CDR
CAPT
RADM
RADM
VADM
ADM
[5]
[5]
NOAA Corps
OC
ENS
LTJG
LT
LCDR
CDR
CAPT
RDML
RADM
VADM

[4]
[5]
[5]

[1] No universal insignia for officer candidate rank; Navy candidate insignia shown
[2]Unofficial 1945 proposal for General of the Armies insignia; John J. Pershing's GAS insignia: ; George Dewey's AN insignia:
[3] Rank used for specific officers during World War II and Korea only, not permanent addition to rank structure
[4] Grade is authorized by the U.S. Code for use but has not been created
[5] Grade has never been created or authorized