Jurassic World: Dominion Dominates Fandom Wikis - The Loop
Play Sound
The Australian Defence Force are the three services that protect Australia and it's people.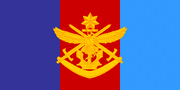 Australian Army
It dates back to 1901 when it started recruiting but by the time WWI came it was still small but with the help of courage and propaganda about 10% of Australian males volenteerd and only 4 or 5% made it back alive. They fought very gritty battles such as Gollipoli and battles in France. In WWII the city of Darwin was under attack and despite getting to the Anti-air guns when the enemy was nearly gone they still managed to shoot down four bombers. During the battle of Kokoda Australian soldiers were pinned down and had no food making them weak but a crack team of scientists came up with a syrup that goes on cans to keep the food fresh and it got to the soldiers resulting is the Australians winning the battle. Today they are seen fighting in Afghanistan and there most common small arms gun in the Steyr AUG.
The Royal Australian Navy (RAN) is the naval branch of the Australian Defence Force. Following the Federation of Australia in 1901, the ships and resources of the separate colonial navies were integrated into a national force: the Commonwealth Naval Forces. Originally intended for local defence, the navy was granted the title of 'Royal Australian Navy' in 1911, and became increasingly responsible for defence of the region.
Britain's Royal Navy continued to support the RAN and provide additional blue-water defence capability in the Pacific up to the early years of World War II. Then, rapid wartime expansion saw the acquisition of large surface vessels and the building of many smaller warships. In the decade following the war, the RAN acquired a small number of aircraft carriers, the last of these paying off in 1982.
Today, the RAN consists of 54 commissioned vessels and over 16,000 personnel. The navy is one of the largest and most sophisticated naval forces in the Pacific region, with a significant presence in the Indian Ocean and worldwide operations in support of military campaigns and peacekeeping missions. The current Chief of Navy is Vice Admiral Ray Griggs.
RAAF
The Royal Australian Air Force (RAAF) is the air force branch of the Australian Defence Force. The RAAF was formed in March 1921.[1] It continues the traditions of the Australian Flying Corps (AFC), which was formed on 22 October 1912.[2][3] The RAAF has taken part in many of the 20th century's major conflicts including World War II, the Korean War and the Vietnam War. More recently the RAAF participated in the 2003 invasion of Iraq and is still involved with the War in Afghanistan (2001–2021). The motto on the RAAF's coat of arms is the Latin phrase Per ardua ad astra, which means "Through Struggle to the Stars".