Jurassic World: Dominion Dominates Fandom Wikis - The Loop
Play Sound
The AMX International AMX or simply AMX is a plane of air-surface attack used for missions interdiction, close air support and aerial reconnaissance. Was developed by international consortium International AMX. In Brazilian Air Force, he is called A-1. In Italy he is nicknamed "Ghibli"
The AMX is capable of operating at high subsonic speeds at low altitude. Both day and night, and if necessary, from bases with poorly equipped or damaged runways. The game has relatively low signature in infra-red and reduced the front section radar to improve the success rate in the missions. Self-defense is provided by air-air missiles, guns integrated systems electronic countermeasures.
Development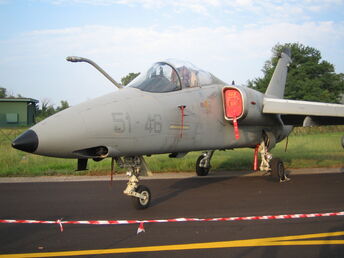 In 1977 the Italian Air Force issued a requirement for a fighter-bomber to replace their Aeritalia G.91 and some of its F-104 Starfighter. Instead of competing for the contract, Aeritalia (Now Aeronautica Alenia) And the Aermacchi agreed to make a joint proposal, since both companies were considering developing a similar class of aircraft for some years. Development work began in April 1978.
On March 27, 1981, the Italian government and the government of Brazil concluded an agreement on joint requirements for the aircraft, and Embraer was invited to join the program in July of that year.
The first prototype flew on 15 May 1984. Although this specimen has been lost on its fifth flight (killing its pilot), the test program was considered quiet. Series production started in mid-1986, With the first copies delivered to Italian Air Force and Brazilian Air Force in 1989. Since then, some 200 AMXs were built.
The Italian AMX squadrons flew 252 combat missions over the Kosovo in 1999, as part of Operation Allied Force, without a single loss
Modernization
Responsible for entry into service of new technologies such as HUD (Head-Up Display) HOTAS (Hands on Throttle and Sticks), MFD (Multi -functional Display) and RWR (Radar Warning Receiver) this will be a modernization program of the AMX fighter the same pattern of modernization of the Brazilians A-29 and F-5M.
The company Elbit was hired to be responsible for the modernization of the vectors of combat. [1]
The program envisages the investment of U.S. $400 million over five years to modernize the 53 fighters AMX A-1. The Program also provides:
Replacing the current radar by SCP-2001, Manufactured by Mectron in Sao Jose dos Campos, Brazil.
New Generation System oxygen (OBOGS).
New MFDs
Lighting compatible with the use of night vision goggles .
helmet-mounted display .
New RWR .
Launchers Chaff/Flare, with automatic release.
Operators
Italian Air Force

13 Gruppo/32 Stormo

14 Gruppo/2 Stormo

(disbanded)

28 Gruppo/3 Stormo

(disbanded)

101 Gruppo/32 Stormo

103 Gruppo/51 Stormo

132 Gruppo/51 Stormo
Brazilian Air Force

1º Esquadrão do 16º Grupo de Aviação

1º Esquadrão do 10º Grupo de Aviação

3º Esquadrão do 10º Grupo de Aviação
Specifications
General Characteristics
Crew :1-AMX, 2-AMX-T (Version seater training / operational)
Length: 13.23 m
Wingspan : 8.87 m
Height: 4.55 m
Empty weight : 6730 kg
Weight loaded: 10,750 kg
Maximum weight: 13,000 kg
Engine: a turbofan Rolls- Royce Spey 807
Thrust: 4,994 kgf (11,000 lbf)
Performance
Maximum speed: 1020 km / h
Range: 3330 km
Service ceiling : 13,000 m ( 42,600 ft)
Ascent rate: 10,240 ft / min
Thrust / weight: 0.47
Armament
A 20 mm rotary cannon M61 Vulcan ( Italian aircraft) or
Two 30 mm cannons DEFA 554 ( Brazilian aircraft )
2 air-air missiles AIM-9 Sidewinder or MAA-1 Piranha rails wingtip
3800 kg of cargo into five hardpoints, including bombs of general employment and laser guided bombs, air-surface missiles, rocket pods and reconnaissance.
See also