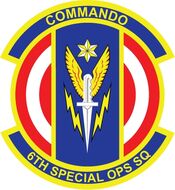 6th Special Operations Squadron patch
The 6th Special Operations Squadron (6 SOS) is part of the 1st Special Operations Wing at Hurlburt Field, Florida. It is a combat aviation advisory unit.
Mission
Assess, train, advise, and assist foreign aviation forces in airpower employment, sustainment and force integration.[1]
History
The 6th flew combat missions in the China-Burma-India Theater from, 17 October 1944 – 8 May 1945.[2]
It again flew combat missions from 1 March 1968 to 15 November 1969 in Southeast Asia. The squadron went on to conduct replacement training for US and allied pilots in A-37 Dragonfly aircraft from January 1970–September 1974.[2]
Since 1994 the squadron has sent advisers to help US-allied forces employ and sustain their own airpower resources and, when necessary, integrate those resources into joint and multi-national operations.[1]
Operations
Lineage[2]
6th Fighter Squadron, Commando (1944–1966)
6th Air Commando Squadron, Fighter (1966–1968)
6th Special Operations Squadron (1968–1972)
6th Special Operations Training Squadron (1972–1994)
6th Special Operations Flight (1994)
6th Special Operations Squadron (1994–Present)
Assignments
Bases stationed[2]
Aircraft
Former Aircraft [2]
References
Notes
Bibliography
See also